There are several types of housing units that come in all sizes and prices. The property types include your typical house and lot for sale in the Philippines, a townhouse, and condominium unit. Each of these properties come with their respective Homeowners Association fees (HOA fees) for those who are townhome owners or homeowners and Condo Dues for condo owners. These are your maintenance fees that will pay off the people who will keep the subdivision or condo building neat and clean. HOA fees and Condo Dues depends entirely on the person in charge of the association.
For your average OFW, they'll most likely pick one of three types:
Condominiums
In photo: Camella Manors Verdant | condo for sale in Palawan, Philippines
Condos are a type of residential unit that is rented or bought and owned by a number of people. A condo owner would have their own personal space, which they can do what they want with it as long as the rules set forth in the condominium's covenants are followed. Condos typically come with amenities such as pools, fitness centers, clubhouses, guarded entrance gates, and CCTVs.
If you want to experience living in a high rise condominium building with many other people and don't have the time or energy for home maintenance, living in a condominium is a good starter home. Condos are also great for adults without children as some condos offer amenities such as pool areas where parents or independent OFWs can lounge around and interact with fellow adults.
Condo owners have the advantage of not having to worry about maintaining your own yard and landscaping, because most of the work is done by a professional landscape company.
Townhouse
 In the Philippines, townhouses are highly popular since they are one of the most affordable types of house and lots for sale. It's essentially a set or a row of two-storey houses with walls separating each house. Townhouses are more equipped for OFW families with children since it's an affordable dwelling unit and has low maintenance costs.
Is buying a townhouse a good investment?
A typical townhouse for sale in the Philippines has an accessible gate and front door, which is usually not available in condominiums as it is located at the building's entrance instead of each individual unit's door. Townhouse communities provide a sense of privacy and security to OFW parents or caretakers who don't want their kids to be exposed to strangers. Townhouse owners would usually build a small gate to keep their privacy and safety.
The end unit of a townhouse is usually the most sought after living space unit because it offers a wider land area. Townhouses for sale in the Philippines usually come with a provision for one car parking space, which can be an advantage to buyers who want more storage space or parking space.
As a real estate investor, you can buy a townhouse unit as a rental property. You can buy two townhouse units and have the other rented out to earn extra income.
House and Lot
A house and lot in the Philippines is simply referred to as residential homes or single family homes in other countries. By its name, it comes with a house either a two-storey or three-storey home with a wide land area. It has several property types, a house and lot for sale in the Philippines can be a single firewall home, detached single family home, or a bungalow home. 
Single Firewall Home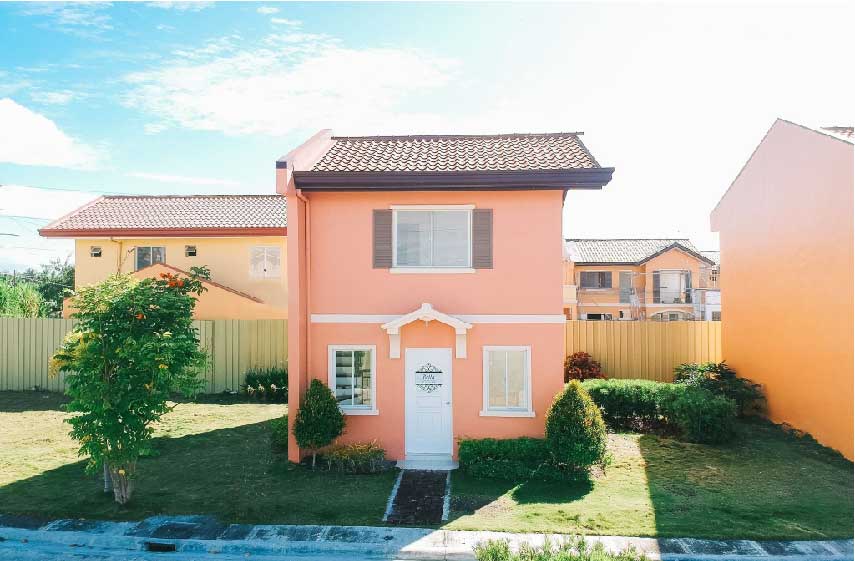 In photo: Camella Homes | Bella House Model | 2 bedroom house and lot for sale in the Philippines 

These are the most common housing options for single family homes. It's characterized by a firewall on one side of the house to protect the house's interior and exterior in case of a fire incident. This house unit is usually a two-storey home which is best for high ceilings.
This type of home is perfect because it has a lot size that meets the needs of a growing OFW family, and it also provides enough space to cultivate vegetables or fruits inside their property. It actually costs less than other types of properties when you consider that single firewall homes are cheaper than townhouses and condos.
Detached Home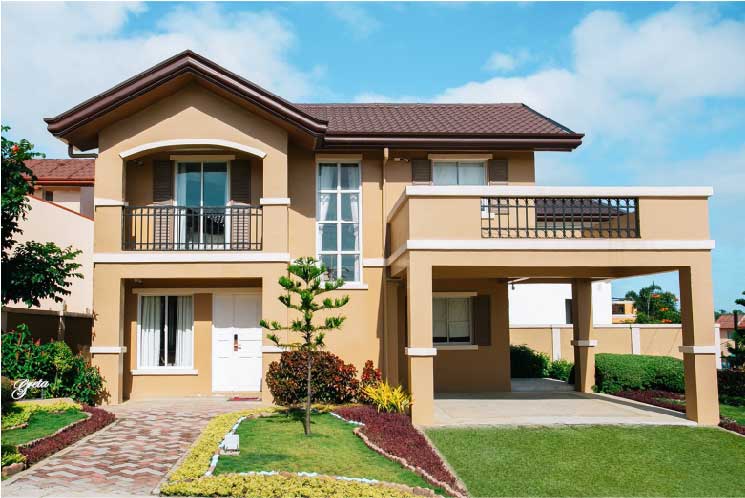 In photo: Camella Homes | Greta House Model | 5 bedroom house and lot for sale in the Philippines 
Single detached houses are slightly different from single firewall homes. The key difference is that single detached homes don't have a firewall and are usually located in corner lot units. These types of houses are the most common types of homes in suburban areas. In addition, they have larger yards and more room for landscaping. These houses are typically larger in floor area and land area. Detached houses also typically come with a garage which is helpful for housing cars or storing tools that might otherwise be stored outside in spiteful weather conditions such as rains or typhoons.
Bungalow Homes
A bungalow home is a less common type of house. It's a one-storey house like a typical cottage or cabin home. These properties are usually surrounded by a small garden and have bigger yards than a detached home. Originally, bungalows were created to cater to the working middle class with its affordable price ranges. Today, however, bungalow homes are becoming more expensive because of the rarity and location of the home.
In the Philippines, there are many types of home builders that offer homes and condos for sale in the metro area such as: Camella Homes, Crown Asia, and Vista Residences under the Vista Land & Lifescapes brand.
Which is better a townhouse or a condo or a house and lot?
Overseas Filipino Workers (OFWs) who are buying a home for the first time sometimes have the struggle of choosing the right property type to fit their needs. While most OFWs settle for a house and lot in the Philippines, there are a few OFWs and migrant FIlipinos that are choosing a condo vs townhouse vs a house and lot. Some OFW home buyers are even looking into residential lot properties so that they can build their own custom dream house.
As an OFW looking through various property listings, there are a few things to consider before putting a down payment. You need to make sure that all your needs are met, this means choosing the right real estate agent, location, size, and property type.
In this blog post, we'll discuss the different home types, walk you through their own set of advantages, and give you a list of ideal real estate developers in the Philippines that build quality and investment properties.
Quick read: The OFW's Dilemma: Condominium or House and Lot?

Achieve the Vista Land lifestyle! Connect with us today
Vistaland International offers every possible housing option for our OFWs and migrant Filipinos. For OFWs interested in condo living, we have condos for sale in the Philippines under the Camella Manors, Vista Residences, Crown Asia, and Brittany housing brands. And for our OFWs who want the traditional house and lot lifestyle, we have luxury and affordable house and lots for sale in the Philippines that can cater to any financial budget and preferred location.
Vistaland International was primarily created to bring OFW closer to their dream of finally acquiring a home in the Philippines. And with the rising cost of living in the country, OFWs and their families are looking for ways to earn extra cash flow to support their daily needs. Luckily, you can also join the global network of Vistaland International as a real estate professional and earn a commission!
---
Vistaland International Marketing, Inc. (VIMI) is the international marketing division of Vista Land. Aiming to provide OFWs and migrant Filipinos a home in the Philippines, VIMI has established long-lasting relationships with brokers and clients around the world.
Get started with your property investments! Contact us today and follow our social media accounts: Facebook, YouTube, Twitter, Instagram, and LinkedIn.