One of the important things to do in selling a property in Vista Land is to know if your client is qualified or not in acquiring a home. In order to do that, the seller must pre-qualify the client.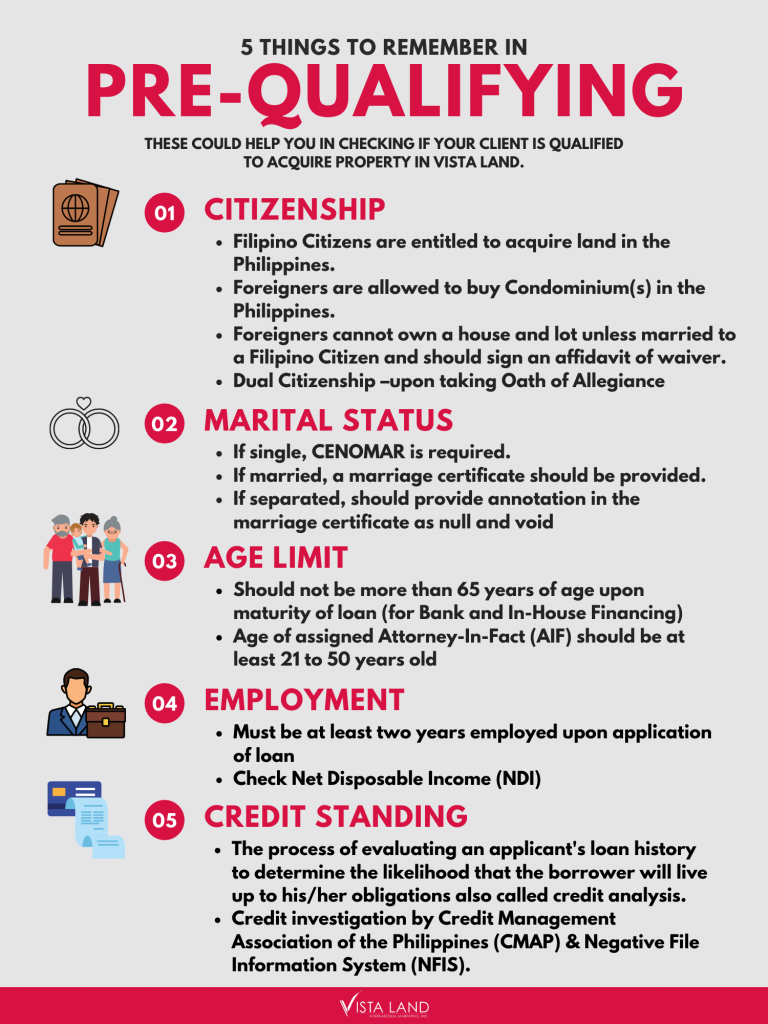 Here are the things you must remember in pre-qualifying:
Citizenship

Filipino Citizens are entitled to acquire land in the Philippines.
Foreigners are allowed to buy Condominium(s) in the Philippines.
Foreigners cannot own a house and lot unless married to a Filipino Citizen and should sign an affidavit of waiver.
Dual Citizenship –upon taking Oath of Allegiance

Marital Status

If single, CENOMAR is required.
If married, a marriage certificate should be provided.
If separated, should provide annotation in the marriage certificate as null and void

Age Limit

Should not be more than 65 years of age upon maturity of loan (for Bank and In-House Financing)
Age of assigned Attorney-In-Fact (AIF) should be at least 21 to 50 years old

Employment

Must be at least two years employed upon application of loan
Check Net Disposable Income (NDI)
*** Maximum amount to be amortized by the client. Computed as:
NDI = Gross Monthly Income x Credit Ratio
Employment
Credit Ratio
Maximum Term
Locally Employed (LE)
30%
20 years
Self-Employed (SE)
25%
20 years
Overseas Filipino Worker (OFW)
30%
15 years
Note: If income is based on commissions, only 30% of the average is allowed as basis of income
Credit Standing

The process of evaluating an applicant's loan history to determine the likelihood that the borrower will live up to his/her obligations also called credit analysis.
Credit investigation by Credit Management Association of the Philippines (CMAP) & Negative File Information System (NFIS).