If you're planning to have your own place, start building your family, or to recommend someone a place to live, renting a profitable property should be a start! Depending on the location and the type of rental property tenants invest in, it's better to make sure that you know the market trends as well as some of the factors to consider when you're dealing with rental properties.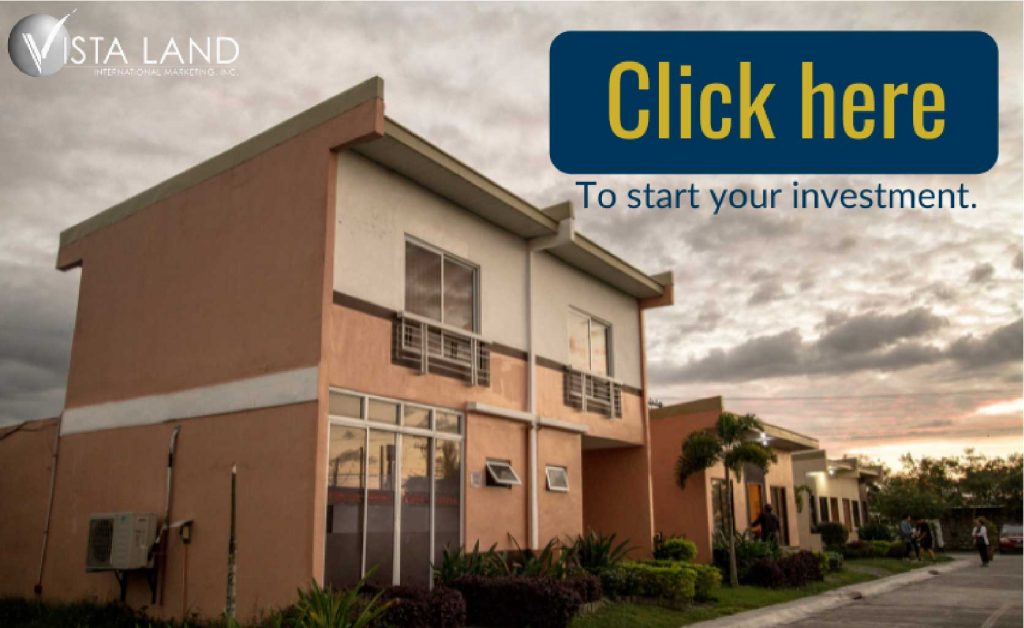 Different Types of Rental Properties
Ranging from townhouses and single-family homes in various subdivisions to condominiums in big cities, there are different kinds of rental properties to choose from. You just need to have a good eye and a good budget range to make it work with a low-risk possibility!
Single Family Homes
Single Family Homes can be detached, semi-detached, a row house, or a townhome that is set on its own land property. It's perfect for families who want privacy, more storage space, and who can have time and money to keep up with maintenance and yard upkeep requirements, according to Benjamin Ross, a Texan real estate agent.
A single-family home shouldn't have the same utilities, heating, and air – conditioning systems as well as separated from the adjacent property unit by a ground-to-roof wall if it's attached in some way.
Take a look at Camella Homes' diverse selection of single-family house and lots in the Philippines! 
Townhouse
Townhouses are multi-floor properties that share one to two walls with some adjacent properties and often have a uniform design and structure that is built in a community that has its own homeowners association but have their own guarded entrance and exit gates.
Many homeowners can have lots of benefits in owning a townhouse, but this is perfect for first-time tenants who want to move out of their condominiums or other small rental properties to have more space.
Condominium
Condominiums, or condos, are often located in the busiest districts of the Philippines and these units are individual with their own utilities and heating and air-conditioning systems, similar to single-family homes, but in one building. These are perfect for those who want to live a low-maintenance living with a sense of security and an opportunity to move and socialize with others in a gated community.
Discover which condo investment is the perfect match for you!
How Do You Determine a Good Rental Property?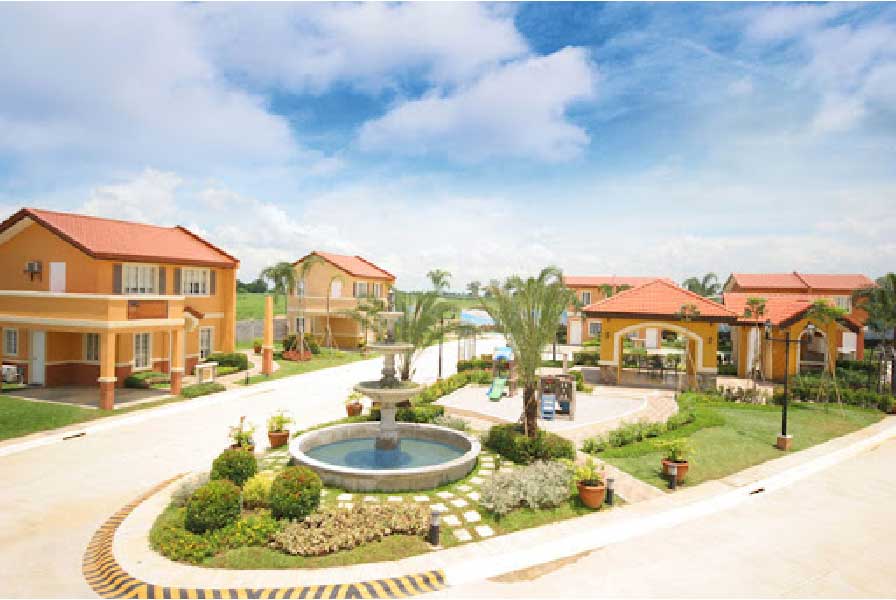 Depending on the rental property you're eyeing, you have to consider these factors aside from finding good real estate investors and neighborhoods in order for you to consider it a good investment! Here are some important factors to consider when looking for a cost-effective rental property that you can have as an investment:
Property Taxes
Before getting any rental property in mind, you should always know the breakdown of the property taxes you'd be paying for, even if it's in the same neighborhood so that you won't be shocked as to why there are some rental properties with low property taxes and some with high property taxes. But remember: A town or a subdivision with a financial crisis may have a property tax hike that is out of the landlord's control.
Local Real Estate Market
In real estate, different investment properties have different market trends. The rental demand of various rental properties depends on the local property managers they have and the market value. Depending on the investment strategy you're willing to offer and the location you're pinning for, the real estate market can be a bit tricky if you don't analyze the numbers meticulously, so it's better to research the numbers and be updated about the market values that go up and down.
Cost of Living
Aside from paying your monthly rent to your landlord, you also need to consider what your lifestyle would be like, whether you're a budget spender or a luxurious spender. Another factor you need to consider are vacancy rates. When some areas have low vacancy rates, it means that there aren't enough places to live in those areas.
Lots of tenants consider this factor because there are so many options that are better than others when it comes to price and market value. You also need to consider other costs such as electricity and water utility bills as well as other expenses. Most rental properties make a down payment so that you can have a place of your own without breaking a penny value!
Nearby Amenities or Facilities
Whether you want to live in the central business district of the city, downtown city, countryside grassland, beach, or the highlands, this is one of the factors you need to consider when you want to move out and start renting.
Aside from thinking about whether your rental property is an investment, you also need to consider the neighborhood and public amenities like local schools, stores, malls, and parks as well as private amenities such as a swimming pool, backyard, hot tub, and many more!
Proximity to Essential Offices
Essential offices such as hospitals and health care services are also important to consider when renting your own place, especially when it's just near or an hour from your neighborhood for emergency visits and medical supplies that you need to keep your health in shape, especially during these times.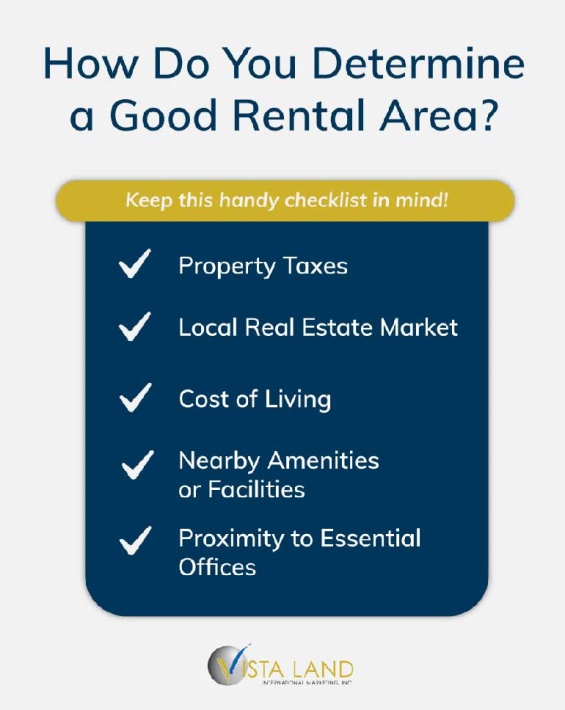 ---
Take Your Investment Property to The Next Level!
Looking for a good rental property? Well, you should definitely invest in Vista Land International! We have different rental properties with housing prices that would make you feel that you've made the right investment with a price that you would definitely love! It definitely has good neighborhoods that are near to good schools and many real estate investors can help you find the perfect residential rental property for you! So what are you waiting for? This is a good sign to start your real estate investing journey with us here in Vista Land International! Contact a real estate investor of ours here now, and you're into your future neighborhood in a snap!
Vistaland International was primarily created to bring OFW closer to their dream of finally acquiring a home in the Philippines. And with the rising cost of living in the country, OFWs and their families are looking for ways to earn extra cash flow to support their daily needs. Luckily, you can also join the global network of Vistaland International as a real estate professional and earn a commission!
---
Vistaland International Marketing, Inc. (VIMI) is the international marketing division of Vista Land. Aiming to provide OFWs and migrant Filipinos a home in the Philippines, VIMI has established long-lasting relationships with brokers and clients around the world.
Get started with your property investments! Contact us today and follow our social media accounts: Facebook, YouTube, Twitter, Instagram, and LinkedIn.