Another Lunar Year, another year of spreading good luck and prosperity for everyone around us! Every Chinese New Year, families prepare round fruits to attract financial abundance, clean and cleanse their houses for good energies, wear anything that is red for good luck, and cook Chinese dishes so that you can be transported and actually celebrate in China. Others go outside to see the annual Dragon Dance, enjoy having their names or any word written in Chinese, take pictures with the Chinese blossom trees and other Chinese backgrounds, and enjoy the Chinese street food along Binondo. There are so many things some people do when they follow the Chinese Lunar calendar, right? We know that you can use all of your senses in these scenarios, but let's focus on one thing here: We're here in the year of the Tiger again!
Being the third animal sign of the Chinese Zodiac signs, people born in the Tiger years will probably get unlucky this year because they are often mistaken in offending the God of Age, which brings bad luck. But it also means that it's a year of possibilities and prosperity. Well, we got your back as we tell you the things that you need to do (and have) for good luck and fortune and what not to do so that you won't be jinxed this Tiger year!
2022 Chinese Zodiac Tiger Years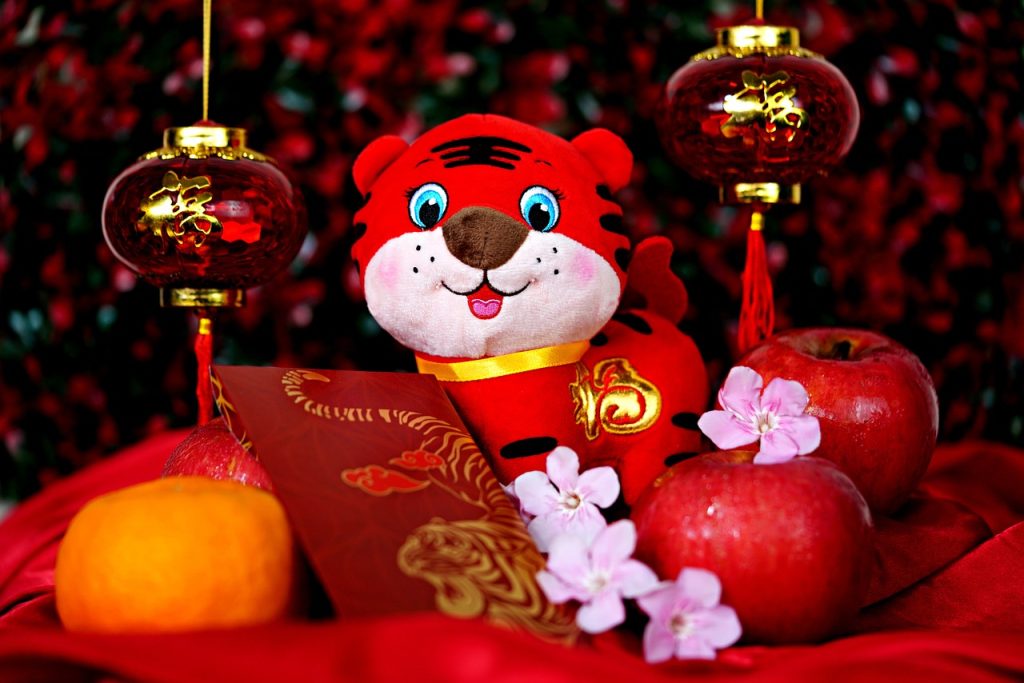 People who are born on this animal sign are people who are born on 1938, 1950, 1962, 1974, 1986, 1998, 2010, and this year, which is 2022. According to Chinese Astrology, Tiger Year started last February 1, 2022 and it will end on January 23, 2023, marking the end of the Metal Ox year. People who are born on the year of the tiger are strong and brave because the Tiger is the king of all beasts and it symbolizes strength and bravery, chasing the evil vibes out!
Come on, let's meet the Elemental Tigers, and see how they are!
Elemental Tigers
Water Tiger
Yeah, that's what this year is all about: The Year of The Water Tigers! Water Tigers have a strong sense of self – esteem and learning ability, making them feel confident and eager to learn anything and everything that they're interested in! However, they're also discreet and don't want to stand out, but they trust their instincts as they are under the Water element, taking in the change that they're bracing themselves for as they are in a tight spot between the extremes.
Fire Tiger
We're pretty sure if Water Tigers are wild, then Fire Tigers are wilder with their optimistic and independent spirit. With their highest expectations of having the best results eagerly, Fire Tigers eye for the best things and events that want to happen because once a fire tiger achieves something, they always achieve for something more with optimism. But beware of their lack of self – control — you might just get burned out while they're achieving something!
Wood Tiger
With their compassionate and open personality, Wood Tigers are ready to share their world with you! Wooden Tigers tends to share what they know and what they experience (by detail) so that you'll have either shoulder to cry on or an ear to give you a listen whenever you're stuck in a rut or you need a cheerleader to support you in whatever you're doing!
Earth Tiger
Earth Tigers are usually grounded because they're realistic about what's going to happen in the present and future and they also have good faith in you! If you have friends who are Earth Tigers and Wooden Tigers, then you have a solid support system along with the fact that they're adventurous so that you can not only make memories with them, but you also get a whole new experience and a journey of a lifetime!
Gold/Metal Tiger
There are two types of Golden Tigers: The enthusiasts and the headstrong. Women born in the year of the Gold Tiger are enthusiastic and they also are happy in what they are doing while males who are born in this tiger year tend to be feminized because of their stubbornness and and indecisiveness, but once you knock on their heads and get them on track, their streak will never run out!
Lucky And Unlucky Things For The Year of The Tiger
So you're born at the year of the tiger and you're not sure what to do to attract good luck and good fortune, that's okay. We've got you with a bunch of things that will bring you luck and what to avoid whether you're born at the year of the tiger or not!
Lucky Charms for the Tiger Years
Lucky Colors: Blue, gray, orange, red, green, black, and yellow
Lucky Numbers: 1, 2, 3, 4, 12, 22, 31, 45, and numbers containing these digits
Lucky Flowers: Yellow Lily and Cineraria
Lucky Directions: East, South, North, and Northeast
Lucky Months: March, June, and November for cardinal; the 3rd, 7th, and 10th Chinese Lunar months
Unlucky for the Tiger Years
Unlucky Colors: Gold, silver, and brown
Unlucky Numbers: 6, 7, 8, and numbers containing these digits
Unlucky Directions: Southwest and West
Unlucky Months: The one that has the 1st, 4th, 5th, and 11th in Chinese Lunar months
Year of the Tiger 2022 Predictions
Ever want to know your future without second guess yourself in every aspect and hire a personal fortune teller? Worry not! We've got you with these 2022 predictions that will get you a head start in everything you need to know, whether you're aiming for a career, love, family, or relationships that will head your way with your horoscope!
Tigers' Health in 2022
Since Water amplifies the main force, health, and what's important for a Tiger's spirit, it's recommended to place Tiger statues or Feng Shui deities that represent wealth in your home and office to attract good fortune, health, and wellness. Since tigers are eager to do anything, they are willing to get out of the way to achieve something even it means they will be sleep – deprived. It will help if they go on trips with their families and friends and play some light music on. The only issue that they'll have to face? Major spending. So they need to be extra careful in managing their work play balance so that they'll get the best of both worlds.
Tigers' Career in 2022
The lucky Northwest direction is the zone target if you want to level up your career development or you just want to expand your wealth in the long run this year as 2022 is the recovery period filled with promising changes, better developments, and new positions for most Zodiac and Animal signs, especially for Tigers. They can be promoted if they'll be proactive with their work. But this year isn't a good one to make a big jump on career change, and they should put their plans in doing so on hold until next year.
Tigers' Finance in 2022
Okay, so 2022 will be the most rewarding year for the Tigers because their wealth comes from their careers, so concentrating on their career and making a breakthrough in their career life shouldn't be a problem! You can also support your main income by putting a creative idea of your own into a profitable opportunity and you can also make a huge sum of passive income by investing in share markets and crypto currency! But take note that you shouldn't be aggressive or anxious to broaden their business ventures and that you shouldn't take risky investments.
Also, Tigers have a problem with overspending more than what they have, so you should find ways on how to be meticulous with your financial management this year as well as making financial decisions because one indecisive /fickle – minded move can make you crash and burn with a massive financial loss. Display the Brass Five Element Pagoda Tower to avoid this heavy financial loss as well as carrying a set of Bat Lock Coins to increase your cash flow.
Relationships in 2022
Okay, hear us out: You might want to be careful if you're a single Tiger this year because you might direct all of your energy into your career life (and eventually get carried away!), it might be hard for you to find a partner who is compatible with your energy. But pay attention to the Mid – Autumn Festival, single Tigers! Who knows — you might just meet the one for you and you just have to wait for it a little more!
In terms of interpersonal relationships, Tiger people can extend their families and will also go through a happy period and a chance to go through less serious issues with their life partners this year for those with a love life, whether it's a serious relationship or marriage. But take note that communication problems will happen at some point, which can be solved easily.
Being in the Water Tiger Year can be the period where most people recover in every aspect of their lives that are affected by the pandemic. A lot of things can happen in this Chinese year such as unexpected expenses, more success, financial luck, and a better future. Whatever happens, it's better safe than sorry to an extent that you attract the good things if you're careful with your cards, right?
With that, we want to wish not onto our Chinese and Filipino – Chinese brethren and friends, but all of you a happy Gong Xi Fa Cai as we face another Lunar Year with more abundance and luck for the year of the Water Tiger!