Ending the 97-year drought
It has been years since the Philippines won a medal in the Olympic Games. Before weightlifter Hidilyn Diaz got the historical gold medal in the Tokyo 2020 Olympic Games, there were 7 bronze medals and 3 silver medals won by hard working Filipino athletes.
In this article, you'll know more about the Olympics, Philippine's participation in the Olympics, and most importantly why the gold medal of Hidilyn Diaz in the Tokyo 2020 Olympic Games made the whole nation proud.
Philippines at the Olympics
The Philippines began participating at the Olympic Games in 1924 held in Paris, France. It's also the first country in the Southeast Asia region to compete. Since its initial participation in the Olympic Games, there were 8 Filipino athletes who brought home seven bronze and two silver medals.
Who was the first Filipino Olympian?
David Nepomuceno
David Nepomuceno was a runner and was the sole representative of the country at the 1924 Summer Olympic competition held in Amsterdam, Netherlands. In 1928, four years after the country joined the Olympics, Teofilo Yldefonso of Team Philippines won its first bronze medal in swimming. After the win, the country consistently won medals mainly in the athletics and boxing competition and was ultimately brought to a halt until 1996.
On July 26, 2021, after more than two decades of relentless efforts to win a medal, Hidilyn Diaz made the headline of every newspaper and magazine when she won gold in the women's 55kg weightlifting competition.
Who is Hidilyn Diaz?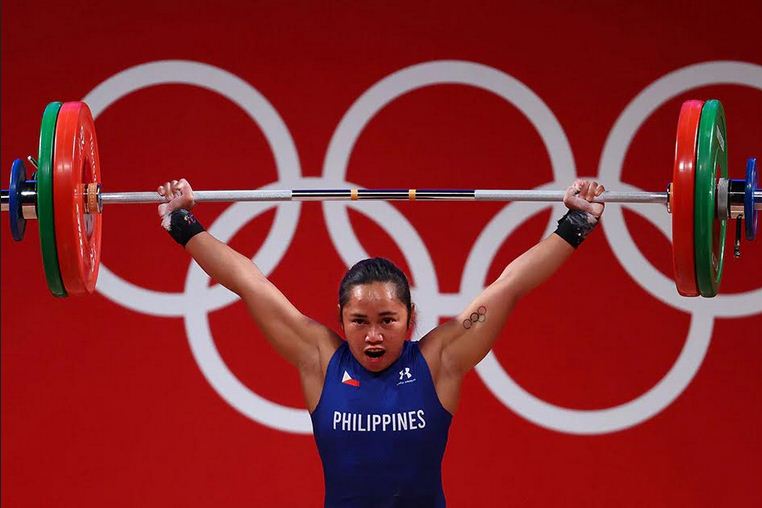 You may know her as the first Filipina that made history to win gold in the Olympics, but did you know that she hails from Asia's Latin City, Zamboanga City? Here is a brief segment from her early life at home and education up to her participation in the 2016 Rio Olympics and the Tokyo 2020 Olympic Games.
Early life
The Filipino airwoman and weightlifter Hidilyn Diaz was born on February 20, 1991. She is the fifth child of Eduardo and Emelita Diaz; her father was a tricycle driver, then became a farmer, and then a fisherman. She grew up wanting to be a banker and enjoyed playing basketball and volleyball. She learned weightlifting basics from her cousin Allen Jayfrus Diaz which we didn't know sparked the enthusiasm for weightlifting.
Education
Diaz studied computer science at the Universidad de Zamboanga, where she earned a bachelor's degree, but she stopped attending the university in her third year after finding her degree unsuitable for her. She even noted that studying distracted her training.
The weightlifter Diaz then continues her tertiary education and plans to study sports in Manila in the wake of her weightlifting Rio Olympics success in 2016. After winning the Asian Games, Diaz received a scholarship from De La Salle-College of Saint Benilde to study business management. In 2018, she took a leave from school to focus on her Olympic preparation in weightlifting. Diaz re-enrolled for online classes in 2020, since the Summer Games were rescheduled to July 2021.
Military Career
The Philippine Air Force (PAF) recruited Diaz through its Direct Enlistment Program in 2013. She was initially assigned to the Air Force Special Service Group. She also received a Specialty Code in recreational weightlifting.
In 2014, Diaz gained the rank of Airwoman Second Class, was awarded the Military Merit Medal for organizing PAF events and was awarded the Presidential Citation Unit Badge. PAF recognized her accomplishments at the Olympics by giving her a promotion.
Details of the promotion, which initially remained classified, were later revealed to be first class. Diaz was promoted to Airwoman Sergeant after her performance at the 2018 Asian Games.
Goal setting
The 58-kg weightlifting division was her first Olympics, where she competed as the youngest competitor.
During the 2016 Rio Olympics, Diaz won a silver medal in the women's 53-kg weightlifting class, ending the Philippines' 20-year medal drought. On top of her silver medal, she was also named Athlete of the Year by the Philippine Sportswriters Association on February 14, 2017.
At the 2020 Summer Olympic Games for women's weightlifting, Diaz won the Philippines' first Olympic gold medal, setting an Olympic record by lifting 224 kilograms in the women's 55kg weightlifting category.
Hidilyn Diaz' Achievements in Weightlifting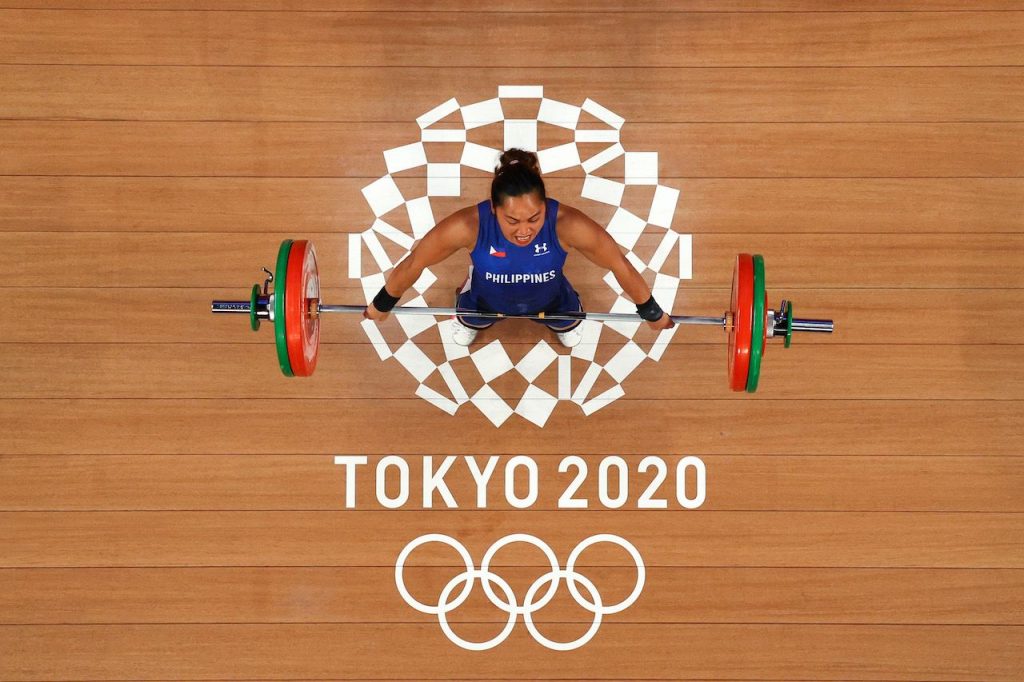 She represents all aspiring women that no matter what people have to say about your skills, as long as you trust the process and believe in yourself, you will be rewarded according to your efforts.
Historic Accomplishment
97 years later, Hidilyn Diaz wins the coveted gold medal at the women's 55kg weightlifting competition at the Tokyo 2020 Summer Olympics. She came a long way; from learning and training hard amidst facing personal adversities, she got back up and went for the gold.
Gold Prizes for the Olympic Gold Medalist
As a reward for her hard work, Hidilyn Diaz will receive at least 33 million pesos. A prize worthy of her efforts to bring glory and pride to the Philippines. According to Republic Act No. 10699 known as the "National Athletes, Coaches And Trainers Benefits And Incentives Act", Hidilyn Diaz is entitled to ten million pesos to be issued from the PSC.
Diaz will also receive ten million pesos each from Philippine tycoons Ramon S. Ang and Manny V. Pangilinan. Her hometown, Zamboanga City, also pledged to give her 2.5 million pesos.
Moreover, Hidilyn Diaz has a house and lot in Tagaytay waiting for her from Abraham Tolentino, the President of the Philippines Olympic Committee (POC), a residential condo, and a lifetime of free flights from AirAsia.
Truly, blessings upon blessings. Team Philippines is surely proud of how far the humble athlete has accomplished.
In line with this, there are also other Filipino Olympic athletes such as Carlos Yulo (Gymnastics), Margielyn Didal (Skateboarding), and Nesthy Petecio (Boxing) and many more that deserve our support and recognition.
---
For more trending news follow Vistaland International!
Vistaland International Marketing Inc (VIMI) also provides our dearest OFWs and immigrant Filipinos abroad timely Philippines news.
VIMI caters to all Filipinos citizens locally and globally, that's why we have international offices in Italy, United Kingdom, United States of America, Kingdom of Saudi Arabia, Qatar, United Arab Emirates, and Kuwait.
Vistaland International is the global marketing group of the leading integrated real estate developer in the Philippines, Vista Land and the group was primarily created to offer condos for sale and affordable houses in the Philippines to OFWs.
Are you an OFW looking for a side income? Join us!
---
Vistaland International Marketing, Inc. (VIMI) is the international marketing division of Vista Land. Aiming to provide OFWs and migrant Filipinos a home in the Philippines, VIMI has established long-lasting relationships with brokers and clients around the world.
Get started with your property investments! Contact us today and follow our social media accounts: Facebook, YouTube, Twitter, Instagram, and LinkedIn