Whether you live in a studio apartment, want to add something to your room to cover yourself while dressing up, or need to break up a larger room without actually breaking your bank account, then dividers are your best friend. They are also known as folding screens simply because of how easy it is to fold and unfold whenever you need to separate a big room into two smaller rooms. But did you know that you can make homemade room dividers instead of having a hard time in buying one?
Well, now you know! Here are some clever and stylish homemade room divider ideas that you can do as well as some benefits of having your own DIY divider to get you started on this fun mini project for your haven!
Benefits of Using DIY Room Dividers
Dividers are functional, affordable, flexible, and have a wide array of materials for you to choose from, making your home life easier and more flexible than just adding more walls (which can cost more). You can place them anywhere around your place and you can divide a large room or a big space, adding an element of privacy and portability that can make your house, apartment, or condo versatile and functional. There are many options for you in terms of materials to choose from such as textile, wood, and plastic, and you can decorate them in any way you want it!
Adding more walls has its advantages, however, if you want something quick, functional, portable, and practical to save space in your place, then we highly suggest that you should get yourself a divider, whether you want it built in or the ones fresh from the home decor store.
Creative and DIY Room Divider Ideas for Living Room
Folding Screen
The most basic room dividers that you can find is a folding screen. These basic room dividers are lightweight, simple, attractive, and classic as they appear in most Asian house designs for centuries. These are hinged together in three, four, or more panels that are either translucent or opaque. If you're going to DIY this, all you need to do is to pick out your favorite fabric, mount them on alternating sides, and attach them onto the panel frames so that they can fold up. Trust us, it's that easy to make to the point you don't need to buy one (and you can choose from bold statements to minimalistic ones)!
Pallet Wood Room Dividers
This simple yet minimalistic divider idea does double duty as a vertical scrapbook because the nails serve as hooks to hang your favorite pictures to separate your room from your living room in a new way! That way, you can look at your living room at a whole new level with hanging memories! How sentimental and simple can you get?
Chicken Wire Dividers
If you think fabrics are too mainstream for you, wait 'til you hear out this: You can add some chicken wire to make it look like you've been at the beach or at the market to make it look vintage and sentimental! Sounds tacky when you put it that way, but when you know your work with the ropes and wires, you would create a vintage feel that would blast you back to the past with the simple and quiet life on the farm or the beach!
Curtains
If you don't want the hassle of buying or making your own room divider out of raw materials, you can simply get your curtain rod and attach it to your ceiling, add some hooks or rings, and your curtains out of the closet, and you can simply push or pull whenever you need to. This is the simplest hanging room divider idea that you can think of because it's perfect for instant space partitioning and instant privacy whenever needed.
You can also opt to use coiled wire mesh, beaded curtains, or even hanging plants to add a little variety to the traditional curtains as your room divider.
This is perfect if you have an additional space for a sleeping area or in a studio apartment or a mother-in-law suite.
Macrame Room Divider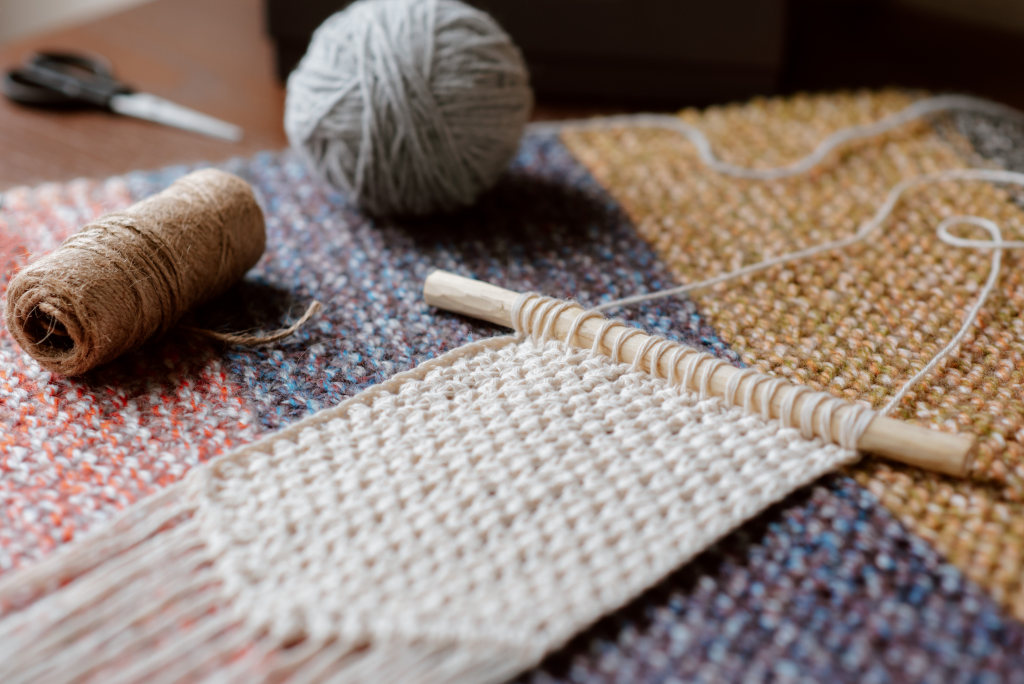 If you want something that is free flowing and aesthetically pleasing at the same time, then macrame room dividers are the answer into making it your own style! With tons of different textures, you can get some privacy plus some air (minus the feeling of being trapped) so that you can do your own thing in peace while making your place fresh and ventilated. You may also want to put some indoor plants to save some space (especially if you love plants)!
Hanging Vinyl Discs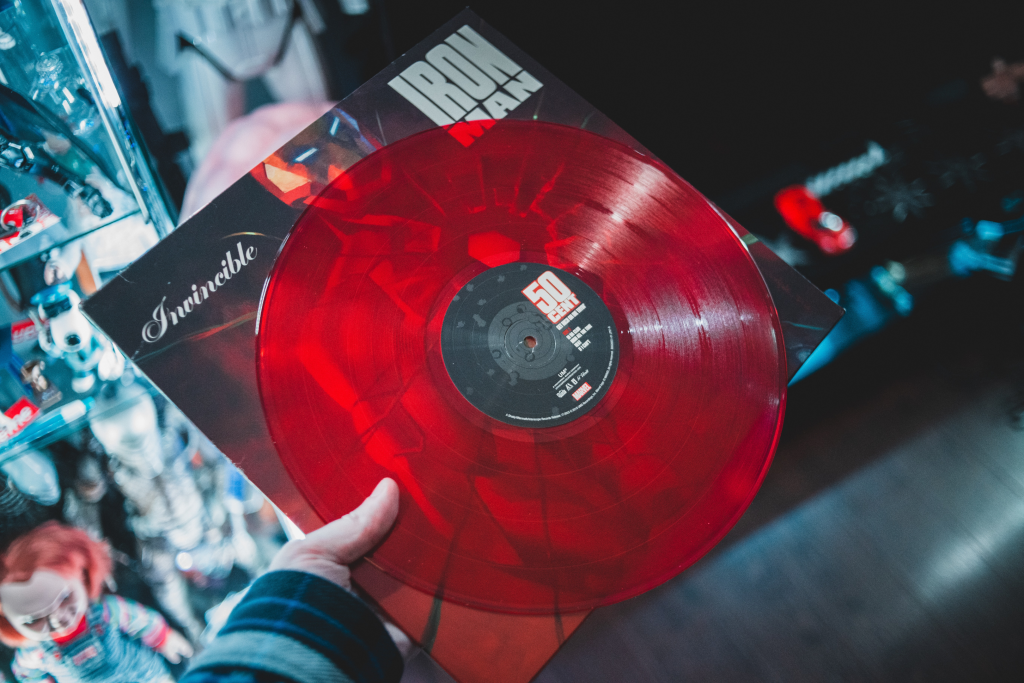 Who says you need a vinyl player to play a vinyl disc? You can just go with hanging room dividers! And one way to achieve this is go to a garage sale or a music store, get some vinyl discs, some fishing line, and hooks that you can drill to a ceiling, and you can have your very own retro music studio atmosphere in a small space!
Sliding Doors
If you think the first two options are a bit flimsy for you, then sliding doors or accordion doors are the answer! Often perfect for meeting rooms, these commercial and professional dividers should separate spaces with the ease of a curtain as they are suspended from the ceiling until a half an inch from the floor to avoid tripping hazards (as they are hung to a plumbing pipe attached to walls). They're typically made of wood, vinyl, laminates, aluminum, or acrylic, so they should have an easy movement when you open and close.
Another thing about sliding doors is that you can decorate them with chalkboard paint to make them look like a barn door or you can opt to make them into accordion doors if the simple sliding doors are too simple for you. You don't need to buy a fresh sliding door for you to attach; all you need are a couple of discarded doors or wooden boards that fit the frame you have, and you're good to go in decorating it!
An Ikea hack developed by Jules Yap of Ikea Hackers found a way to divide her studio apartment to create her own bedroom space by making a sliding wall using Ikea Pax wardrobe doors large enough to stretch from ceiling to floor, sliding effortlessly.
Sliding doors are hanging dividers that separate spaces and act like a normal door to your room for easy access and privacy.
Bookcases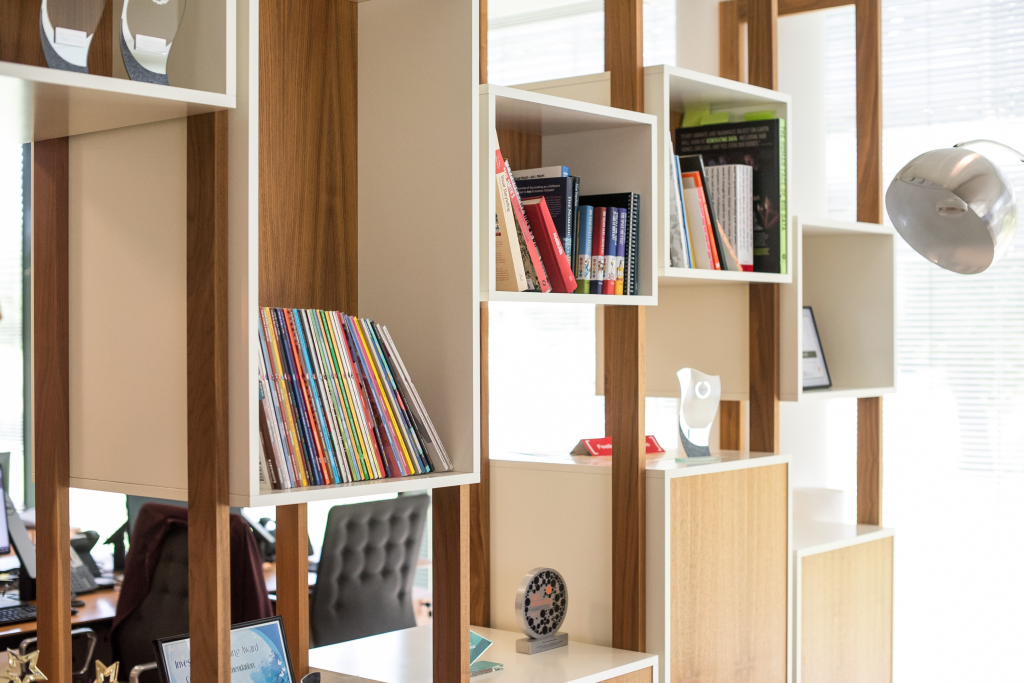 Whether you have a floor to ceiling bookshelf, bookshelves with wheels, or tall and wide bookcases, these are perfect for an instant room divider and a reading nook at the same time! All you need to do is to set the bookcase perpendicular to the wall, attach some metal L brackets and a wall stud then drive a few screws through the side into the unit of the same stud, and voila! You have your own room divider and a good read in one go! To avoid tripping accidents, all you have to do is to anchor the bottom.
Permanent Dividers
We get that additional walls come into your mind when it comes to permanent dividers, but you might want to consider in investing unique room divider ideas such as a DIY room divider that has a fountain that runs down from the pipeline in your ceiling and some pebbles to add a Zen vibe in your haven or add some window frames from your room to your living space for you to feel that you're in another place with your own personal window to look at. Whatever that may be, there are lots of DIY solutions for you online to get ideas from and to work on!
Exposed Lath Room Divider
If you want a unique way for your total privacy, then you can invest your time and effort in making an exposed lath room divider, which can give you a classy and beautiful vibe with some traditional lath boards. You can get creative with something simple like lath boards into something exquisite. After all, starting from scratch shouldn't be too rugged.
Dividing Into Two
You don't need a lot of help in making homemade dividers: All you need are simple tools, creativity, imagination, willpower, and lots of patience for you to get your dream divider into an open space of reality. There are so many ideas that you can get online, the creativity never runs out as well as divider ideas that you can hack into so that you can make the most out of your living space. You just need a lot of thinking and experimenting to make your space work with a divider. After all, it's easy to get creative with the space; all you need to do is to make it happen with a large space.
---
Looking for an affordable property? Contact us today
A lot of Filipinos dream of owning their first apartment or house and lot. With today's booming real estate opportunities, there are so many options to choose from.
Here at Vistaland International, we have a roster of affordable property listings from several locations across the country. Whether you're looking for a place to live in Manila, Cebu, Davao and etc, we've got you covered. So contact our real estate agents today!
Vistaland International was primarily created to bring OFW closer to their dream of finally acquiring a home in the Philippines. And with the rising cost of living in the country, OFWs and their families are looking for ways to earn extra cash flow to support their daily needs. Luckily, you can also join the global network of Vistaland International as a real estate professional and earn a commission!
Vistaland International Marketing, Inc. (VIMI) is the international marketing division of Vista Land. Aiming to provide OFWs and migrant Filipinos a home in the Philippines, VIMI has established long-lasting relationships with brokers and clients around the world.
Get started with your property investments! Contact us today and follow our social media accounts: Facebook, YouTube, Twitter, Instagram, and LinkedIn.