Eat, party and stay trendy with Vista Land International as the largest network of international sellers heads off to Canada to celebrate this years Fiesta Extravaganza happening this August 5-6 at Firemen's Park, 2275 Dorchester Rd., Niagara Falls, Ontario, Canada.
Don't miss out on this festivity that celebrates Filipino heritage while grabbing the chance to know more about the newest and hottest projects from one of the Philippine's largest integrated property developer and home builder, Vista Land & Lifescapes!
What is Fiesta Extravaganza?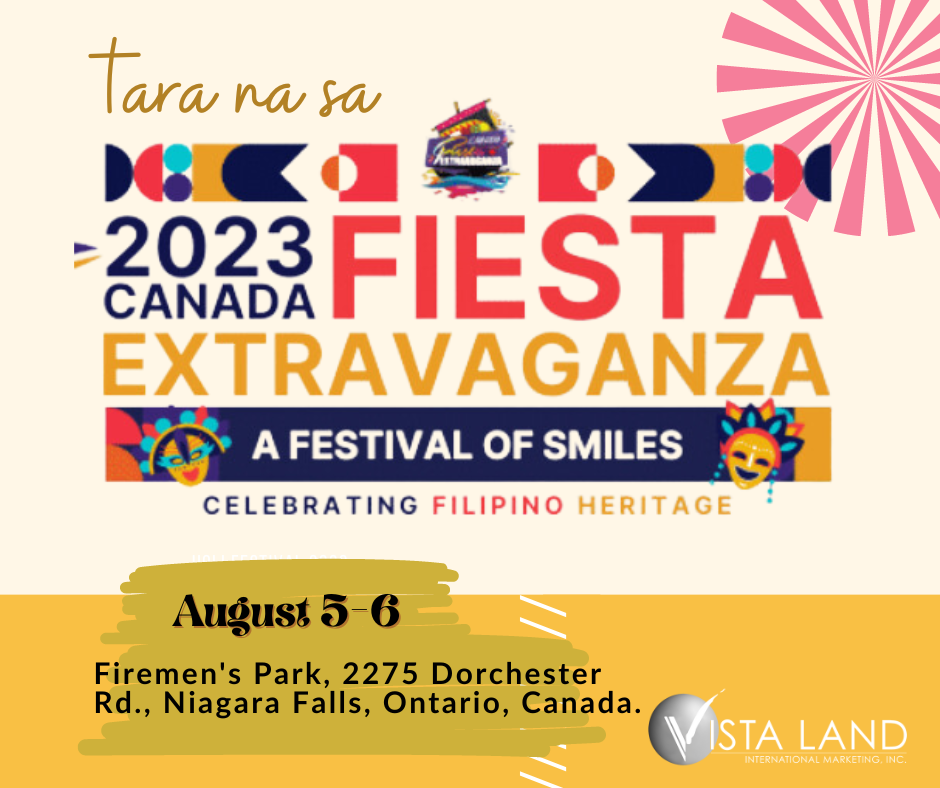 Fiesta Extravaganza is an annual festival that celebrates Philippine heritage and promotes multi cultural awareness in Canada. It started as Vaughan Fiesta Extravaganza and served as an amazing opportunity for the Filipino people to have fun, mingle, and connect to their Filipino roots. The first two years of the event saw success, way back in 2018-2019. Not even the pandemic could stop the celebration as the first virtual Fiesta Extravaganza took place in 2020-2021. It was also during the time when they got bigger with Montreal hopping in to the fun!
Now, running on its sixth year, this vibrant festivity continues to grow bigger with more cities such as Toronto, Hamilton and Niagara Falls adding to the trail! Fiesta Extravaganza features a variety of activities that the Filipino community in Canada can enjoy. Check out some of the main highlights which includes:
Non stop entertainment
Musical Extravaganza
Food Expo
Traditional Filipino Games
Community Spotlight of featured Outstanding Filipinos in Canada
Vendors and Exhibits
Vista Land International Goes to Niagara Fiesta Extravaganza!
The growing Filipino-Canadian community is one of the major contributors to the social and economic fabric of Canada. This 2023, Vista Land International is giving back to our modern day heroes by joining the fun in the first ever Filipino summer festival in Niagara Region, Ontario!
We believe that OFWs around the world deserve the convenience of owning their dream home in exchange of their hard work and sacrifice abroad. That's why it has been the company's mission to offer homes that are not only affordable but also elevate their quality of life.
Visit our booth to get your hands on the latest offerings from Vista Land! You won't be going home empty handed as we will be giving away lots of prizes, flyers, and freebies!
We can't wait to help you embark on your journey towards owning your dream home! See you, Kababayan!