<a href='https://www.freepik.com/photos/people'>People photo created by jcomp – www.freepik.com</a>
If there's one thing that unites local Filipinos citizens and Overseas Filipino Workers (OFWs), it would be a Miss Universe competition. No doubt, every home in the Philippines is an avid fan of beauty contests or any global event that gives Filipinos a chance to showcase their brains and talent.
The Philippines has produced eleven Miss Universe Philippine candidates that have entered at least the semi-finalist round, four of which were crowned as winners later on. These beauty contestants, regardless of their rank, became role models to young Filipino girls to take on whatever problems they may face in life with sheer grit and determination.
And with this year's Miss Universe Philippines, there's no denial everyone wants to know more about the charming beauty queen from Visayas. Filipino citizens, even OFWs and migrant Filipinos from all over the world, have shown their support and love to the Miss Universe Philippine candidate.
Who is Rabiya Mateo?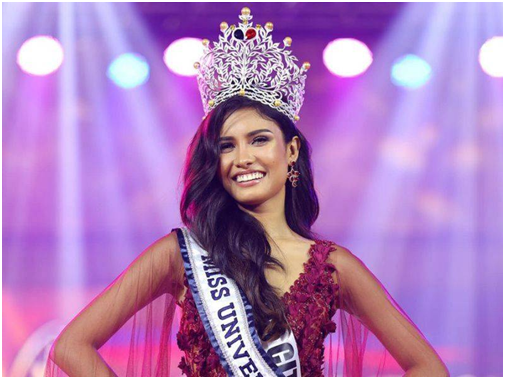 Photo : MedPro International
Rabiya Mateo is an Indian-Filipino beauty queen born in Balasan, Iloilo. She grew up in a broken family and was raised by her single mother. From a young age, her family struggled financially. And while that may be a big hurdle, she did not let it affect her studies. She continued to excel at her studies while being part of various organizations at school.
The mixed-race beauty graduated cum laude with a Bachelor's Degree in Physical Therapy (PT) at Iloilo Doctor's College. In an interview, she admitted that graduating college was the best gift she could ever give to her mom. During her college years, she applied for several part-time jobs to save up for her board exams
In order to be a Physical Therapist Registered in the Philippines (PTRP), she reviewed at Sultan Review Group (SRG) Manila Review Center. After she got her license, she started a career as a teacher and review coordinator at SRG Manila Review Center from August 2018 to February 2020.
Rabiya's Humble Beginnings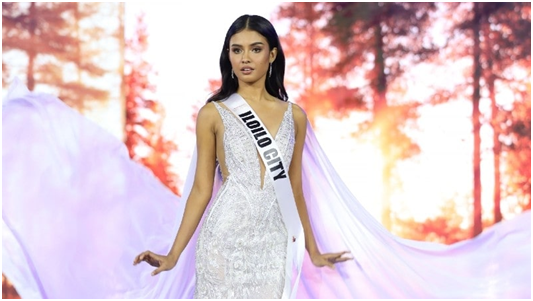 Photo: Tribune Net PH
Rabiya Mateo's journey to the Miss Universe stage wasn't all glitz and glamour.
It was during the time Venus Raj was crowned as Miss Universe Philippines 2010 that Mateo wanted to join the world of pageantry. With relentless efforts and strong faith in herself, she started joining school pageants. At the age of 15, she represented the College of Physical Therapy in one of the local school pageants.
However, with all the pageants and training, she wasn't crowned once. This prompted her to take a break from beauty pageants to focus on studies and work.
Mateo's passion for participating in beauty pageants didn't flame out while she was working in Manila. She decided to join Miss Iloilo, her first ever extensive pageant.
The then 23-year-old Ilongga bagged the crown in the Miss Iloilo pageant last January 2020, which led her to represent Iloilo City in the Miss Universe Philippines 2020 pageant.
During the question and answer segment of Miss Iloilo, Mr. Robi Domingo, the host asked her: "How can the crown of Miss Iloilo 2020 promote Iloilo in the global community?"
She answered with: "If I were to be crowned tonight, it would be such an honor to bring to the global community our very own hablon which represents dedication, hard work, and creative side of every Ilonggo. Aside from that, I want to show to the world that I am the queen of today because of my province. And with that being said, I want to prove to everyone that I am a true ilongga with a heartfelt beauty."
Rabiya's Rise to Fame
Photo: Rabiya Mateo's Instagram (@rabiyamateo)
Rabiya became well-known in every home in the Philippines when she was crowned as Miss Universe Philippines. Right from the get-go, controversies and rumours about the Bisaya beauty flooded social media.
As the representative of Iloilo City, she has shown resilience and grace over pressure throughout the competition. In an interview, she admitted she was fangirling over the girls she only saw on TV before. She also confessed she felt small compared to the other girls in the competition. Little did she know that she'd become a dark horse as the competition went on.
When she advanced to the Top 5 finalists, there were two rounds of a question and answer portion. During the first round, her question was: "If you can create a new paper currency with the image of any Filipino on it, dead or alive, who would it be and why?"
She answered with: "If I were given the chance, I want to use the face of Miriam Defensor-Santiago. For those who don't know, she's an Ilongga. But what I admired about her is that she used her knowledge, her voice to serve the country. I want to be somebody like her. Somebody who puts her heart, her passion into action. After all, she's the best president that we never had."
At the last round of the interview, the judges asked her: "This pandemic has made clear our priorities essential or non-essential. Where do pageants stand in this time of crisis?" She replied with:
"As a candidate, I know I am not just a face of Iloilo City but I am here carrying hope and as a symbol of light in the darkest of times. As of the moment, I want to help my community. I want to use my strength to make an impact. And that is the essence of beauty pagent. It gives us power to make a difference."
Miss Universe 2020
Because of the pandemic, the final date of the Miss Universe 2020 competition was pushed back. The 69th edition of the Miss Universe competition was held on May 17, 2021 at Florida, United States of America.
Rabiya Mateo, representing the Philippines, was among the 74 countries that participated in the worldwide event. She has shown the world her strength and heartfelt beauty all throughout the competition.
Although she made it to the Top 21 semi-finalist round, Mateo's journey to win the crown was cut short as she wasn't selected as one of the Top 10 finalists.
Winning isn't everything and losing doesn't mean it's the end of the line. Filipino citizens and even OFWs or migrant Filipinos are the most supportive fans of Miss Universe Philippines. She has already been a phenomenal woman since then. How she overcame her hardships in life made her into the fierce independent woman she is today. And with the loving support of the previous Miss Universe Philippines candidates, every home in the Philippines has seen her compassion, determination, and heartfelt beauty.
---
Vistaland International Marketing, Inc. (VIMI) is the international marketing division of Vista Land. Aiming to provide OFWs and migrant Filipinos a home in the Philippines, VIMI has established long-lasting relationships with brokers and clients around the world.
Get started with your property investments! Contact us today and follow our social media accounts: Facebook, YouTube, Twitter, Instagram, and LinkedIn.