Fences are one of the most overlooked elements when it comes to building or buying a house. When it comes to inspecting the property, some homebuyers focus on the interior of the house and sometimes leave out the exterior of the property. If you are building from scratch, you may sometimes dismiss adding fences 'at a later date.'
As much as the interior of your house matters, so does the facade and fence design of your property. First and foremost, it should match the overall interior design or your house's aesthetic will be a complete mismatch. Fences also have privacy, security, and safety purposes, too.
Today, we will be looking at the beauty and benefits of adding fences to your house. We will also lay out some modern fence design ideas to help you get started on your project!
Slatted Wood Fence
Timeless and classy, the slatted wood fence design is a staple in a lot of neighborhoods. The rustic wood color makes it easier to pair with plants and other accessories for that charming appeal. If you have white walls or posts, paint your usual flat panels with black for that touch of modern, minimalist style.
You can also start a DIY project by using old, flatten woods or asking the local construction companies for scraps! The spaces between the slats are minimal that makes slatted wood fence an ideal design for more privacy. Plus, it's more environmentally-friendly!
Modern Black Horizontal Slats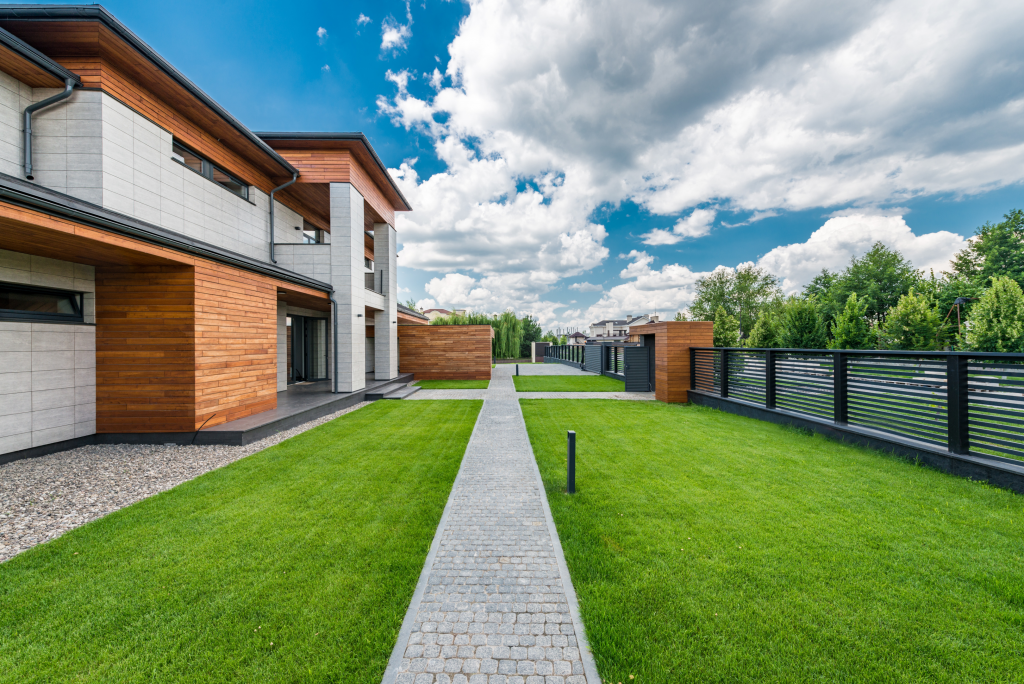 Minimalist, easy-to-maintain and elegant-looking, this design makes it up to this list! It is a combination of horizontal metals slats painted with black inserted between white concrete posts. The stark contrast of colors makes this design stunnung and appealing to the eyes!
A tasteful design that goes well in almost all house types, Lumina Homes' Adriana Townhouses and Emery Rowhouses incoporates this look. The former has a lot area of 44 square meter while the latter has 36 square meters, both boasting with modern black horizontal slats in front! Inquire now on how you can get your own Adriana or Emery!
Green Wall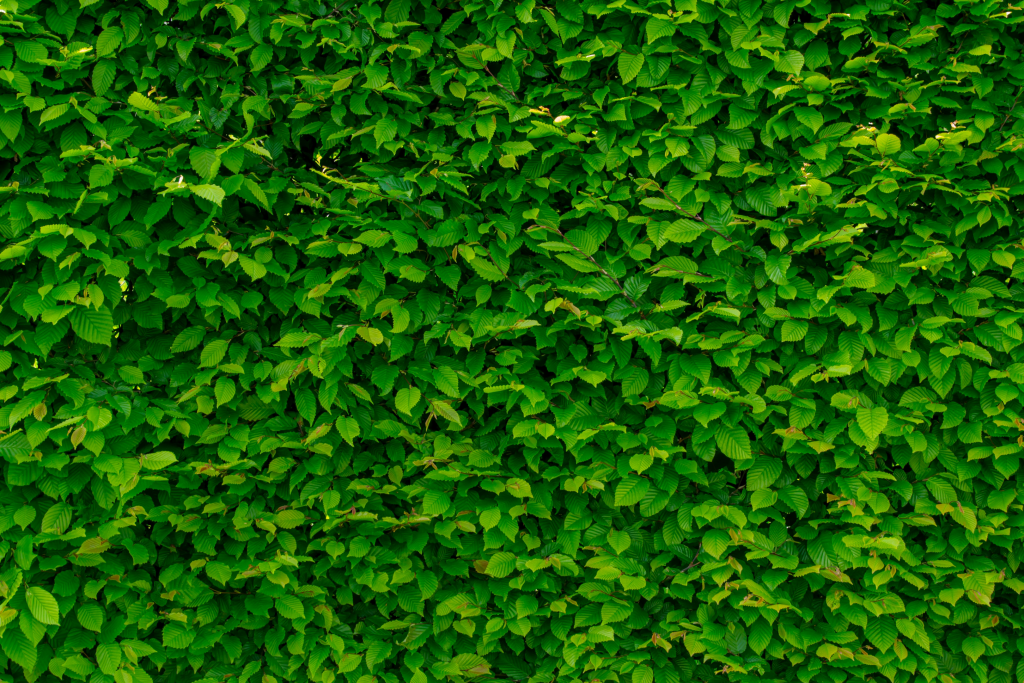 Dish out the conventional wire, wood, and cement to build your fence! Show off your green thumb and unleash the inner plantito/plantita in you by creating a 'living fence.'
A great alternative to yard fences, green walls provide a good coverage for more privacy, costs little, and helps cool the air around. Although it takes some time to grow your plants and shrubs, the results are astounding– and it's more eco-friendly!
Hedge plants are the most common type of plants used in this kind of fences but you can also opt to use climbing plants! Clematis, nasturtium, bougainvillea, and hydrangeas will add flair and drama to your fences!
If you want to skip out on the planting and maintenance, there are local companies who will do all the green work for you!
Concrete Fencing
Strong and sturdy, concrete fencing is also popularly used in homes, primarily for privacy purposes. For maximum coverage, use pure concrete.
If you think a plain concrete wall is too boring for you, you can add blocks of adobe or wood pallets in between to create more drama. Black geometrical lines will add a chic and cohesive finish to your fence.
Aside from woods and stones, you can incorporate a lot of other stuff to your concrete fence. Tear your fence section after section and insert metal slats in the spaces, creating a vertical brick and metal interchange. Concrete walls are perfect canvasses for a vertical green wall as well!
Lattice Fencing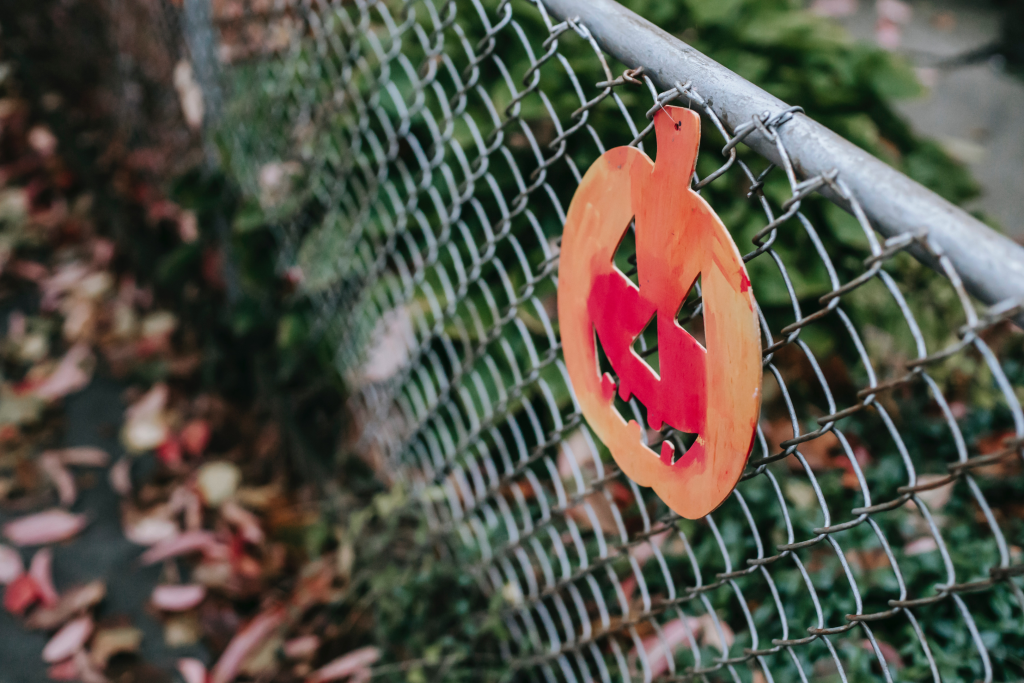 Quaint and lovely–that's how you'll describe lattice fencing. It is the perfect option if you want to create boundaries but still want to say hi to your neighbors. From wood patterned iron, aluminum, or steel, there are a variety of materials to choose from.
Design upgrade: Lattice fences are best when paired with climbing herbs or flowering plants for that added creative visual appeal!
Cedar wood and a pergola
Cedar is a type of wood that is insect deterrent (thanks to its natural oil) and can last up to decades, making it a popular option for fencing.
Combine tradition and style by covering your yard with panels of cedar wood fence. And the cherry on top? A pergola at the main entrance!
Wattle fencing
Wattle fence is done by weaving together thin branches (sometimes strips of wood) in between planted stakes to come up with a woven lattice! Now, that's a labor of love!
Dating back to Neolithic times, wattle fences are popular constructions in the British isles and Ireland. But because they are used during the ancient times doesn't mean that you can't incorporate them in the modern times!
Moreover, the materials in creating a wattle fence is low-cost, if not, free. For maintenance, it is essential to apply linseed or turpentine oil.
Etched Metal Fence Design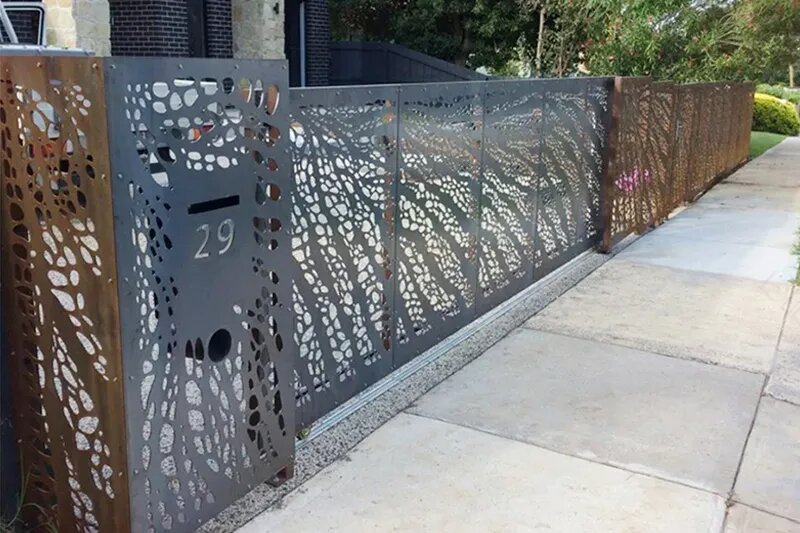 Photo Courtesy of: TBKMetal
Add panels of etched metal panels as your fences for a whimsical approach. While you can totally DIY this project, the variety of available designs in the market makes it worth the purchase! Plus, you can personalize your own design!
The price of your metal fence depends on the size of your panel. Do you want full yard coverage or alternating between posts and panels? Whatever your chosen design will be, etched metal panels will add a modern touch to your fences!
What are the Benefits of Adding Fences to your House?
Adding a fence to your house can provide numerous benefits that can enhance your quality of life and add value to your property.
Increased privacy
Fences can provide a barrier between your property and your neighbors or the street, giving you greater privacy in your outdoor space.
Improved security
Fences can act as a deterrent to potential intruders, making it more difficult for them to access your property and increasing the security of your home.
Enhanced aesthetics
Fences can add to the overall appearance of your home, creating a more polished and attractive exterior.
Increased property value
A well-designed fence can add value to your home, making it a more attractive prospect for potential buyers.
Better boundary definition
Fences can clearly define the boundaries of your property, preventing disputes with neighbors and providing a clear sense of ownership.
Protection from wind and noise
Depending on the style and material of the fence, it can help reduce noise and protect your property from strong winds.
Better control over pets and children
Fences can provide a safe and secure space for pets and children to play, allowing you to keep a closer eye on them and giving you peace of mind.
Creative Boundaries
As stated above, there are various reasons why you should add perimeter fences to your home. Aside from privacy and protection, fences give outsiders a sneak peek of who you are as a homeowner. The appeal brought about by decorative elements and ornaments of your fences creates a warm, inviting atmosphere in your property.
Also, decorative fences add up to the overall appreciation of your property, especially if you want to sell your property at a higher price. Lastly, fences also serve as markings of land territory. If you own large hectares of land in the Philippines, adding fences prevents encroachment and indicates how much land is left if you are planning for home renovations and upgrades.
---
Looking for an affordable property? Contact us today
A lot of Filipinos dream of owning their first apartment or house and lot. With today's booming real estate opportunities, there are so many options to choose from.
Here at Vista Land International, we have a roster of affordable property listings from several locations across the country. Whether you're looking for a place to live in Manila, Cebu, Davao and etc, we've got you covered. So contact our real estate agents today!
Vista Land International was primarily created to bring OFW closer to their dream of finally acquiring a home in the Philippines. And with the rising cost of living in the country, OFWs and their families are looking for ways to earn extra cash flow to support their daily needs. Luckily, you can also join the global network of Vista Land International as a real estate professional and earn a commission!
Vista Land International Marketing, Inc. (VIMI) is the international marketing division of Vista Land. Aiming to provide OFWs and migrant Filipinos a home in the Philippines, VIMI has established long-lasting relationships with brokers and clients around the world.
Get started with your property investments! Contact us today and follow our social media accounts: Facebook, YouTube, Twitter, Instagram, and LinkedIn.