Working abroad as an Overseas Filipino Worker (OFW) is a bold and courageous endeavor that offers countless opportunities and financial stability for many individuals and their families. However, amidst the pursuit of better lives and brighter futures, OFWs face a range of challenges, one of the most pressing being violence outbreaks. Our modern day heroes get caught up in between these uncontrolled turbulent time, often suffering repercussions like losing their jobs, having the need to evacuate to safer neighboring countries, and eventually being repatriated back to the Philippines.
While it is unfortunate, violence such as wars can pose significant risks to the physical and emotional well-being of OFWs, leaving them vulnerable and exposed in foreign lands.
In the News: The Ongoing Conflict in Sudan
Local and international media outlets has been keeping a close eye on the ongoing conflict in Sudan. The Guardian explains in detail as to why the clash of forces broke out.
According to the news media outlet, violent clashes between the Sudan Armed Forces (SAF) and the paramilitary Rapid Support Forces (RSF) sprouted a more than a month ago. While it's not clear who hit the trigger first, the power struggle has left SAF's General Abdel Fattah al-Burhan, de-facto leader of Sudan, on a dispute with his deputy and RSF's General Mohamed Hamdan Dagalo.
Looking back, the two has previously worked together to oust the then dictator Omar al-Bashir in 2019. In 2021, they removed the civilian prime minister and cabinet while at the same time suspending the constitution by starting a coup. Moreover, according to United States Institute of Peace, 'after the SAF, RSF and civilian political leaders agreed to a new framework for a democratic transition in December, questions emerged over how the RSF would be integrated into the SAF, as well as over who would assume leadership of the newly consolidated military.'
In addition, according to UISP, 'negotiations to resolve the issues stalled, and tensions quickly rose between al-Burhan and Hemetti in the weeks leading up to the current violence.' It's safe to say that these two prominent forces are battling to see who'll get the upper hand and control of Sudan's major institutions, however, this ongoing conflict has left hundreds killed and thousands running for the safety of their lives, including our Overseas Filipino Workers (OFWs).
During these times, the Philippine government is quick on their foot in ensuring the safety of OFWs. Last April 26th, the Department of Foreign Affairs (DFA) raised Alert Level 3 status in Sudan because of the ongoing conflict.
What does Alert Level 3 mean?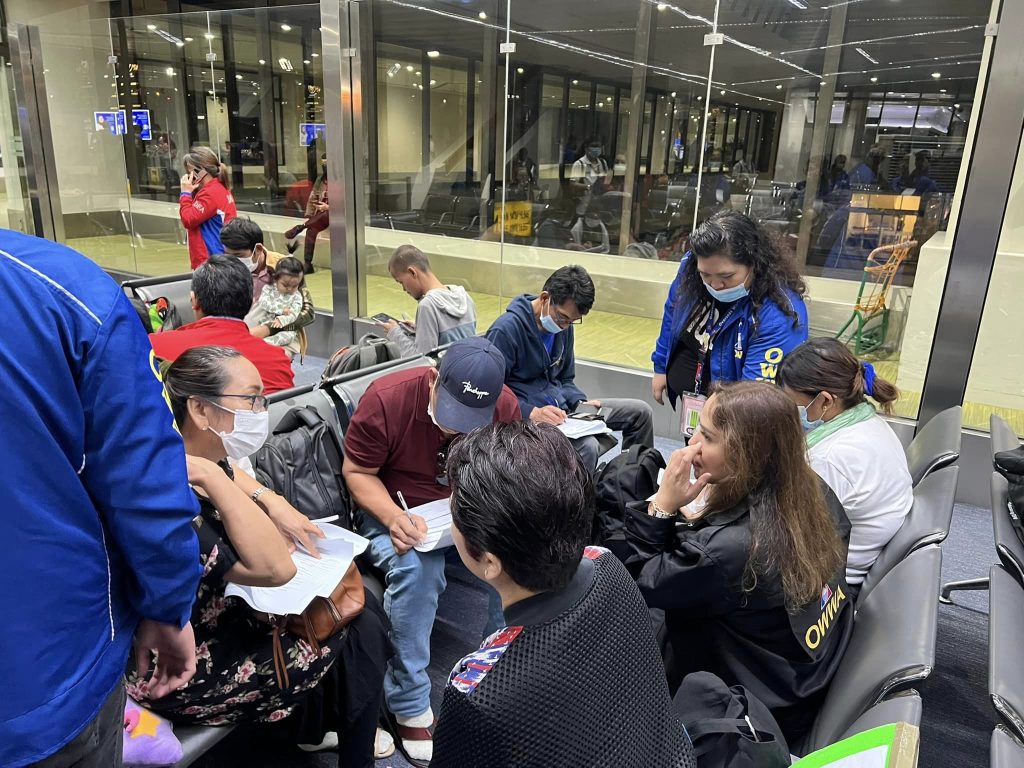 Photo Courtesy: Department of Migrant Workers Official Facebook Page
According to Global Forum on Migration & Development, the Philippine Alert Level Classification system 'classifies the degree of threat and of immediate danger that the migrant worker is facing'. They are the following:
Alert Level 1 – or the Precautionary Phase. During this phase, OFWs are advised to stay alerted and take necessary precautions to ensure safety. The alert level 1 issued if there are proven signs of disturbance within the host country, including instability and external threats.
Alert Level 2 – or the Restriction Phase. Raising alert level 2 means threats to the life, security, and property of Filipinos abroad are detected. During this time, they advise OFWs to stay away from public places, stay at home as possible, and prepare the necessary stuff and documents for possible evacuation. Also, the Department of Labor and Employment (DOLE) will only allow returning OFWs with existing contacts or a group of OFWs with special circumstances to fly off to their host countries.
Alert Level 3 – or the Voluntary Repatriation, which is currently imposed in Sudan. When Alert Level 3 is raised, violent disturbances already occur within a specific area of the host country, posing threats to the safety and security of migrant workers. OFWs fly back to the Philippines at their employer's or the government's expense. During this period, DOLE imposes an absolute deployment ban.
Alert Level 4- or the Mandatory Repatriation. During this emergency repatriation, the government takes extra measures to ensure that mandatory evacuation procedures are observed.
For the past few weeks, the Department of Migrant Workers, Overseas Workers Welfare Administration, together with local government units and private institutions work hand and hand to ensure that repatriated OFWs are given the repatriation assistance they need–from airport assistance and transport services going back to their respective provinces. Basic needs such as food, water, and temporary shelter are also provided.
Can OFWs Go Back Abroad after Being Repatriated?
In an article published by the Philippine News Agency (PNA), DMW assures that assistance will be extended for OFWs who wishes to go abroad once again. For those who chose to stay in the country, a repatriation assistance program is prepared for them, such as the OWWA Repatriation Assistance Program.
How Can Repatriated OFWs start anew in the Philippines?
Consquently, reintegration programs are also available to help OFWs get back on their feet in their home country. Here are some of the reintegration programs offered by OWWA:
Balik Pinas! Balik Hanapbuhay! Program
Overseas Filipino Workers – Enterprise Development and Loan Program (OFW-EDLP)
Tulong Pangkabuhayan sa Pag-unlad ng Samahang OFWs (Tulong – PUSO)
Related Read: Blending Back into the Filipino Society: What is OWWA's OFW Reintegration Program?
Final Takeaway
During outbreaks that affect overseas Filipino workers (OFWs), repatriation becomes a crucial and complex process aimed at ensuring their safety and well-being. The primary objective of repatriation is to safeguard the OFWs from potential health risks and provide them with the necessary support and assistance. Repatriation ensures the safety and well-being of these workers by bringing them back to their home country, away from the dangers of war zones and conflict in forces.
Moreover, repatriation serves as a mean to provide immediate assistance, medical support, and psychological counseling to affected OFWs, helping them recover from the trauma they may have experienced during violent outbreaks. By facilitating the return of OFWs, the government acknowledges their sacrifices, reinforces the bond between the nation and its citizens, and emphasizes the value placed on their welfare and security.
Overseas Filipinos in need of repatriation assistance can reach out to:
Department of Migrant Workers (DMW)
DMW Hotline: 8772 – 1144 or 8722 – 1155
One Repatriation Command Center (ORCC) 24/7 Hotline: 1348
Email: [email protected]