Photo by Spacejoy on Unsplash
Ever since the Covid pandemic occurred back in 2019, businesses have shifted online. That includes the real estate business. With the number of property listings posted online increasing day by day, the online exposure of real estate in the Philippines has doubled and even tripled since then. There are a handful of benefits with this and it can be seen as a win-win situation for everyone.
Communication and access to information have become more convenient. All you need is a device with internet capabilities. If you want to look up houses for sale in the Philippines, then a quick Google search can pull up results in seconds. Easy access to information also cuts down interactions between buyer and property owner, removing unnecessary chit-chat and diving straight to the point.
There are several online platforms that post real estate listings. This allows interested buyers to easily scroll through hundreds of available real estate posts. They can view the information and even contact the person who posted the property within minutes. Online property listings can be like online shopping where you simply scroll across several property posts and click on the post that catches your eye.
However, some property listings seem too good to be true. The price is cheap compared to other properties around the same area. Or the uploaded pictures look great. But at a closer look, they can be deceiving. As a buyer, you also need to protect yourself against fraud or falling victim to regretful decisions.
This article can help you learn how to tell genuine online property listings from fraudulent ones.
Short and simple, here are the three Ps you need to keep in mind when looking at online property listings:
Price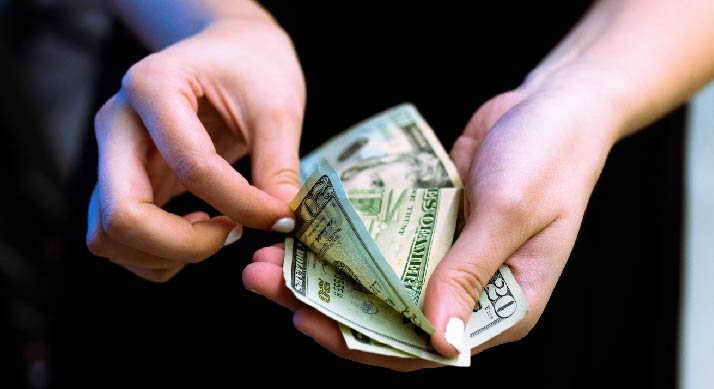 Photo by Igal Ness on Unsplash
Price is one of the keystones in the decision-buying process. Once you figure out your budget, you can start searching for available property listings.
The real estate price is estimated per square meter. Add that on top of building material costs, labor costs, installment of electric and water amenities and etc make up the sum total of the real estate price. Naturally, the larger the lot size, the higher the price gets.
Take note that what is listed on the post may not be the final price. You still have to consider paying the taxes and transfer of ownership fees. And if the property is old and bought as is, then it might need some renovation works. You would have to calculate the costs of that as well.
The best way to figure out the real price is to talk directly to the property seller. It is more convenient to have a direct conversation with the property seller in order to figure out the real price, what costs the buyer will shoulder, and additional tax fees as well.
But there are prices that may seem too good to be true. A good way to tell if the price is unrealistic is to compare prices with other properties around that area. If the price is consistent with the current real estate market prices, then most likely it is a legitimate post.
If not, then trust your instincts. Do further research. Talk to the seller and listen to what they have to say. They may come up with vague excuses or even try to reassure you it's the price while giving vague details.
A red flag is usually when the seller rushes you to put down money before you are ready to buy. A professional real estate broker will not force you to put money down until you are sure you have all the information you need. Be a smart shopper and learn to spot the signs before putting down any money.
Also Read: Why Financial Literacy For OFWs and Migrant Filipinos is Important
Photos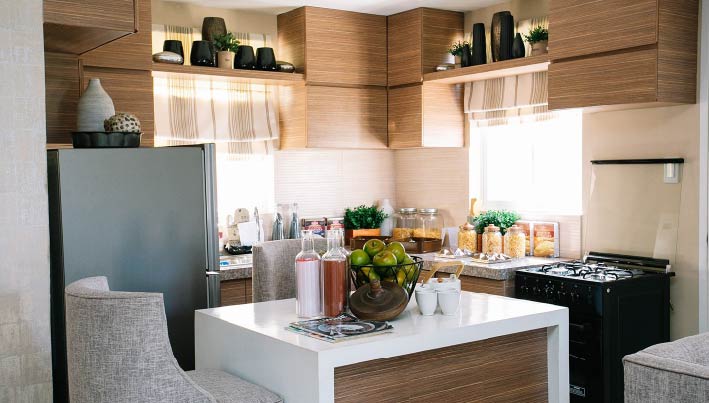 Camella Homes – Cara House Unit | 3 bedroom house and lot for sale
Take note of the photos posted with the property listing. Are they real and genuinely taken on the site? Or are they photo-shopped and looked like they were made poorly? Or maybe the post does not even have pictures at all.
One red flag when looking up online property listings is if the property seller does not post pictures of the property. Any sensible buyer won't spare a single glance at a real estate post that had no pictures.
Other red flags are low-quality photos or photos that look like they have been hastily taken. This could mean a scammer is trying to mislead buyers with a picture that could have been taken anywhere.
There is also the possibility of property posts with duplicate photos. Since it is easy to copy pictures from other property websites, bogus sellers use them to lure in interested buyers. What is even more frustrating is if they pretend to be real estate brokers from the land developer company.
To check if the property post is taken with duplicate photos, you can use Google's reverse image engine and see what pops up. If the information is consistent with the ones displayed in the listing, then you can rest assured, the property post is legitimate.
Real estate brokers will usually upload authentic and real images of the property, including all the rooms and its surrounding area. The quality is usually good. The picture is clear, has good lighting, and presents highlighted features of the property. They might also post where the site is located and how to get there.
In some instances where the house or condo is still in the development phase, real estate brokers take the pictures from the land developer website so buyers can see what the final product will look like.
Also Read: Which Vistaland Home is The Best for OFWs?
Property Seller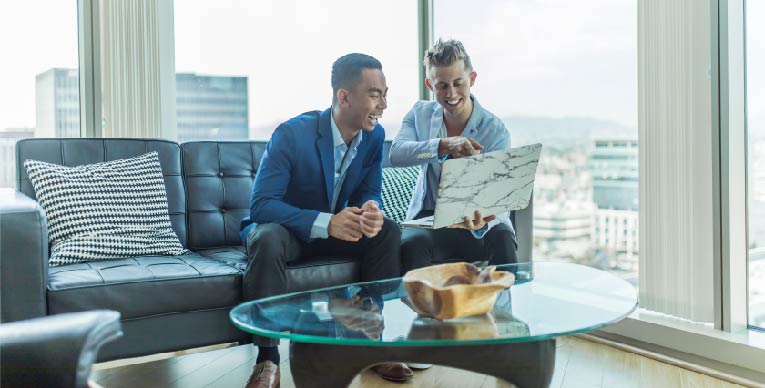 Photo by Austin Distel on Unsplash
Property sellers are the first person you come into contact with when you ask about the property listing. Usually, you can find their name and profile pictures alongside the property listing.
The common type of property sellers you see online are professional real estate brokers. You will know they are legitimate because their profile picture is presented in a clean and professional manner.
They also include the logo of the real estate broker company they work for. More importantly, you can tell if the real estate broker is legit if they include their PRC license number. A quick look-up on the PRC's main website will tell you if they are genuine or not.
On certain websites such as Lamudi, their agent profile has the Verified badge to let buyers know they can be trusted.
Real estate brokers usually know a lot more about property listing. They can tell you anything you need to know regarding the property listing and address any concerns you have about the location. You can set up an appointment with them to visit the site and see the property in real life. What's more, they can also assist you in making the purchase, and handling the paperwork process for a small fee.
In some instances, the real owners post their own property ad online without the help of the middleman. If you happen to encounter this kind of situation, then that is a good thing. This means you will have direct communication with the actual owner and not a middleman. If you manage to build a good rapport with the property owner, you can try politely haggling for a lower price. It is worth a try.
The only con with interacting with property owners is they may not have much sales experience so sometimes communication can get bumpy. And when that happens, it can feel frustrating to follow through with the buying process if one party is uncooperative or unresponsive.
The best bet is to communicate and follow through with real estate brokers. They are trained to sell real estate and have gone through various experiences handling client's concerns and questions. They are also familiar with what types of documents are required, the necessary steps in the buying process, and they certainly have a great personality and attitude when it comes to being the middleman between the buyer and the property owner.
Also Related: Buying a House for the First Time as an OFW
Bonus P: Property Title
What about the Land Title?
Learning the condition of the land title is also one of the buyer's responsibilities. Is it clean? Is it currently tied up with legal proceedings? If the land title has several owners, then it might make things complicated. Or what if the seller keeps changing the topic whenever you bring up the condition of the land title?
It is important to learn to walk away when the seller is not upfront with certain details especially when it concerns the authenticity of the land title. There have been many cases where people were scammed into buying false land titles and this caused many people to lose their money. It is heartbreaking for breadwinners to have fallen for this kind of scam. They spent much of their hard-earned money in the hopes of building a home for their family, only to learn the land title was false and the seller was a fraud.
Naturally, people are more guarded and hesitant when a real estate opportunity comes by. This is also why buyers prefer to interact with people they know or trust. And also why licensed real estate brokers are more reliable and trustworthy representatives.
To protect yourself against fraud, you would need to verify the true owner of the land title. There are so many fraudulent sales of lands in the Philippines that it can traumatize anyone who becomes a victim of this horrible experience.
To verify the authenticity of a land title, you can visit the Registry of Deeds where the land is located. Each province or city has one. Owners of registered lands are given an owner's duplicate certificate which is a copy of the original title on file with the Registry of Deeds.
The buyer can easily verify the title's authenticity by comparing it with the one original title on file with the Registry of Deeds.
Fortunately, if you buy housing properties or condominiums from land developers, then it releases you from the stressful experience of transferring land ownership over to you. The title is guaranteed to be clean since you will be the first owner of the property. It saves you the stressful interaction of calling the buyer and inquiring about any updates regarding the land title.
Also Read: Important Tips Every OFW Property Investor Should Know About
Conclusion
It is surprising to learn how fast real estate marketing has changed. From posting about it through the traditional newspaper to passing it on through verbal communication, and then to post about it on the internet, it is impressive how fast real estate marketing has evolved through the years.
While easy access to the Internet saves people time and convenience, there are also downsides and risks that come with it. For one thing, it is easier to scam people with fake advertisements, and fake posts. Keeping an eye out using the 3Ps can help you steer clear away from scammers.
As always, do your research. Inspect the property listing thoroughly. Talk to the property seller. Ask about the condition of the title. Arrange a site appointment. Listen to your intuition. There might be some details you missed during the site visitation. So always do your research.
If you are interested in Vistaland's available houses and condo property listings, you can visit their property listing search page here.
Or if you have any questions or concerns about real estate, feel free to contact our Vistaland International real estate brokers. You can contact them here or visit our social media accounts, and one of our agents will be happy to address your concerns.
Are You Ready For Your First Philippine Property?
---
Discover more OFW investments. Connect with Vistaland International today!
For OFWs and migrant Filipinos who are looking for a house and lot or condo for sale in the Philippines, Vistaland International Marketing, Inc. (VIMI) has a diverse portfolio of OFW property investments for you. Send us a message today!
---
Vistaland International Marketing, Inc. (VIMI) is the international marketing division of Vista Land. Aiming to provide OFWs and migrant Filipinos a home in the Philippines, VIMI has established long-lasting relationships with brokers and clients around the world.
Get started with your property investments! Contact us today and follow our social media accounts: Facebook, YouTube, Twitter, Instagram, and LinkedIn.