Lumina Homes held its first international virtual conference last November 13 to offer house and lot investments and Pag-IBIG Fund services to OFWs.  The event was a success as it gathered several OFWs based in UAE, Europe, and Asia via Zoom and had over 3,000 views on its Facebook live broadcast.
Hosted by Mr. Eleazar Diesta, a Senior Reporter for Kuwait Times, the online conference started with a short presentation about Pag-IBIG Fund by Ms. Maria Analyn Gaoat, a Pag-IBIG Member Services Officer based in Doha, Qatar.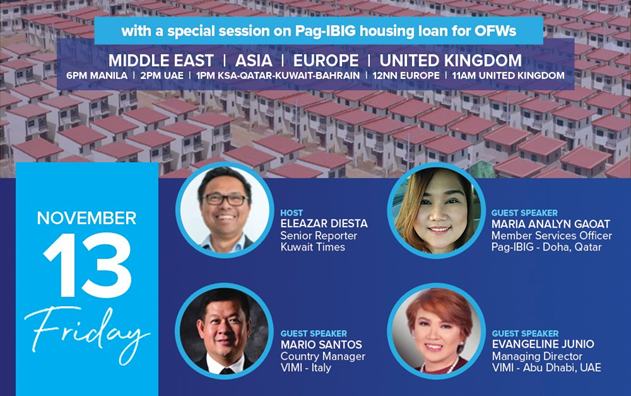 Ms. Gaoat  discussed six various benefits and programs to make sure potential investors are well-informed with Pag-IBIG's services. Among those programs and services discussed were the Pag-IBIG Regular Savings, Pag-IBIG MP2 Savings, Pag-IBIG Short-Term Loans, Pag-IBIG Housing Loan, Virtual Pag-IBIG (Pag-IBIG website, and Virtual Pag-IBIG for Developers and Employers) and the Pag-IBIG Loyalty Card Plus. The Pag-IBIG session then ended with a brief forum where Ms. Gaoat answered questions from the audience and explained certain Pag-IBIG rules.
Mr. Diesta welcomed the next guest speaker, Ms. Evangeline Junio, Managing Director of VIMI Abu Dhabi by asking her about VIMI's vision.
"We have a registered and licensed office here in Abu Dhabi and Dubai under the Department of Economic Development. VIMI's vision is to provide OFWs, whether they are working as a housemaid, janitor, saleslady, or whatever their job is, their home when they come back to the Philippines," said Ms. Junio.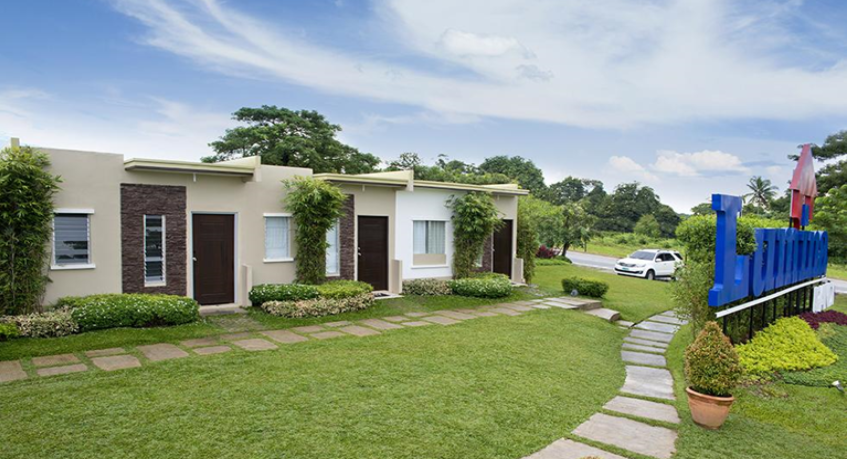 Ms. Junio continued to advise the OFWs that their homes should not be the only investment that they prepare for. OFWs should also  look into other investments options to compensate for their hard work and efforts abroad. Acquiring another housing unit nearby for the purpose of an apartment or rental business is a great idea to earn additional monthly income for your family. Ms. Junio ended her session by saying that the most important aspect of buying a house is that, your home is where the love and memory with your family is built.
Mr. Mario Santos, Managing Director of VIMI – Milan and advocate of Asensadong Pinoy was the next guest speaker and talked about the current mindset of OFWs when it comes to financial awareness and investing in real estate.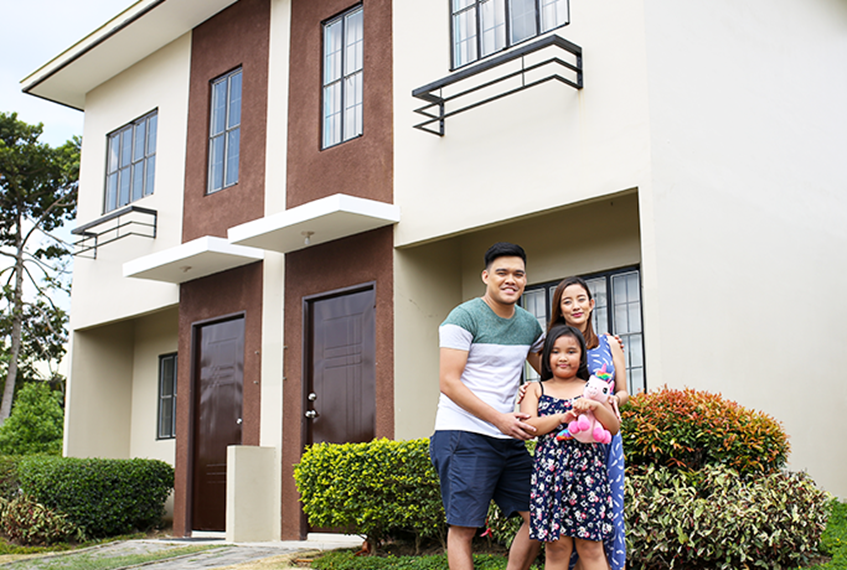 "Our OFWs have a great mindset because of the virtual campaigns that we do. We (OFWs) have come a long way. Before, OFWs would work, earn money, and spend. A good thing about our advocacies is that more OFWs realized the importance of having a home. With all the calamities that happened in our lives, there were a lot of realizations. It is important to have a home in a safe community which Vista Land continues to offer," explained Mr. Santos.
As a real estate salesperson, Mr. Santos reiterated Ms. Junio's earlier message that OFWs should stay pro-active and think of other ways to earn money even when they are abroad. He hopes that when OFWs come home and retire, they have an investment that can generate income.
VIMI's very own Engr. Rowell Santiago also made a guest appearance at Lumina Homes' online conference. He briefly spoke about how VIMI started out in 1995 and the company's previous roadshows in Middle East, Asia, UK, and USA.
Capping off the virtual conference was Lumina Homes' Division Head, Mr. Joemi Tan. Being a mass housing brand, Lumina Homes is a great investment option for OFWs since most of them have elementary occupations. There are a lot of opportunities in socialized housing. For starting investors, Lumina Homes has several listings of budget-friendly and manageable housing units such as row houses and townhouses. These homes make a perfect apartment business since they have a small sufficient space which makes them easy to maintain and manage.
Being the international marketing division of Vista Land, VIMI has developed strategies to build strong relationships with local Filipinos, OFWs, migrant Filipinos, and real estate brokers in the Philippines and abroad. Get started in real estate investing with VIMI. Offering a wide variety of house and lot units, VIMI will help you achieve that life-long dream of owning a home.