Nowadays, people don't want a bigger house but to turn their small home into a modern loft apartment like the ones you see in an advertisement! From figuring out how to turn your white walls to your desired design to playing around with your space and move around the furnishings and make some rooms such as the living area and bedroom for your place, there are plenty of ways to make the most out of your small space — even for a studio type condo unit! Think you're looking for a sign to redesign your space? Look and think no more because here are some of the best design ideas for your modern loft bedroom and apartment to happen from behind the interiors all the way to the exteriors!
Cozy Twin Beds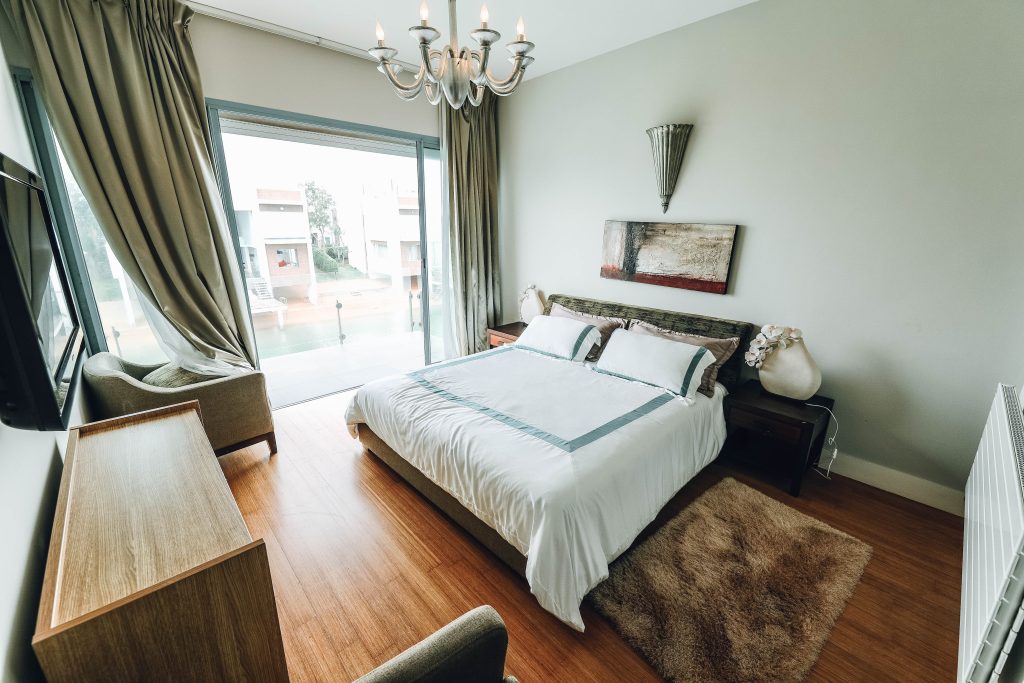 Who says a modern loft has to have one bed? Well, you can make two beds happen in one bedroom with this modern loft design! Choosing beds that won't take up your space would have a lot to say about this style that it can not only change your modern loft game to the next level, but will also accommodate your family and friends to have a sleepover to a whole new level! With its plain white walls and light furnishing, space play is possible by placing two beds on the side and leaving a space in the middle, making the interior design spacious and free for you and your people to stay, bond, and crash over!
Modern Grey And Glass
Contrasting your usual white interiors, this design will definitely match your edgy style with a wooden floor, modern steel gray accents, elevated bedroom, usable living space, and a wide glass pane for you to have that modern loft experience without having too much space crowded, keeping it open and light for you to move around and to live!
Skylight Window
Okay, we know that high ceilings are quite common in making your loft apartment because you need to have space between your living space and your ceiling, but with a skylight window facing your bed and a rustic wooden wall and floor combo, it'll make your modern loft look like you're telling stories in the attic when you were a kid, and we think it'll also create a vintage vibe that will take you back to your childhood memories!
Tiny House Bedroom
If you've watched Tiny House, then this modern loft design will be your dream come true! This trendy style is timeless as Airbnbs shift to modern loft designs to not only accommodate guests to have a quick getaway from the busy life of the city, but this modern loft style will give you an experience of what it's like to live in a tiny house with! Of course, this is the original loft bedroom with tiny stairs that inspired and influenced other loft designs to be cool from the interior design to how you decorate the walls and the rooms! Its light wood slats divider, elevated skylight, and wide windows create a warm and creamy look while letting the natural light flow freely and extending its vision from the outside.
Cosmopolitan Apartment
Sassy and sophisticated, this modern loft style can elevate your classy life experience with a touch of sass that came from New York! From its open space to give way to other rooms to the classic beige walls, chic carpet, glass balustrades, and elegant frames, this modern loft design can speak for itself for being upscale!
Rustic A – Frame
One of the other common designs that Airbnbs go for is the Rustic A – Frame loft apartment style, creating an airy atmosphere that will transport you back to the countryside where the chilly fresh air meets the comfy and cozy glamping vibes (like the videos you see in TikTok). This loft style is ideal for people who long to escape the busy hours of a regular day to make it look like you're on a personal retreat to rest and reflect as well as to enjoy the warm and cool nature vibes for you to refresh yourself.
Venice Townhouse
If you live in a house or in an apartment building and you want to design your loft apartment in an attic that can make your trip to the rooftop safe, then this style is for you! Attaching a mini ladder to your window and making it accessible beside your bed makes your roof top visit convenient, functional, and pretty!
Swedish Splendor
If you live in a place with mini stairs beside you, then this style can be ideal for you! With plain white walls and your bed beside the stairs, going up and down has never been easier and adding a bit of elevation in a small space can switch your loft apartment game to the next level!
Convenience and Comfort All In One Place
Loft apartments are ideal for people who want to live on their own or who are living with a small group of friends or family. They create an environment that is convenient and comfortable with many functionable furnishings and aesthetically – pleasing and unique designs and styles for you to choose from! Depending on what design and style you're going for, you need to consider everything from storage space to the texture for the walls and floor as well as what design that will not only inspire you but also you're comfortable with. If you're confident enough to turn your small house or your studio unit into a loft apartment, then bring out your interior designing self to the test and be as loud (or soft) as you can be!
Trusting the Process with Love
Investing in making your dream loft apartment happen can take sweat, tears, hard work, and dedication, but with the design and style you love and making your small space into a big one, getting that perfect picture loft apartment can be easy with a lot of information you can study and search on the Internet as well as being on the same page with people who love the style you eye for! It can look like it's one of the paid commissions to do with the services that you need to pay a lot, but trust us that it'll all be worth it when you add a splash of your own twists and when you see the larger picture once you make your loft room or apartment a dream come true (and maintained, of course!)
So, what are you waiting for? Take your storage space and room to the next level, throw in some pillows, chairs, and other furniture, find some inspiration (and ideas) on the net because there many links, and make yourself function in making your room beautiful from the white walls to the texture of the floor to make your loft home picture perfect! Besides, you don't need to pay a lot for an interior designer to make a cut for you and to bring the open click to you: You just need your creative mind, things to add and remove, and your dirty hands to do the work!
---
Looking for an affordable property? Contact us today
A lot of Filipinos dream of owning their first apartment or house and lot. With today's booming real estate opportunities, there are so many options to choose from.
Here at Vistaland International, we have a roster of affordable property listings from several locations across the country. Whether you're looking for a place to live in Manila, Cebu, Davao, etc, we've got you covered. So contact our real estate agents today!
Vistaland International was primarily created to bring OFW closer to their dream of finally acquiring a home in the Philippines. And with the rising cost of living in the country, OFWs and their families are looking for ways to earn extra cash flow to support their daily needs. Luckily, you can also join the global network of Vistaland International as a real estate professional and earn a commission!
Vistaland International Marketing, Inc. (VIMI) is the international marketing division of Vista Land. Aiming to provide OFWs and migrant Filipinos a home in the Philippines, VIMI has established long-lasting relationships with brokers and clients around the world.
Get started with your property investments! Contact us today and follow our social media accounts: Facebook, YouTube, Twitter, Instagram, and LinkedIn.