Everyone dreams of taking a break from their studies or work and escape to the sand beneath their hair, the sea salt scent of the beach water, making sandcastles and finding seashells along the shore, watching the sunrise or sunset on the sand, and doing lots of fun at the beach! But you shouldn't forget to know what beach essentials that you need to gather in one bag so that you can have a fun day at the beach without getting stuck in a rut for last minute shopping supplies!
Excited to go the beach, but don't know what to start packing? Don't worry, here is a list of beach essentials for you to bring for your next beach trip and to make your day at the beach one for the books!
Swimsuit / Rash guards
One of the most important beach essentials you need to pack is a swimsuit or a rash guard for you to splash into the beach water! Whether you decide to show off your body in that one or two piece or protect your body from getting burnt with a rash guard, this is the most important beach essential for you to enjoy your beach trip!
Beach Tent
If you're planning to camp in your beach destination, make sure that you need to pack up a beach tent and a spot along the shore for you to go camping at the beach to beat the heat of the summer!
Waterproof Speaker
If you want to have a sound trip underwater or just turn up your jam by the beach, then waterproof portable speakers should do the trick for your beach vacation to be a life of the party!
Change of Clothes
Of course, you don't want to get stuck with wet clothes that you have to wait 'til they're dry for you to reuse with a fresh and dry set of clothing items for you to change after days of to make you feel refreshed and clean soaking up to the beach sea saltwater!
Sun Protection Gears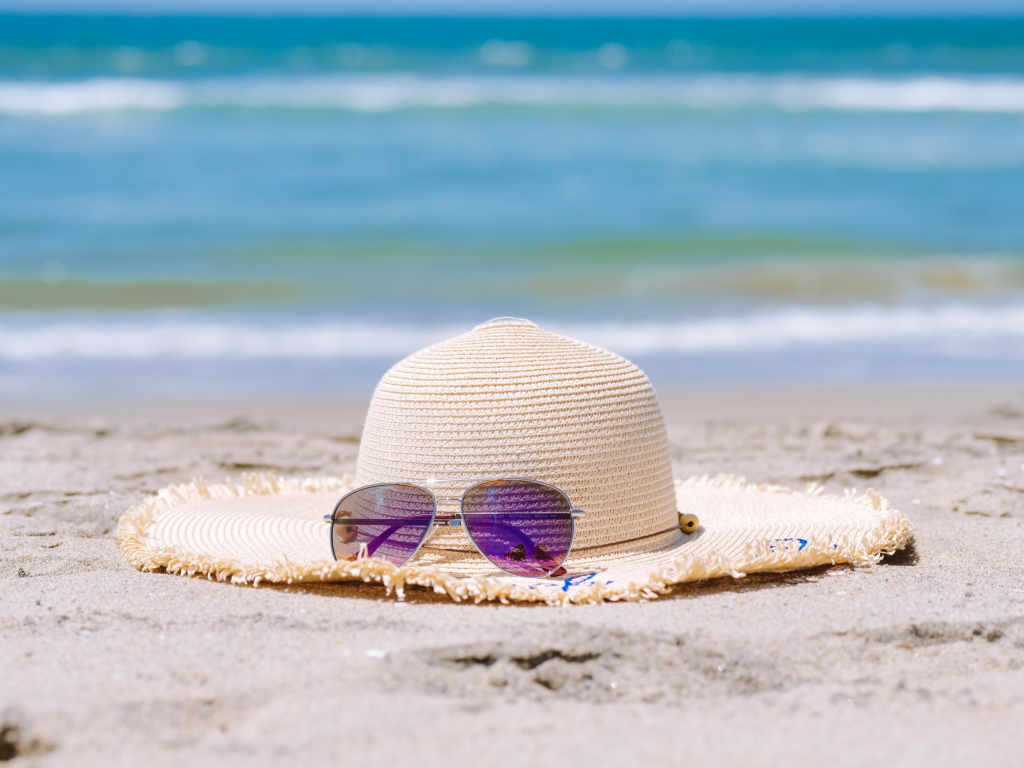 You should never forget to put your basic beach necessities such as a good pair of sunglasses, a sun hat, sunscreen as the ultimate sun protectant, a jar of aloe vera gel to moisturize your skin, some SPF lip balm to protect your lips from the sun's rays, and a cover up for sun protection and a quick look to pull off when you go back to the beach house all in one tote bag next to your personal items!
Beach Towels
After you hours of swimming in the beach, you need something to dry off, and beach towels are definitely your best friend when you decide to put it on a beach chair and sunbathe under the glorious sun and to dry yourself off from all of the saltwater you've soaked up!
Sandals
You need to make your feet look pretty under the sun's rays when your flip flops are drenched in sand after constantly washing it in saltwater, only to be covered in sand again. Sandals are great water shoes when they're made from rubber with great colors and styles to protect your feet from the heat in style!
Snacks and Drinks
Of course, you shouldn't go hungry and thirsty when all your snacks and drinks are in your tote bag! After all, the best beach vacations are about good food, drinks, and company to beat the heat, right?
Bags Inside a Bag
Your beach bag should be your beach tote bag to put everything that you need for your beach trip (including your beach accessories) as well as a wet bag for your wet items such as your swimsuit after a day trip to the beach so that your other things won't get wet and some dry bags for other activities that you can do in the beach such as scuba diving! And you also can bring an extra bag for your dirty clothes to wash when you get back to the city. We know those are a lot of bags, but you can't be too prepared with too many bags just in case for emergencies!
First Aid Kit
Next to your swimsuit or your rash guard is your next beach essential to add on your beach trip packing list which is your first aid kit. You should keep this on on your beach essentials list in case someone gets hurt. After all, it's a fun killer when someone gets hurt or sick in the middle of your beach vacation, so you need to keep a bunch of medicines, band aids, Betadine, and alcohol just in case.
Family Beach Packing List: Tips and Advice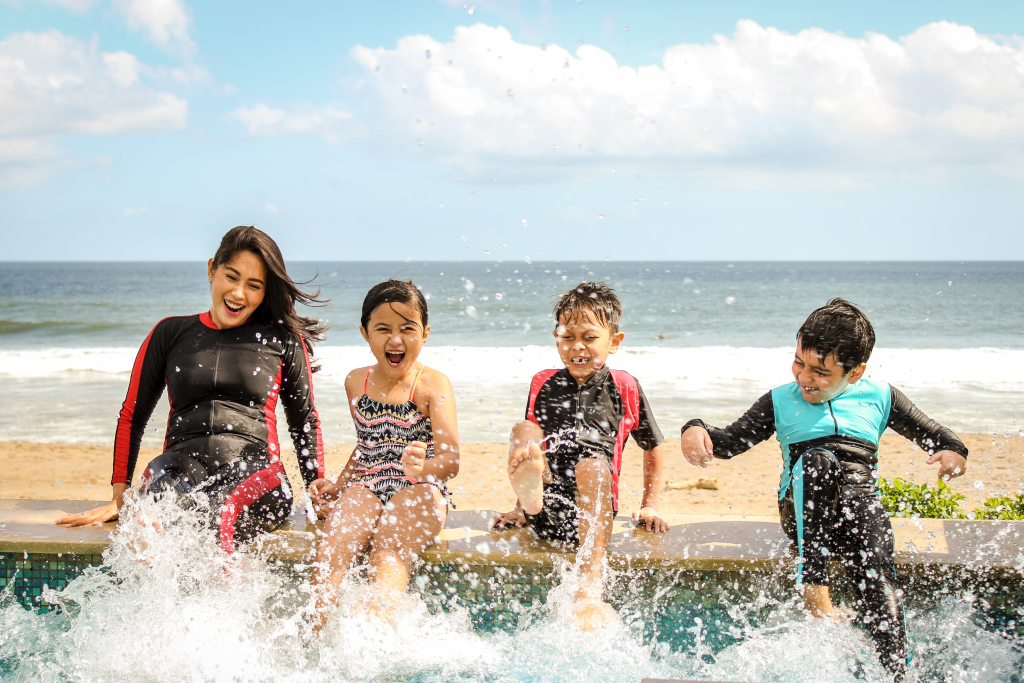 Luggage and Suitcase
One way to save space in your luggage or suitcase while you pack for the beach with your family is to roll up your clothes and beach tote bags and put light shoes into pouches as well as your beach towels and your beach blanket so that you can put more things in it. You should separate your personal belongings from your beach essentials and accessories and the clothes and shoes you need to wear along with what you're kids are bringing such as colored pencils and extra sheets of paper.
Travel Tips
Make sure that you shouldn't overpack as much as possible especially when you're travelling by airplane just because you need to pack everything you need to bring to the beach. You need to follow the required bag weight that airlines regulate or else you'll pay an additional cost for excess baggage weight. You need to separate your personal items from your actual luggage so that it wouldn't be a problem when you want to pull out something you need to use. If you're travelling by car, you can bring beach chairs that are foldable and you're all good to go!
Additional Items
Aside from the essential items that you need to bring on your beach vacation, you also need to consider in bringing sand toys and other beach toys for your kids to enjoy and some ice packs as well as water resistant pouches for you to put your gadgets and a power bank so you don't have to worry about low battery while being on the beach. You should also pack some swim diapers so that your babies don't need to worry about not being in the cool water! Besides, most family beach vacations
Your Beach Day Essentials Wrapped Up to the Beach
People often go to the beach to relax, to cool off in its saltwater, and to have fun and make good memories, whether you're on a family beach vacation, having a beach trip with your friends, or having a solo retreat at the beach. Whatever the reason is, beach trips are a great travel inspiration for everyone — it's your personal preference on how you want to enjoy your beach trip and how you pack your beach trip packing list and you're good to go to beat the heat!
So what are you waiting for? Grab your beach essentials from your beach vacation packing list, your beach blanket, beach chairs, beach toys, and make that trip to the beach a reality with style and practicality!
---
Looking for an affordable property? Contact us today
A lot of Filipinos dream of owning their first apartment or house and lot. With today's booming real estate opportunities, there are so many options to choose from.
Here at Vistaland International, we have a roster of affordable property listings from several locations across the country. Whether you're looking for a place to live in Manila, Cebu, Davao and etc, we've got you covered. So contact our real estate agents today!
Vistaland International was primarily created to bring OFW closer to their dream of finally acquiring a home in the Philippines. And with the rising cost of living in the country, OFWs and their families are looking for ways to earn extra cash flow to support their daily needs. Luckily, you can also join the global network of Vistaland International as a real estate professional and earn a commission!
Vistaland International Marketing, Inc. (VIMI) is the international marketing division of Vista Land. Aiming to provide OFWs and migrant Filipinos a home in the Philippines, VIMI has established long-lasting relationships with brokers and clients around the world.
Get started with your property investments! Contact us today and follow our social media accounts: Facebook, YouTube, Twitter, Instagram, and LinkedIn.