Gift-giving is one of the most popular and common activities during the Christmas season. This is the perfect time to show your love and appreciation to your family and closest friends by giving them holiday gifts. There are a lot of gift wraps to choose from– from your traditional wrapping paper to gift bags varying in size and color.
This year, however, why not take a more eco friendly approach to wrap your gifts? It's time to put aside your usual Christmas gift wrap, scissors, and tape and give way to the art of Furoshiki– the eco friendly gift wrapping alternative this holiday season!
What is Furoshiki?
Furoshiki refers to a small, square piece of cloth that is used to wrap and transport items, gift-giving, or home decor. The fabric used is usually made up of nylon, silk, cotton or organic cotton, or rayon and comes in varying decorative patterns and prints.
The term also refers to wrapping techniques and procedures. It is a combination of the Japanese words 'furo' meaning bath, and 'shiki' which means 'to spread.' If you have unused fabric or scrap fabric lying inside the drawers of your home, you can repurpose them into fancy gift wrappers for the holidays!
Brief History of Furoshiki
The use and practice of furoshiki date back to the 8th century in Nara, Japan. During this period, the cloth used to wrap items and objects was initially called 'tsutsumi' which translates to package or present.
Moving forward, the capital city of Japan was moved to Heian-kyou (modern-day Kyoto). This period in Japan's history is regarded as the 'Gilded Age.' Clothing during this era is more elaborate and embroidered. And the cloth used to wrap these clothes is called 'kuromo utsumi.'
It is believed that the actual use of the term furoshiki started during the Muromachi period (1336-1573). A shogun by the name of Ashikaga Yoshimitsu invited feudal lords into his bathhouse to stay and use the facility. Each guest would wrap their kimono in a piece of clothing and would put family crests or emblems on top to avoid mixing them up with other lords' belongings.
After the bath, some of them stood on top of these clothes to relax and dry up, hence the term bath spread.
When the 17th and 19th centuries entered, the use of Furoshiki had become widespread and adopted by society. It is evident in the woodblocks showing local townspeople and travelers using furoshiki wrapping in their daily life.
Why You Should Consider Furoshiki Wrapping this Christmas?
The art of Furoshiki perfectly demonstrated the 3 R's of sustainable living: reduce, reuse, and recycle. Through this gift wrapping technique, you are effectively reducing the waste of wrapping paper
Reusable
The main advantage of using Furoshiki is that it can be reused over and over again. If you are giving out gifts to someone, might as well include the cloth in the present so the receiver can use it again for a similar purpose! This method effectively cuts down the use of traditional wrapping paper and promotes a more environmental-friendly and sustainable approach!
Easy-to-use
You might feel a bit hesitant to try fabric wrapping because it looks complicated to follow at first glance. It's quite the opposite actually! There are a lot of easy-to-follow tutorials online which will help you master this wonderful art. And of course, we won't be straying far away from the tidying-expert Marie Kondo! Check out this video of her demonstrating some furoshiki wraps!
Versatile
Don't you just hate it when you commit wrapping mistakes and just have to start over again? Chances are you have to start over again and the wrapping paper will end up in the trash bin. That adds up to the paper waste!
Whereas in furoshiki, if you are unhappy with your wrap, you can simply start over again by untying the knots you made!
Furoshiki Wrapping Techniques
All you need to start furoshiki is the piece of cloth itself–better if it's recycled or you could use an old scarf! There's only one requirement: your fabric should be square. The size of your fabric depends on the size of your gift, but the most commonly used ones are 17×17 inches and 28×28 inches. Another tip is that the cloth must be three times bigger than the size of your present. You don't have to strictly follow this, though. Just make sure you have enough room to cover the item.
Also, you have to consider the material of your fabric. It should be sturdy enough to carry the weight of your gift. And last, the pattern of your fabric!
If you got everything prepared, then it's time to wrap things up the furoshiki style!
Otsukai Tsutsumi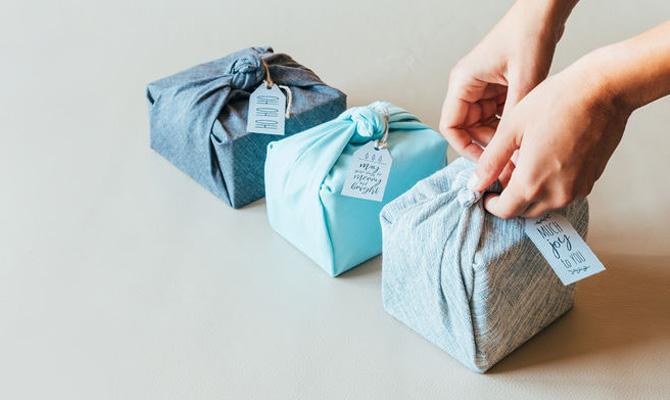 Photo credits: Invaluable
This style is perfect if you are wrapping square objects or boxes. Place your object diagonally so that your fabric resembles a diamond shape with the object in the center. Get the bottom side of the cloth and put it over the object, tucking any excess fabric underneath. Do the same procedure for the top side of the fabric.
Last, pull the corners together and tie them into a knot. Here's a tip: pull the middle cloth first before grabbing the corners for a neater crease! Check out this easy-to-follow tutorial by The Green Wrapper!
Yotsu Musubi
To do yotsu musubi, gather opposite ends of the fabric and tie them into a double knot. Then, grab the remaining opposite ends and tie them as well into a double knot across the first knot. To create cute petal shapes on top, pull the corners of the fabric and spread them out!
Watch as RAPPU demonstrates how easy it is to do yotsu musubi in this video!
Entou Tsutsumi
Don't worry as there's a furoshiki way to wrap longer gifts and objects!
First, lay down your cloth on a flat surface. Turn your cloth so that it resembles a diamond in shape facing you. Place your object on one corner and roll the fabric until it reaches the opposite end. Grab the ends and tie them into a double knot ribbon.
Bin Tsutsumi (for one bottle)
Wrapping bottles has never been easier thanks to this furoshiki wrap called bin tsutsumi. You don't have to find a box or paper bag as the fabric itself can hold the weight of the bottle. The size of your fabric depends on how tall your bottle is, but the usual dimensions are 70 cm by 70 cm.
To start, place your bottle (for instance, a wine bottle) on the center of the wrap in a standing position. Then, grab the opposite ends of the fabric and tie them into a double knot. Next, grab the remaining ends and wrap them around the bottle, overlapping each other. Finish your craft by tying the ends into a double knot. Don't forget to pull the edges for the petals!
Bin Tsutsumi (for two bottles)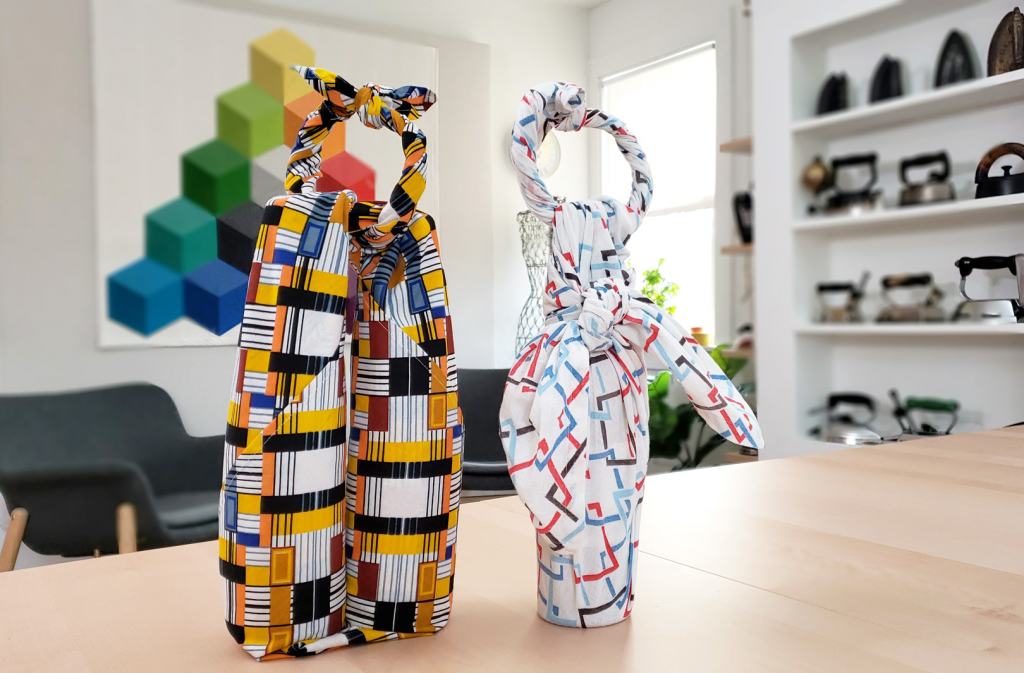 Photo credits: We all Sew
Of course, there's a furoshiki way to wrap two bottles at the same time!
Simply place the two bottles at the center of the fabric, bottoms facing each other. Grab the bottom flap and pull over the bottles, covering them. Then, roll the bottles until you reach the opposite end of the fabric. Lift one bottle in an upright, standing position. Do the same procedure for the other bottle and finish your wrap with a double knot on top of the bottles.
This video from Furoshiki Kyoto best demonstrated how to wrap a bin tsutsumi for two bottles!
Wrapping Up
Furoshiki is a sustainable way to lessen the trash and garbage brought about by discarded Christmas wrappers, boxes, and gift bags. This holiday season, make sure that you are not only bringing smiles to your loved ones but to the environment as well!
This eco friendly fabric wrapping makes your presents unique, creative, and stand out among the rest! Remember, you don't have to purchase a furoshiki cloth, you can just reuse old scarves lying at home!
---
Looking for an affordable property? Contact us today
A lot of Filipinos dream of owning their first apartment or house and lot. With today's booming real estate opportunities, there are so many options to choose from.
Here at Vistaland International, we have a roster of affordable property listings from several locations across the country. Whether you're looking for a place to live in Manila, Cebu, Davao and etc, we've got you covered. So contact our real estate agents today!
Vistaland International was primarily created to bring OFW closer to their dream of finally acquiring a home in the Philippines. And with the rising cost of living in the country, OFWs and their families are looking for ways to earn extra cash flow to support their daily needs. Luckily, you can also join the global network of Vistaland International as a real estate professional and earn a commission!