Japandi interior design– the fusion of East and West, has been one of the popular interior design styles of the century. It combines the minimalist principles and neutral color palettes of the modern Japanese style and the texture, functionality, and clean lines of the Scandinavian interior design. Foyr states that, albeit Japan and Scandinavia completely vary in culture and is literally a thousand miles away geographically, "they share the same core design principles: an appreciation for functionality and simplicity, and a profound respect for nature and craftsmanship."
Infused with a variety of natural elements, you would typically see wood, stone, rattan, cotton, or paper materials in Japandi themed homes. Color palettes consist of muted colors with emphasis on light earthy tones like green or brown. As for the furniture pieces and decor, terra cotta, clay, plants, or anything handmade are the most common.
Taking the Japandi style concept into the comfort of your bedroom, here are some ways on how you can transform your humble bedroom into a cozy Japandi style bedroom!
History of the Japandi Design
Japandi style may sound like a new kind of aesthetic but this style has been on track since 150 years ago. It all started when Danish designers travelled to Japan to look for some muse and was enthralled by the charm of Japanese interiors and style. They then took these inspirations and fused them into their own craft, giving birth to the Japandi style we all love today.
For starters, Scandinavian and Japanese design already had things in common, and one of them is their high appreciation for simplicity and craftsmanship: it's no wonder Danish creatives are enchanted with Japan's culture!
Easy Ways to Create Your Own Japandi Style Bedroom!
Neutrality is the key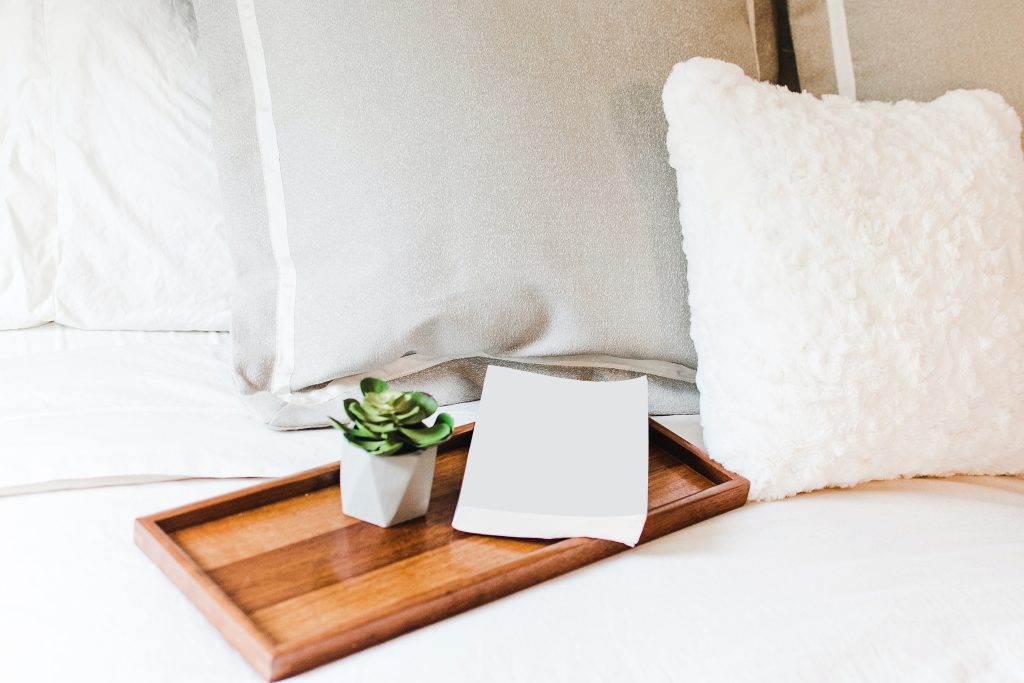 While we also appreciated boldness and variety in interior design, that's just not the cup of tea of Japandi. As we all know, muted color palettes is one of the core vitals of Japandi design style–they are what invokes the feeling of tranquility in your space.
To start, you can choose beddings and curtains with off-white tones, blush colors, soft gray, or tan. Such neutral tones add contrast, texture, and depth to the overall design of your bedroom. Add in earthy colors like green or brown for that pop of color. Light blues or warm yellows works great, too!
Here's a tip from Quiet Minimal: combine warm and cool colors! For instance, you can use soft hues or other neutral tones as your background colors then use darker ones as your accent colors. Find out more useful tips about color combinations here.
Large windows = more natural light
Ever wonder why Japandi interiors feel spacious, light, and airy? Well, its all thanks to natural sunlight filling up the room. A light-filled room induces a feeling of serenity and calmness– the perfect refuge after a long tiring day of work or school.
You can opt to install larger windows to let that sunshine come in! However, if your space prohibits you to do so, you can choose to incorporate artificial lighting such as pendant lights, sconces, or standing & table lamps.
Next, your bed!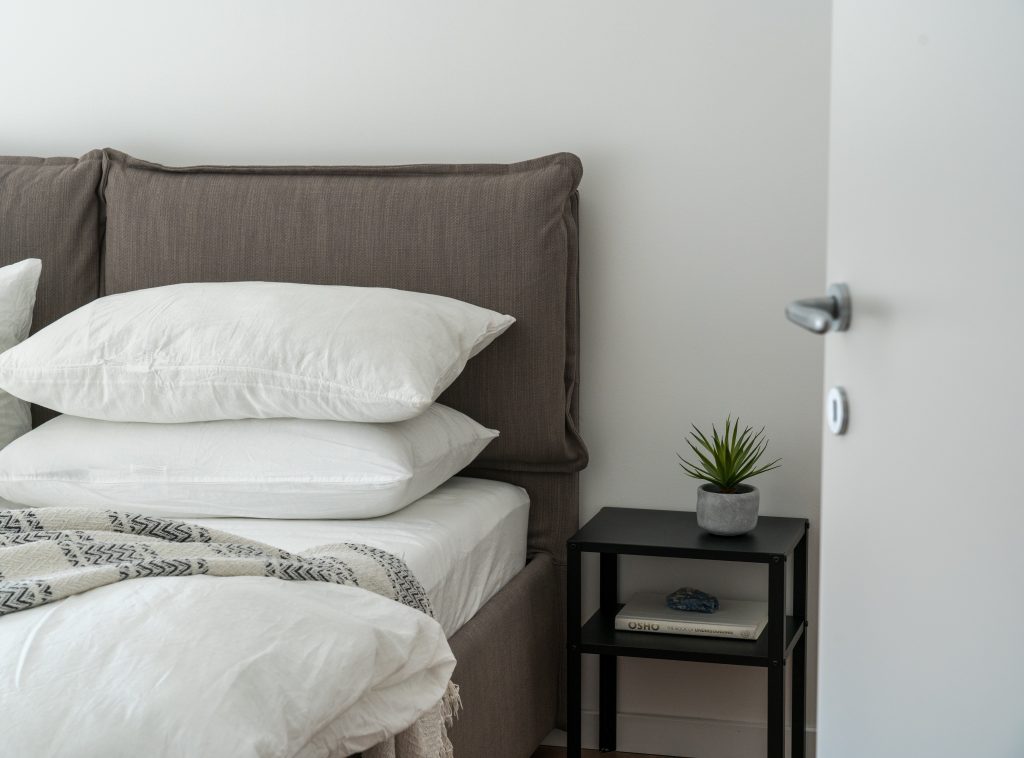 Now that we've done with light and color, it's time to divert your attention to the furniture you are chipping in! Of course, how can your space be cozy enough without your lovely bed?
In choosing the perfect bed for your Japandi bedroom, Making a Green Life by Lily suggests that you should consider purchasing beds that have a sleek and minimal design, has touch of Japanese styles, and most importantly, comfortable!
Functionality plus environmentally-friendly
Japanese and Scandinavian styles have one thing in common: advocating for the use of sustainable & natural materials. They give high regards to craftsmanship, of work done through creative hands. Thus, it's not uncommon to see wooden or recycled stuff in a Japandi interior.
Andor Willow lists down some of the sleek furniture you can add to your bedroom to complete that Japandi style look. Some of our top picks are the fluted wall panellings, wood slat rooms and dividers. Of course, your options are not limited to wood: rice paper, wicker, rattan, and bamboo also make up the Japandi furniture roster and are great additions to your bedroom, whether for as a furniture or decoration!
Walls and Texture: A New Flavor
We can attribute our penchant for patterns and texture to the timeless Scandinavian design aesthetics– and we are totally loving the endless variations and combinations you can come up with!
Add personality and drama to your blank walls by adding texture to your walls. However, be mindful that you should only use one pattern as your main focal point or everything may be thrown out of proportion– something that doesn't sit well with the Japandi style you are going for.
Bring nature inside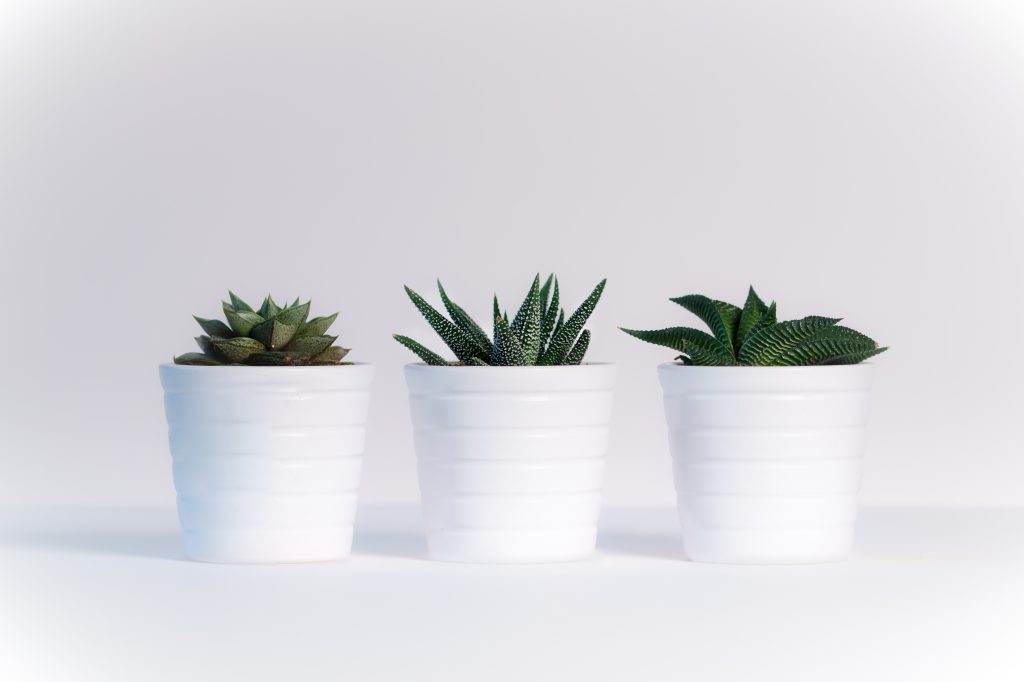 In Japandi design, plants are more than mere decor; they are living symbols of the interconnectedness between nature and the human spirit. The introduction of indoor plants like bonsai, bamboo, or low-maintenance succulents brings a sense of serenity and balance, which are central tenets of both Japanese and Scandinavian design philosophies.
Moreover, the presence of plants and greenery enhances the tactile and sensory experience within a Japandi space. The touch of natural textures and the sight of verdant foliage create a multi-sensory environment that engages not only the eyes but also the sense of touch and even smell.
Final Takeaway
Japandi style bedrooms stand as a testament to the power of cultural cross-pollination and the beauty that can emerge when different design traditions come together. Whether it's the warmth of wood, the serenity of muted colors, or the seamless integration of form and function, these spaces demonstrate that true beauty lies in the thoughtful combination of elements that resonate with our deepest sense of aesthetics and comfort. As we seek refuge and relaxation in our homes, the Japandi style bedroom offers a timeless and captivating choice that continues to inspire and captivate those who appreciate the art of creating serene and visually stunning living spaces.
The seamless blending of Scandinavian minimalism and Japanese Zen aesthetics creates an environment that promotes serenity and balance, making it a perfect retreat from the hustle and bustle of modern life. The clean lines, natural materials, and neutral color palettes characteristic of Japandi style evoke a sense of timeless elegance and simplicity, while the emphasis on functionality ensures that these bedrooms are not just beautiful but also highly practical. With their soothing ambiance and timeless appeal, Japandi style bedrooms showcase the enduring beauty of a design approach that celebrates the art of living well.