Choosing curtains for your living room isn't as simple as you think. It takes a lot of careful planning and decision to make sure the fabric you're going to incorporate aligns with the overall aesthetic of the room, otherwise, it's going to be a decorative disaster. A simple color mismatch can break the entire look of your living space. And a window frame with no curtains at all just feels bland and boring.
Aside from contributing to the overall aesthetic of the room, window treatments such as drapes and curtains also regulate the flow of natural light streaming through your living room. But with the endless options you can choose from– colors, prints, type of fabric, length, and even the rings and rods, it's understandable for one to get confused about where he or she should start.
But don't worry! We've curated some tips on how to choose curtains for your living room to make it the perfect haven for you and your family!
Drapes and Curtains
Before you go out shopping for your living room curtains or curtains in general, you need to know first what your room requires. More often than not, homeowners go buy window treatments without knowing the difference between blinds, shades, drapes, and curtains. This may lead to inhibiting the correct amount of natural light that should be reaching your living space.
Sheer curtains are those lightweight fabrics that are usually hung from curtain rods. Curtains are perfect for areas such as the living room to allow maximum amount of natural light to stream through. Drapes (and blackout curtains) are good for bedrooms because their thick fabric blocks the entrance of sunlight.
How to Choose Curtains for Living Room?
Pick the right fabric
Function comes first, so in choosing living room curtains, you need to consider two factors: the amount of sunlight you want to come through and the mood and décor you want to set in your living room. For minimalist-inspired living rooms, sheer curtains are the perfect match while for traditional rooms, thick curtains are the most common.
Measure the height and width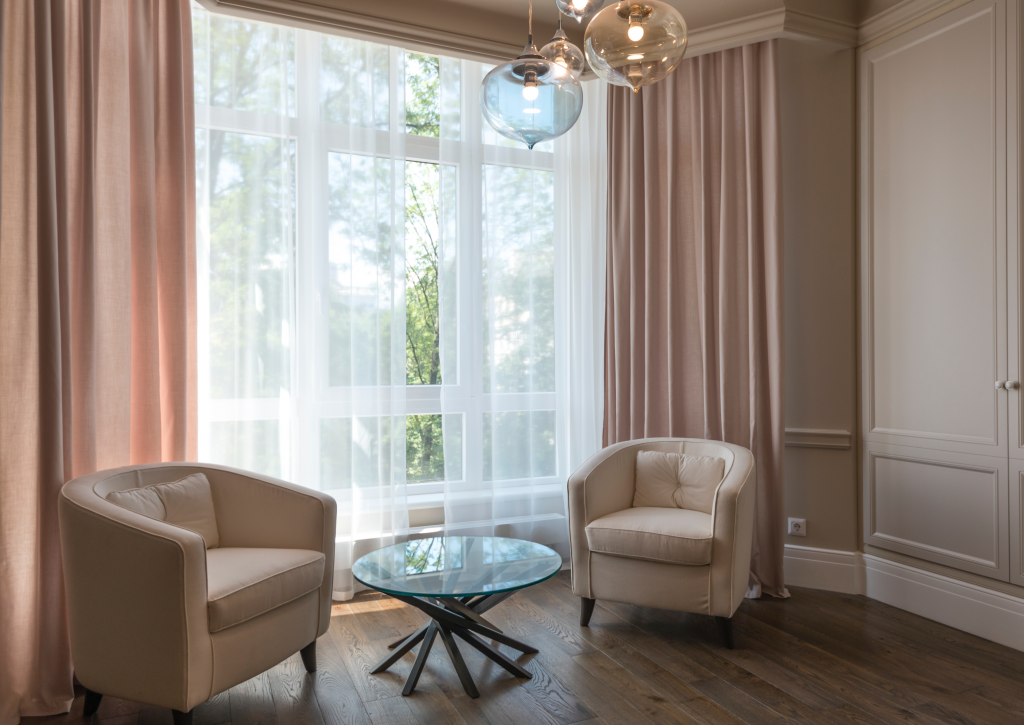 The next thing you should do is to accurately measure the height and width of your living room windows. No one wants a curtain that is either too short, too long, or too narrow for their window. Aside from the height and width, you also need to consider your window's shape. For instance, if your house has bay windows, you might need wider curtains to fit the frame perfectly.
If you want to create an illusion of a bigger space for your living room, add floor length curtains to your window frame! Full length drapes make the room taller and wider.
There are three ways to make floor length curtains touch your living room floor.
Floating curtains- Floating curtains are usually hemmed so they stand about half an inch above the floor of your living room. They barely brush the floor and are perfect especially if you have pets or crawling babies so they won't play much with the hem of the fabric. These sheer fabrics won't also get in the way of your cleaning! Before installing these window treatments, make sure you've precisely measured the height of your living room window. Don't worry if your floating curtain touches the living room floors–you can easily fix this by trimming off the hem!
Breaking the floor- This type of curtain usually measures one to three inches longer than the initial curtain height– long enough to touch the living room floor but came short to form a puddle at the bottom. Curtains with heavier fabrics are usually hung this way.
Pooling on the floor- For that added drama and elegance to your living room, why not add voluminous sheers like velvet curtains that puddle on the floor! These hanging curtains usually measure about six to 12 inches longer than the actual measurement to create that puddle effect! They are perfect for luxury homes for that added glamorous feel!
It's better to opt for custom curtains or custom drapes to avoid mistakes when it comes to the measurements as custom window treatments are made to fit perfectly your windows!
Decide on the color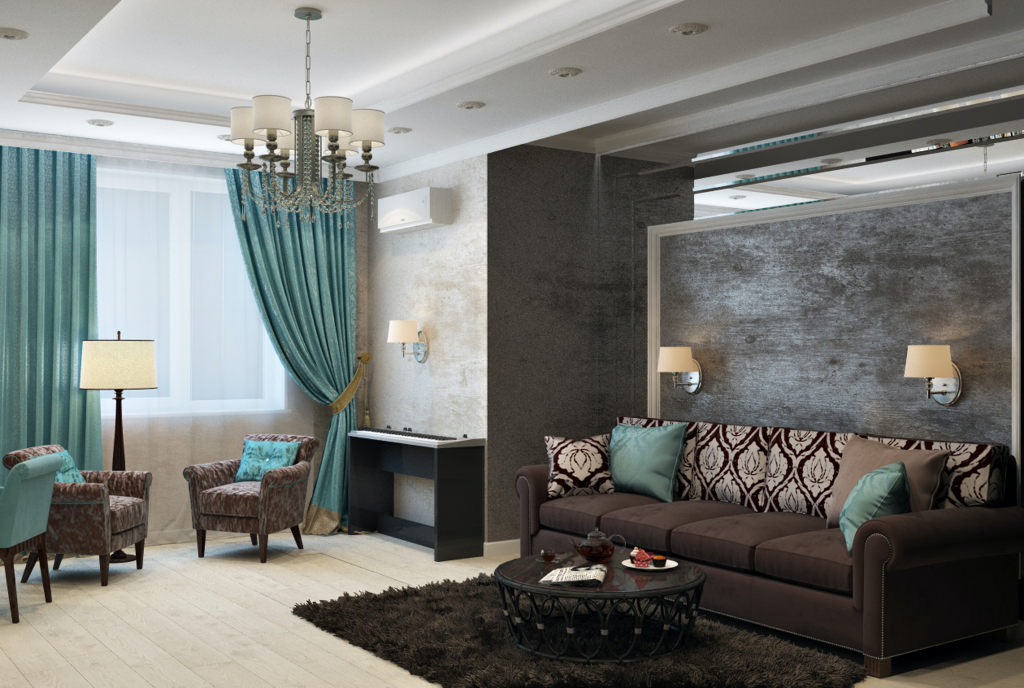 Probably one of the most exciting parts of curtain picking. However, don't get carried away too easily! The color of your living room window curtains can either make or break the overall design and mood of your space so choose wisely!
Aside from the fabric material, the amount of light that will reach your living room also depends on the color of your curtains. Light-colored curtains can easily make your living room look warm and cozy without sacrificing the amount of privacy you are getting. On the flip side, dark shades create that sophisticated and elegant effect less the gloomy vibes. What's more is that you can easily block the sun while you situate yourself on a movie or series marathon in your living room!
Whatever your chosen color will be, make sure that your window treatment matches or complements the wall color of your living room!
Prints or Solids?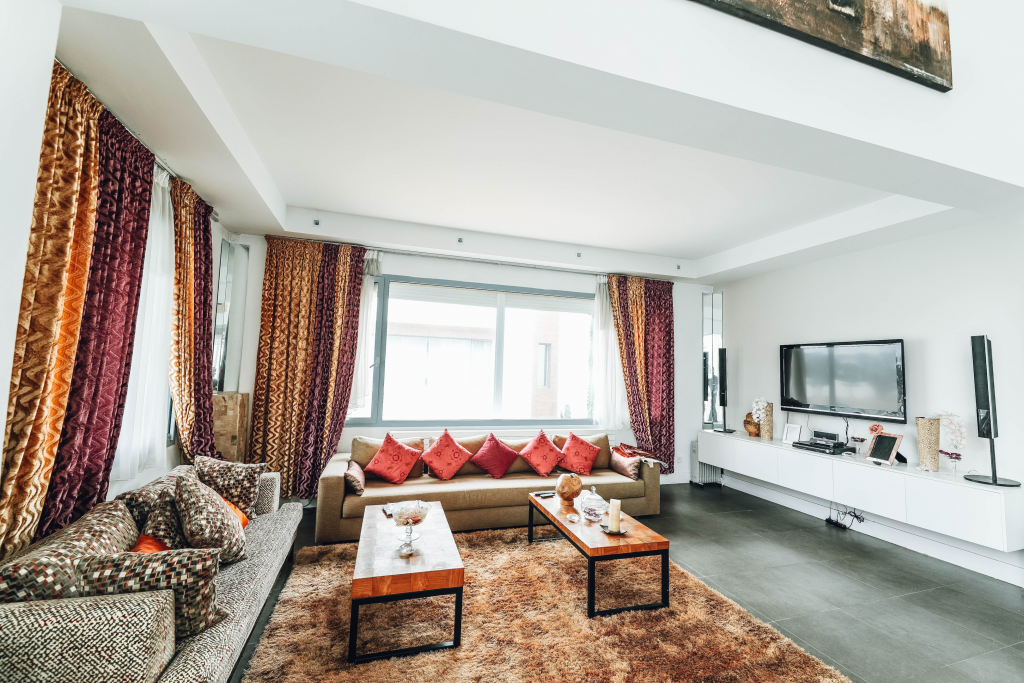 They say that opposites attract and complement each other. That is also applicable when deciding whether you should go with prints or with plain solids.
Starting off, scan your living room décor. If the soft furnishings in your living room are usually of a solid color, then go for printed or patterned curtains and vice versa. Remember, prints and patterns add weight to the visual appeal of any design, so the best way to work with patterned curtains is to pair them with solid-colored furniture. You can also match the print of your curtain with the throw pillows, sofa, and area rugs to create a cohesive design.
Here are some other ways to add patterned or printed curtains to your living room:
Textured curtains- Are you a fan of texture and the rustic style? Why not pair your rattan lampshades, linen upholstery, and rustic furniture with textured curtains? The curtains don't necessarily need to be 'textured' when touched– just getting the vibes will make it to the cut! Not only that you will have a cohesive interior design, but will immediately create that warm feeling in your living room!
Bring nature inside your home- Are you a certified plantito or plantita? Or you just genuinely miss the nature vibe due to the previous lockdowns? Well, why not bring nature inside your home through your curtain? By using floral prints or tropical designs, you essentially connect the inside of your abode to the outside world and create a sense of tranquility for the home dwellers.
Patterns and scales- Maximalism are one of the rising trends when it comes to living room design. Why not try to be loud and inject your personality by hanging patterned curtains and experimenting with the different colors, scales, and patterns. Remember, big patterns usually create the focal point in a living space!
Decorating in Style
Your living room is one of the busiest places in your house. It is where you and your family hang out to bond and relax so it's important to create an inviting and relaxing atmosphere for everyone. It is where you let in your guests and friends for a quick catching up about each other's lives so it's important for you to create an impression!
You don't have to become a professional interior designer to upscale the design of your living room. Through these living room curtain ideas, we hope that you've gained insights on how you will hang curtains in your living room less the design disaster!
---
Looking for an affordable property? Contact us today
A lot of Filipinos dream of owning their first apartment or house and lot. With today's booming real estate opportunities, there are so many options to choose from.
Here at Vistaland International, we have a roster of affordable property listings from several locations across the country. Whether you're looking for a place to live in Manila, Cebu, Davao and etc, we've got you covered. So contact our real estate agents today!
Vistaland International was primarily created to bring OFW closer to their dream of finally acquiring a home in the Philippines. And with the rising cost of living in the country, OFWs and their families are looking for ways to earn extra cash flow to support their daily needs. Luckily, you can also join the global network of Vistaland International as a real estate professional and earn a commission!
Vistaland International Marketing, Inc. (VIMI) is the international marketing division of Vista Land. Aiming to provide OFWs and migrant Filipinos a home in the Philippines, VIMI has established long-lasting relationships with brokers and clients around the world.
Get started with your property investments! Contact us today and follow our social media accounts: Facebook, YouTube, Twitter, Instagram, and LinkedIn.