Perhaps you've finally decided to put your real estate property up for sale after waiting for it to appreciate after a few years. In order for your property to attract a lot of potential buyers, you have to make sure it is prepared and beautiful enough for every scrutinizing eye. Key in home staging!
You are probably wondering what on earth is a home staging and how it will help you sell your property faster and probably with a higher selling price. Well, worry no more! In this article, we will guide you through the home staging process for a successful and profitable home selling venture!
What is home staging?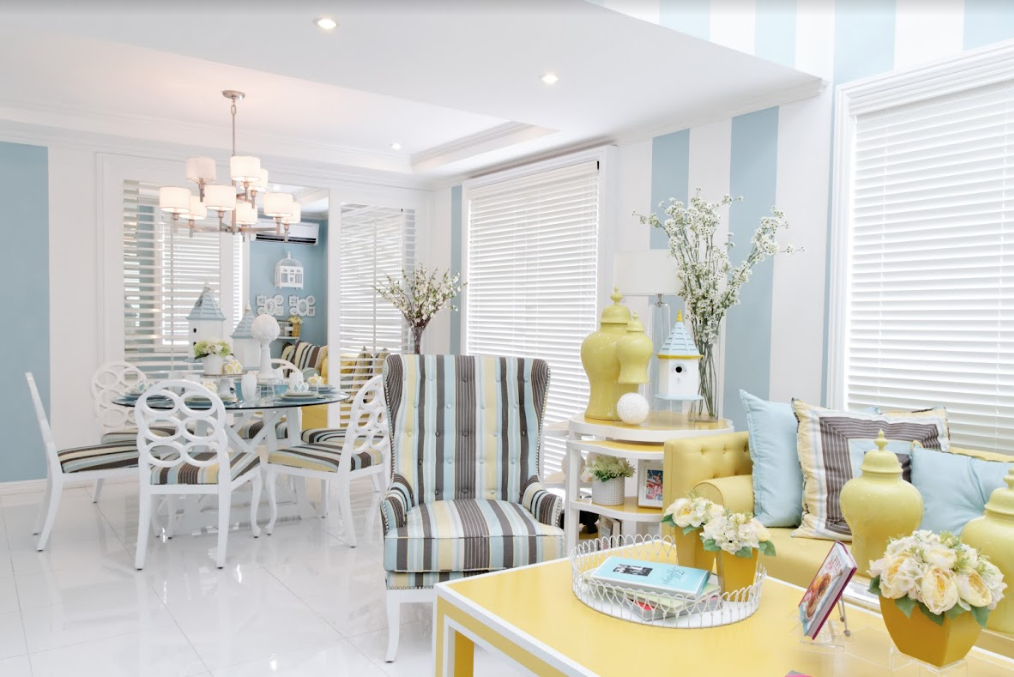 To put it simply, home staging or staging a house is a real estate marketing strategy done by real estate agents, brokers, or realtors which involves arranging some of your home's furniture to make it more pleasing to the eyes of home buyers. Remember those aesthetically pleasing photos of living rooms, bedrooms, or dining rooms you see in magazines, catalogs, and even on the TV? Well, they are all products of home staging. They are arranged and decorated intentionally that way to persuade lookers into buying that home!
Home staging is essentially 'preparing the stage' so that prospective buyers can picture themselves living in that space and will consider the property their future home!
A study published by the National Association of Realtors revealed that 77% of buyers can easily visualize themselves living in a property for sale if it is staged.
Options for staging a house
Essentially, there are four options you can choose from when staging your home. You can either go DIY, ask your real estate agent for some help, or you can opt to avail some home staging services.
Do-it-Yourself- If you're feeling confident with your home decorating and interior design skills (or you just want to save a couple of bucks), then you can totally go DIY! Some of your home staging tasks may include repainting jobs, decluttering, rearranging furniture, changing throw pillows, removing personal photographs, family photos, and lots of cleaning!
You can also add some touches that will give off that 'homey vibes' to your potential buyers by filling your vases with fresh flowers from your garden or lighting up scented candles to make your home smell amazing. Baking cookies and pastries will work, too!
Real estate agent- The main duty of your real estate agent is to help you sell your home faster and with a higher price so they'll gladly help you if you come up to them for some advice when it comes to home staging. Real estate agents have proven experience and expertise in the field and thus can give you helpful insights on how to stage a house and which part you should prioritize. Some may even help you in your house facelift by recommending the best professional home stagers or even lend you home décors to help curb your home's overall appeal!
Professional staging company- If you aren't on a tight budget and could use some extra cash then it's better for you to hire a professional stager from a staging company. With all their knowledge in the respective field, they will certainly do wonders in your humble abode. Professional stagers also have broad inventories of the latest interior design trends, furniture, and artworks that can spruce up every nook and cranny of your niche!
The fourth one is a combination of any of the three options mentioned above.
How much does a home staging cost?
There are numerous packages that home staging companies offer to best suit your style and budget. They could go from 250 to 3,300 pesos per square meter, depending on the type of package you will avail. It is important to note that these rates vary depending on a lot of factors such as size, price, and location of the house. You will also have to pay your professional home stager or company a consultation fee.
If you decided to stage your house on your own, it is important to list down repair and maintenance costs like painting and cleaning supplies, organizers and extra storage units and boxes for decluttering, additional décors and furniture, and floral arrangements.
Home staging tips for every part of your house
Now that we've covered the definition and importance of home staging, let's now comb through every room of your house and transform every dull space into an inviting one in just a few minutes with these home staging tips!
Living room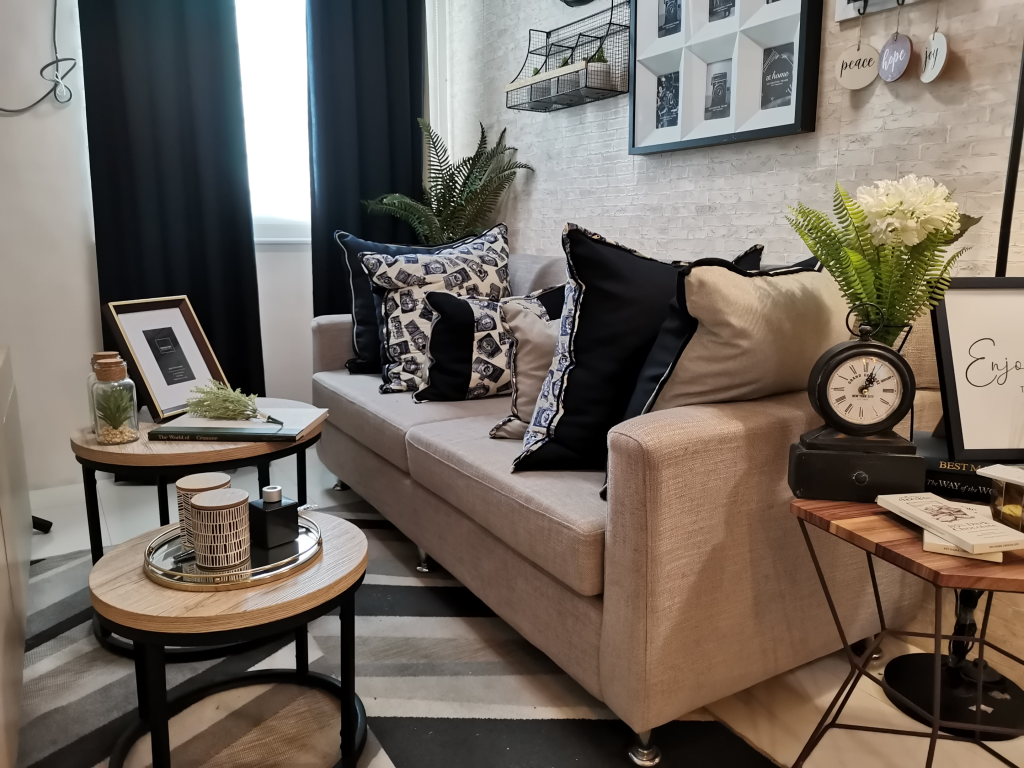 To give more light to your living room, replace your dark curtains with neutral-colored ones so the space won't look dull and dingy. The same thing goes for your living room walls. Inspect all the lights and replace bulbs that have already burned off their embers. You can also open the windows or blinds to let more natural light stream into the entire room. Remove any personal items that may peek through your real estate photographs. Remember, you want your potential buyer to picture your home his or her dream home.
Looking for ways to elevate that good ol' bookshelf? Why not replace them with floating shelves instead? Not only that it will give your living room an upscale look, but will also make a tight space look roomy. To give depth to any space, try adding large mirrors or reflective arts that will serve as the focal point and statement piece.
Kitchen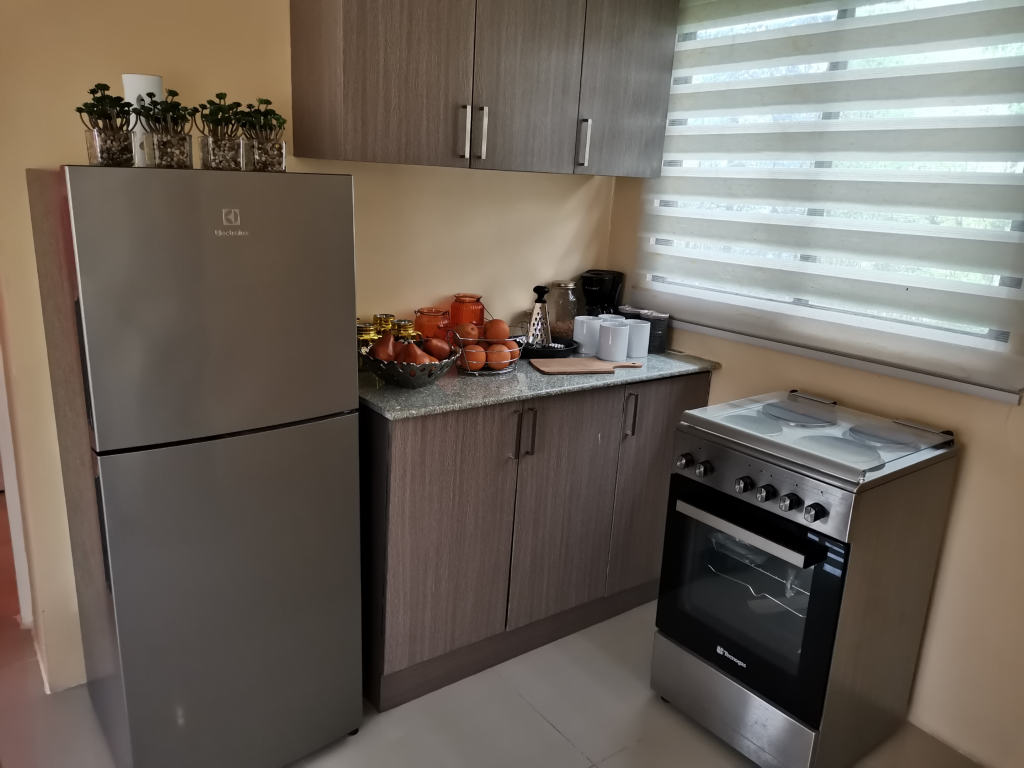 A modern-looking kitchen draws in the most potential buyers than any part of your house ever will. It is due to the fact that most buyers want a kitchen that doesn't need remodeling. Invest in high-end appliances to make your house move in ready! These electronics and appliances don't have to be really high end and expensive– they just have to look like one!
Dining room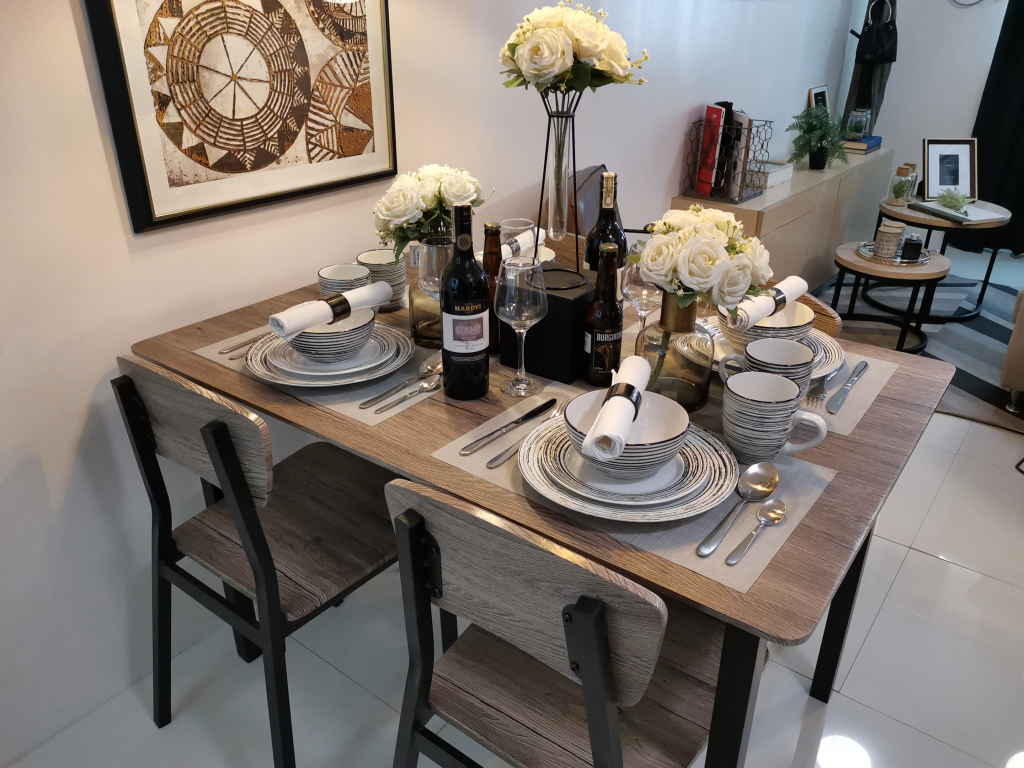 Like what you did in your living room, open the windows and blinds in the dining room to let all the light shine through. Remove table leaves (if you are using any) to make the space look bigger.
You can set up the table (for ambiance), add a bowl of fruit or small potted plants on top of your dining table for additional décor.
Bedroom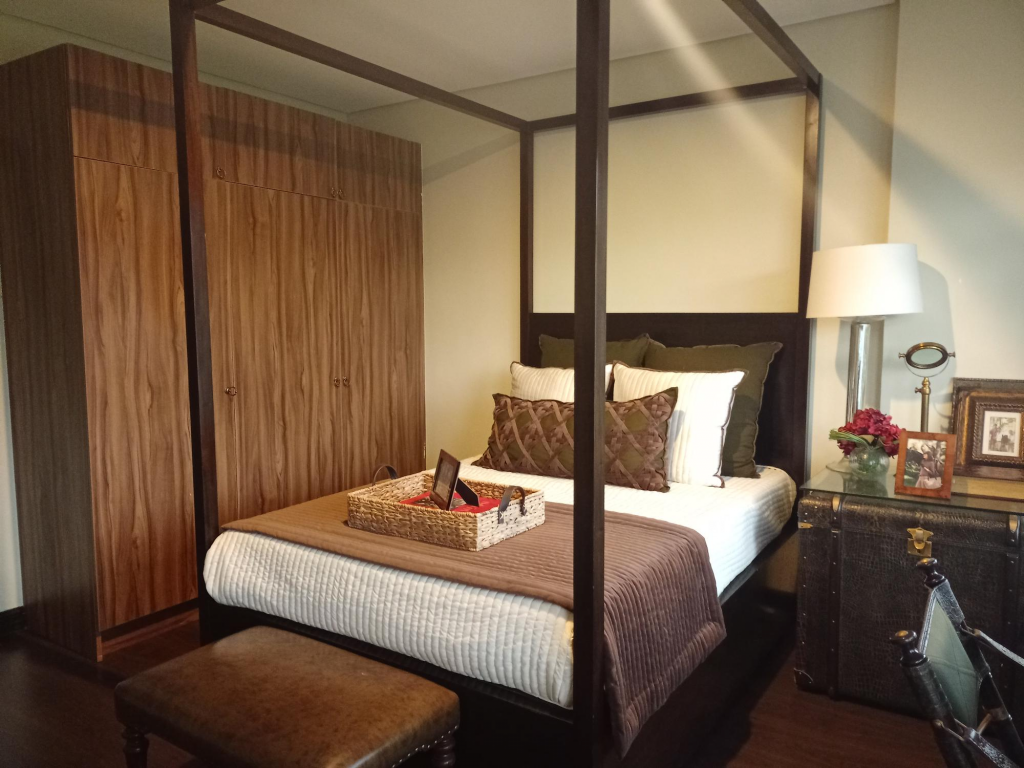 Change the bed sheets, pillowcases, and blankets in your children's bedrooms as well as in the master bedroom. Declutter your room from any litter and personal items lying around. Peek through your closet and organize your wardrobe— try to use the same hangers if you can!
Here's a tip from an article published in The Close entitled 17 Clever Home Staging Tips From Top Agents (+ DIY Shopping Guide): replace old table lamps and nightstands with sconces for that instant luxurious hotel feel! According to Ashlei De Souza, an Associate Broker in Serhant and host of the Youtube channel LISTED, "Not all sconces feel dated! Embrace the luxurious hotel feel and pick some fun wall mounted lighting on either side of your bed. In smaller bedrooms, this trick allows you to go with nightstands that are more petite to keep your room feeling as spacious as possible!"
Bathroom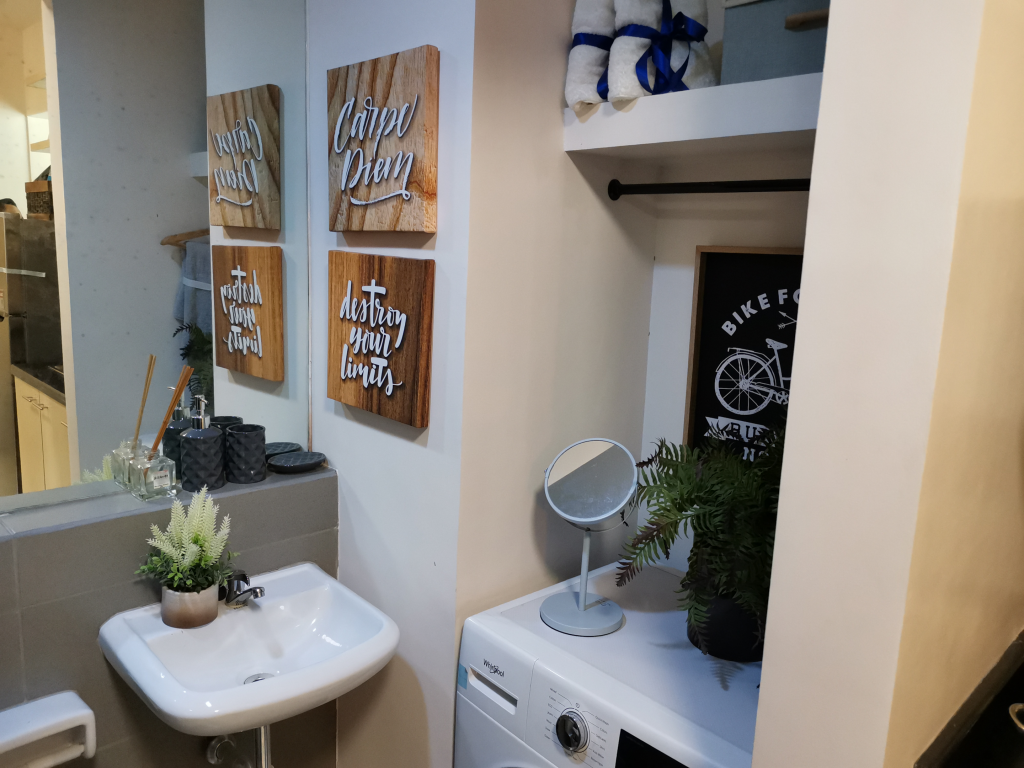 Heading on to your bathroom, check your pipes and faucets if there are any leaks and replace old shower heads and faucets. Add a fresh coat of paint to your drawers and cabinets to remove that outdated look and any visible chipping. Replace the shower curtain and hang towels with a neutral palette. Clear sink from any personal items like toothbrushes or combs. Last but not the least, wipe mirrors and glass sparkly clean!
Exterior/Outside
Let's not forget the curb appeal of your house's exterior. Start by trimming overgrown bushes and trees, mowing the lawn, and removing dead leaves scattered around. You can also add some outdoor furniture to your patio or deck for that extra appeal. Cover any bare spots with potted plants or flower boxes.
Home staging for easy home selling
Sure enough, home staging requires an ample amount of your time (and money) but rest assured that all of your staging efforts will be worth it once you see the fruit of your labor translate into inquiries and eventually sales. Home staging is like 'putting your best foot forward,' highlighting the best features of your home for every curious eye to see.
These are just some of the tips that you can use to spruce up the curb appeal of your home, but there are a lot more ideas that you can incorporate to transform your humble abode into a profitable investment. Remember, it is still important to consult real estate agents or experts to know the right way to stage your home, and which areas need some facelift and which one are fine the way they are. So start planning now and give your home a glamorous transformation!
---
Looking for an affordable property? Contact us today
A lot of Filipinos dream of owning their first apartment or house and lot. With today's booming real estate opportunities, there are so many options to choose from.
Here at Vistaland International, we have a roster of affordable property listings from several locations across the country. Whether you're looking for a place to live in Manila, Cebu, Davao and etc, we've got you covered. So contact our real estate agents today!
Vistaland International was primarily created to bring OFW closer to their dream of finally acquiring a home in the Philippines. And with the rising cost of living in the country, OFWs and their families are looking for ways to earn extra cash flow to support their daily needs. Luckily, you can also join the global network of Vistaland International as a real estate professional and earn a commission!
Vistaland International Marketing, Inc. (VIMI) is the international marketing division of Vista Land. Aiming to provide OFWs and migrant Filipinos a home in the Philippines, VIMI has established long-lasting relationships with brokers and clients around the world.
Get started with your property investments! Contact us today and follow our social media accounts: Facebook, YouTube, Twitter, Instagram, and LinkedIn.