As we enter 2023, there is a renewed sense of excitement and hope for the future. With the pandemic slowly receding and the world gradually opening up, many people are eager to embark on new adventures, explore new horizons, and pursue their passions.
One area that is ripe for change and experimentation is interior design, particularly in the home. As we spend more time indoors, our living spaces have become even more crucial to our well-being, and the way we design and decorate our homes can have a profound impact on our mood, productivity, and creativity.
In the coming year, we can expect to see a range of new trends and styles emerge in interior design, as people seek to personalize their homes and express their individuality. From bold colors and patterns to eco-friendly materials and minimalist designs, there are many ways to transform your living space and create a unique and inviting atmosphere.
We save you a hassle of finding the home decor trends that will rank the charts this year as we've listed down the top interior design trends this 2023–according to interior designers and experts!
Home Interior Design Trends for 2023
The Return of Earth tones
We'll temporarily say good bye to minimalist colors this 2023 and give the throne back to earth tones, which are expected to rise in popularity again this year.
American fashion and lifestyle magazine Vogue gathered insights of 13 different interior designers, and when it comes to color, majority of them pointed out that earth tones, especially browns and pinks will dominate the interior decorating scene this year.
Moreover, home and lifestyle blog Jane at Homes adds that r'ich jewel tones, soothing greens, and timeless blue' will also make an appearance inside 2023's home interior designs.
Check out our list of interior color trends for 2023!
Natural Materials
Natural materials such as wood, stone, and brick are expected to become more popular in 2023. These materials add warmth and texture to a space and can be incorporated into a variety of design styles.
The best way to incorporate this trend is to replace your faux accessories and focus more on the natural elements. Start by looking for furniture that are light or mid-toned and pair it with natural rugs made from wool, jute, or textured cotton.
Classic furniture design and style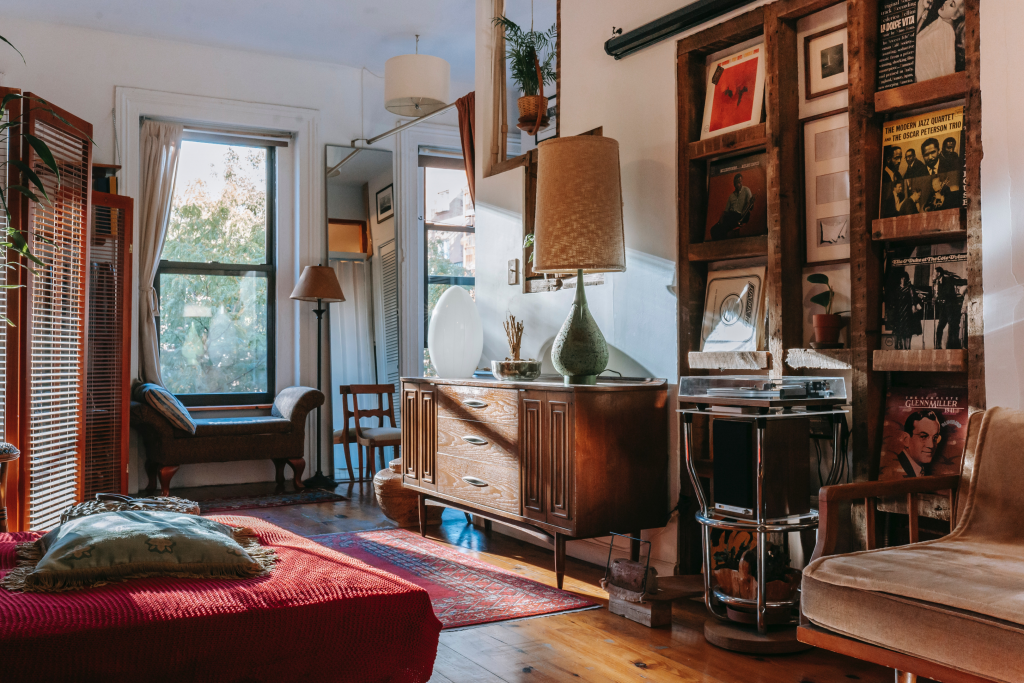 Curved furniture has been steadily gaining popularity in the world of interior design in recent years. However this year, people are more inclined to see streamlined, classic silhouettes this 2023.
Classic furniture is a design trend is seen to become popular in 2023– turned legs, arched back, rolled arms, a lot of curvy shapes! .This style of furniture is known for its elegance, sophistication, and timeless appeal, making it a popular choice for those who want to create a luxurious and refined atmosphere in their homes.
One of the defining characteristics of classic furniture is its attention to detail. Classic pieces often feature ornate carvings, intricate details, and high-quality materials such as solid wood, leather, and velvet. This attention to detail adds an element of luxury and sophistication that is hard to replicate with other design styles.
Paper and Fabric Lighting
On the other hand, interior designer Athena Calderone tells Vogue that she foresees a return of table lamps and lighting made out of paper, fabric, or silk, emitting a soft ambient glow.
Natural stone finish
Natural stone finishes are also set to become a major interior design trend in 2023. This trend is driven by the desire for homeowners to incorporate natural materials into their living spaces, creating a sense of warmth, texture, and luxury.
Natural stone finishes are versatile and can be used in a variety of ways. They can be used to create a striking focal point or to add texture and depth to a room. From walls and floors to countertops and backsplashes, natural stone finishes can transform any space into a luxurious retreat.
One of the most popular natural stone finishes for 2023 is marble. Marble has been a popular material for centuries, prized for its beauty, durability, and versatility. Marble comes in a wide range of colors and patterns, from classic white with grey veining to richly veined shades of green and black.
Closed floor plans
The recent pandemic highlighted the importance of having private spaces, especially when you are in a work-from-home or study-from-home set-up.
In a closed floor plan, rooms are separated by walls, doors, or other physical barriers. This allows for greater control over the flow of air, light, and sound throughout the home. Closed floor plans can also provide a sense of coziness and intimacy that can be lacking in more open spaces.
One of the key drivers of this trend is a desire for more privacy and quiet. With more people working from home, and with the increasing popularity of remote learning and homeschooling, homeowners are looking for ways to create spaces that are conducive to concentration and focus. Closed floor plans can provide a more peaceful environment for work, study, or relaxation.
Why is interior design important?
Interior design plays a crucial role in the overall look and feel of a home. It involves the arrangement of furniture, decorations, colors, lighting, and other elements to create a functional and aesthetically pleasing living space.
Here are some reasons why interior design is important in a home:
Enhances comfort and functionality
Interior design can help optimize the use of available space and ensure that the layout of furniture and other elements is practical and comfortable. A well-designed interior can make a home more functional and conducive to daily activities.
Reflects personal style
Interior design allows homeowners to express their personal style and preferences through the choice of colors, patterns, and decorative elements. This can create a sense of identity and make a home feel more welcoming and unique.
Increases home value
A well-designed interior can significantly increase the value of a home. Potential buyers are often attracted to homes that are well-decorated and visually appealing, which can translate into a higher resale value.
Boosts mood and productivity
The right combination of colors, lighting, and furnishings can have a positive impact on mood and productivity. A well-designed interior can create a relaxing and calming atmosphere, which can be particularly beneficial for those who spend a lot of time at home.
Improves functionality of small spaces
For those living in small homes or apartments, interior design can be especially important. By utilizing space-saving techniques and creative storage solutions, an interior designer can help make the most of limited space, creating a functional and comfortable living area.
---
Looking for an affordable property? Contact us today
A lot of Filipinos dream of owning their first apartment or house and lot. With today's booming real estate opportunities, there are so many options to choose from.
Here at Vista Land International, we have a roster of affordable property listings from several locations across the country. Whether you're looking for a place to live in Manila, Cebu, Davao and etc, we've got you covered. So contact our real estate agents today!
Vista Land International was primarily created to bring OFW closer to their dream of finally acquiring a home in the Philippines. And with the rising cost of living in the country, OFWs and their families are looking for ways to earn extra cash flow to support their daily needs. Luckily, you can also join the global network of Vista Land International as a real estate professional and earn a commission!
Vista Land International Marketing, Inc. (VIMI) is the international marketing division of Vista Land. Aiming to provide OFWs and migrant Filipinos a home in the Philippines, VIMI has established long-lasting relationships with brokers and clients around the world. Get started with your property investments! Contact us today and follow our social media accounts: Facebook, YouTube, Twitter, Instagram, and LinkedIn.