Okay, so it's that time of the year where people make some New Year's resolutions, and for some people, their New Year's resolution is to redecorate their bedrooms or their houses into the aesthetics they want to achieve or they just want to simply aim for a simple house so that they can decorate it in any way they want it! With so many ideas people can get from Facebook and Pinterest, it's not a question as to why these small houses (or even mobile ones) with aesthetically – pleasing designs and practical arrangements to make most of the small spaces you have! Think you're up for a challenge to spruce up your tiny dream house? Then keep on reading!
Factors That Contribute A Simple & Small House On A Budget
Before trading in your old life that lived in your old house for a small house that's simple and your own, you need to consider these factors that make simple houses trendy without breaking a budget:
Low Cost Materials
Honestly with a small house, you don't need to worry about getting a hammer to break your piggy bank as you can find decorations at a low cost! Aside from searching for an ideal low cost material for decorating at a bunch of department stores, Shopee, and Lazada, you can also find decorations and things that can match to your dream aesthetic, whether you're going for that clean minimalistic arrangement in any color or a mix of aesthetics to get multiple atmospheres and vibes in any way you want it to achieve your dream home at a low cost! Besides, building your own dream house doesn't have to call for desperate measures, right?
Excellent Architectural Media
Nowadays, it doesn't matter whether your house is big or small; as long as it has an excellent architectural medium (and of course good foundation and a good location), you can go crazy beyond the floor plan! Low cost houses can be a different world when everyone dreams for a mansion or a chateau, but a simple house (that doesn't have to be that small) is one of the underrated gems that have excellent architectural medium (such as strong wood or great cement finish) for you to put your interior (and exterior) house designing self to the test! You can even make a hut out of good straw and wood and splash it with a touch of class with the decorations you choose!
Perfect for Small Families
Before you can imply low quality on small houses, some Filipino families want to have a small house so that they can have everything in one place (without going for miles just to clean another room)! A simple house can be perfect for some Filipino families who are straightforward in having their own homes that they can make the most out of! From having a simple house that is only a bungalow to a detached up and down apartment, these can be perfect for a small family who want to start a life of their own as a lot of Filipino families achieved in owning a simple house that they can call home!
On A Budget? On A Roll!
For those that aim for an affordable but simple house on a small budget, then you're in luck! There are small houses that are up everywhere in a Facebook notice for you to own! With loan programs that offer flexible payment schemes, bank financing has never been this convenient and achievable with flexible payment methods such as Pag – Ibig Fund, GCash, Paymaya, and other major banks! With Vista Land, we offer houses that have elegant houses with house designs for you to savor and for you to feast your eyes on with a budget that will fit in your pocket!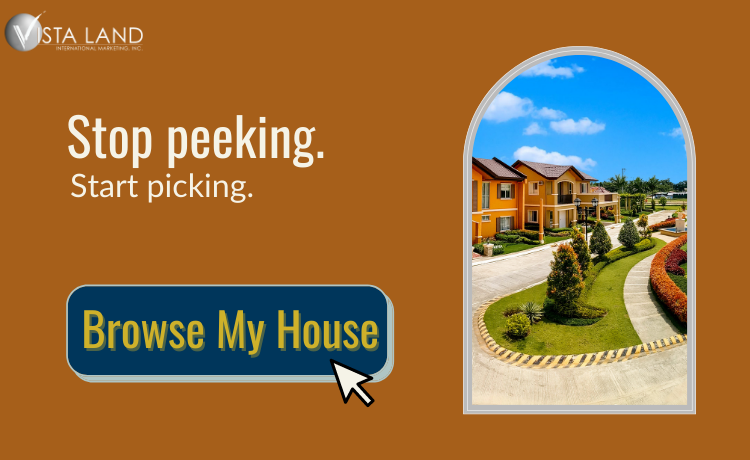 It's A Good Idea Because…
A simple house with two bedrooms (or probably with only one bedroom) can not only teach families on how to save space on a small budget by decorating it without having a riot with your bank account, but to also make the most out of what they have from arranging the furniture to decluttering things that eat up space to adding a little more to make your unit furnished and eye – catching at the same time! From having functional furniture such as having a loft bed, which can have a bed on top and a working or study space below (which can be attached to the bed all in one so that it wouldn't be space consuming) or a dining table that you can just pull it from the cabinet (or from the top) so that you can just push in your chairs and have a delicious home – cooked meal to having a small house that you can maximize the space you're in so that you can turn it into one of those trendy Airbnb houses from having a bedspace (or a small bedroom) upstairs so that you can go down a few flight of stairs (or a ladder steps) to having a small but beautiful bathroom that looks big by the angle play of a mirror!
With these simple houses, anything is possible with your imagination running wild and free while on a low budget! How's that for smart living?
Low Budget Simple House Design
For those who have rent – to – own houses, houses that are bought from their own pocket, or houses that are built by their own, it's a good thing that you can design, paint, and decorate every inch of it on your own! But for those that are renting, you can spruce it up without having the paint trouble (usually depends on the contractor) by arranging and adding things according to your aesthetic! But before you can raid your house with your interior designing self, here are some decorating ideas that you should consider on a low budget so that you don't need to saw your wallet in half and score many points on both the saving – your – money and the interior designing departments:
Know The House Aesthetic You Want to Achieve
Whether you want to achieve a muji aesthetic, the usual minimalistic with a color splash, or you want to achieve any specific aesthetic you have in mind, you have to know which house aesthetic you want to have so that you'll know on which things to buy, especially on multi – functional furniture. List down the things you want to buy (decorations, things to use for the kitchen, appliances) to things you want to have it made (bed for your bedroom, bookshelf, and many others) to things you already own that you want to add! The sky's the limit whether you want to maintain that home design idea or mix and match it! That way, you can figure out what your budget is in decorating a piece of your haven (or decorate your own place) in one go!
Add, Remove, and Rearrange
Of course, it's the basic steps everyone does whether they're following a feng shui atmosphere or you just simply want to revamp and spruce up your place called home by rearranging things your way, adding things to your aesthetic for your room (or your house), and removing the things that eat up space or you don't need and want anymore. We know it's a tedious trial and error, but if we want to make things work in your desired aesthetic, you need to get some inspiration at the palm of your hands and do the dirty work!
Have Home Plants
Seriously, adding plants to your home can not only brighten the atmosphere of your house, but they can also provide you the good stuff such as better air quality and they can also be a great addition to your room and your house (especially if you have cute succulents and have beautiful flowers as a bonus!)
Splash On Some Fairy Lights…
…or any kind of lights such as lava lamps, glow in the dark stickers, and Christmas lights that will brighten your room softly so that whenever you want to shut off from the world without having the harsh bipolar brightness flooding in your room from the switch, you can have a good night's sleep without being scared throughout the night (if you're that type of person, we don't judge) or you can go to the bathroom or kitchen for a midnight snack without having to bump on your way out!
Be Mindful with Wall Decors
With many options for you to buy wall decors without breaking your budget, it's really tempting to buy all of the pretty quotes you can hang on your wall for affordable prices! But to make space in everything you want to put in, make sure that you place your wall decors (posters, wall quotes, paintings, and pictures) in all of the right corners so that your wall doesn't seem crowded. Besides, you don't want to put down so much if you want to repaint, do you?
Being on the Right Page
With many people aiming either for a simple house design or going crazy with the aesthetic they're eyeing on since forever, there are several home design ideas for you to choose from whether you want a simple small house design, a low cost house design that can be the center of attention for everyone to see or any house design that you want to achieve. There are low cost houses perfect for one person or a small family to start their own lives by decorating it in any way they want it, whether they opt for a small house or for a semi – big one, depending on the space you want to have to achieve something with a big imagination. Go ahead, make your dream house (or dream room) aesthetic happen because the sky's the limit on how you want to give your home a makeover!
---
Looking for new property investments? Contact us today!
Buying real estate properties is one of the safest ways to start your investment journey. Here at Vistaland International, we have a roster of affordable house and lots, and several condominium projects found across the country. If you have any questions or inquiries, our real estate brokers are here to help. So contact us today!
Vistaland International was primarily created to bring OFW closer to their dream of finally acquiring a home in the Philippines. And with the rising cost of living in the country, OFWs and their families are looking for ways to earn extra cash flow to support their daily needs. Luckily, you can also join the global network of Vistaland International as a real estate professional and earn a commission!
Vistaland International Marketing, Inc. (VIMI) is the international marketing division of Vista Land. Aiming to provide OFWs and migrant Filipinos a home in the Philippines, VIMI has established long-lasting relationships with brokers and clients around the world.
Get started with your property investments! Contact us today and follow our social media accounts: Facebook, YouTube, Twitter, Instagram, and LinkedIn.