Holy Week or Semana Santa is considered to be an important religious event for a Catholic-dominated country (and the largest Catholic country in Asia) like the Philippines. For this year, the Holy Week will fall on April 10 (Palm Sunday) up to April 17 (Easter Sunday).
Palm Sunday usually signifies the onset of Holy Week. The three days following that (Holy Monday, Holy Tuesday, and Holy Wednesday) are still considered to be working days. However, Holy Thursday and Good Friday are declared to be national holidays to give devotees the time to pray and reflect.
Philippines has its own way of celebrating Holy Week. This religious observance has become a part of our lives, following and passing on various traditions and beliefs, generation after generation. As we didn't get to fully celebrate the Lenten Season the previous years due to the COVID-19 pandemic, here's a little refresher of our country's holy week traditions.
Holy Week Traditions in the Philippines
Ash Wednesday
Ash Wednesday signifies the start of Holy Week. It is a tradition of placing the ashes of burnt palm leaves from the previous Easter on the foreheads of the devotees in the shape of the cross—symbolizing human death. Many Catholics grabs this time to profess and repent to their sins.
Fasting
Fasting or Abstinence is a practice of refraining from eating meat or any type of food as a way to remember Jesus's sacrifices on the cross. Fasting is usually done on Ash Wednesday and Good Friday. The Catholic church mentioned that a fasting meal consists of "one main meal a day and two smaller meals that, when added together, do not surpass the main meal in amount."
Palm Sunday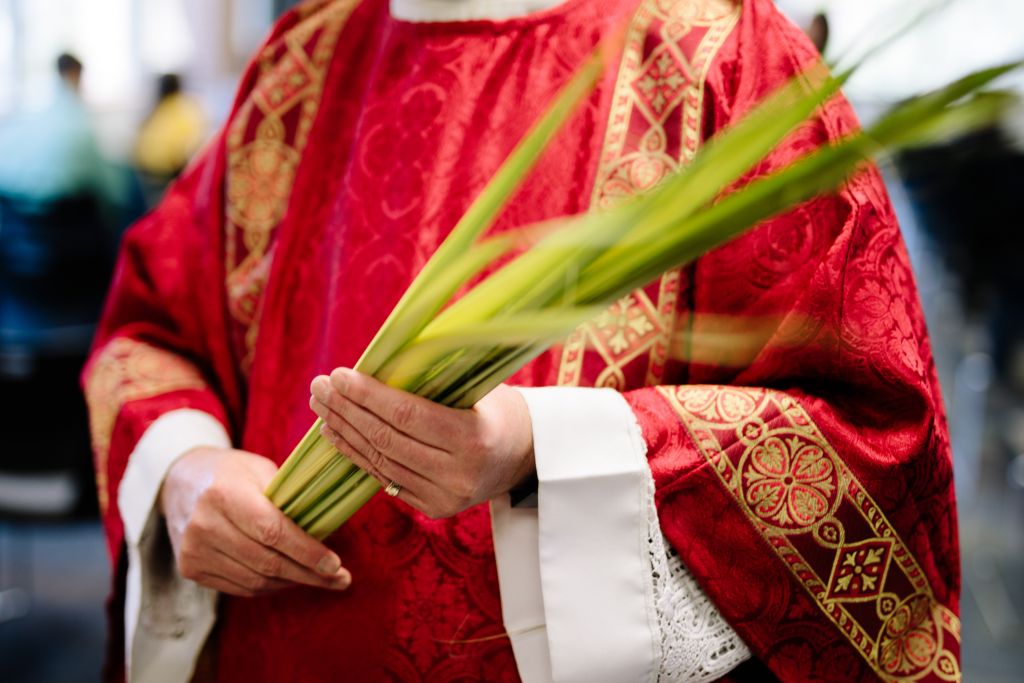 Palm Sunday officially starts the Holy Week. This is also the time when you see lots of devotees flocking in churches, carrying and waving their woven palm fronds, waiting to be blessed with holy water by the priest.
Reading the Pasyon
Often participated by the elderly, the 'Pabasa ng Pasyon' tradition is the chanting of the Pasyong Mahal, an epic poem narrating the life, passion, death, and resurrection of Christ.
Senakulo
A Holy Week classic, Senakulo or Passion Play is a theatrical reenactment of life and death of Christ. Annually, a lot of spectators gather around the streets or the town's plaza to witness the play which is usually organized by the local government along with sponsors and volunteers.
Senakulo came from the Spanish word cenáculo, meaning upper room. It is thought to be the place where Jesus Christ had the last supper with his apostles.
Visita Iglesia
Visita Iglesia first came into the Philippines in the year 1560s, brought by Augustinian priests.  It is a practice of visiting seven or 14 churches to reflect the Passion of Christ and honor the Seven Blessed Sacrament, that's why it is also called Seven Churches Visitation. It usually starts on Maundy Thursday but can last up to Easter Sunday if the churches you are visiting are relatively far from each other. Pilgrims can either visit 14 churches for each Station of the Cross or pray for two stations in each of seven churches.
Easter Sunday
Easter Sunday marks the end of the Holy Week. It is also the time when Catholics believe that the Lord and Savior Jesus Christ has risen from death. Lots of devotee flock into their churches to attend the Easter Sunday mass and wave their palaspas blessed by the priest—re-enacting the entrance of the Christ into the Jerusalem.
Salubong (Welcome)
Salubong is a holy week tradition portraying the meeting of risen Christ and his mother. This rite is divided into two processions–the men hold the procession of Christ while the women accompany Mary's statue dressed in black mourning dress and a black veil. A young girl dressed in white is lowered by some sort of mechanism and takes of the Virgin Mary's veil, signifying Christ's Resurrection and the end of Mary's sorrows.
Filipino Superstitions (and taboos) during Lenten Season
Aside from traditions, Filipinos also have many superstitions (and taboos) during Lenten Season that some of them still follow and observe up to this day.
Sweeping at Night is a Big No-No
Sweeping, and generally cleaning the house during Good Friday and Black Saturday is a big no-no as elders believe you are sweeping the good luck and fortune out of your home. However, this act is only discouraged at night, so most of the time, mothers take advantage of cleaning the house during the day.
Wounds Take Longer Time to Heal
Our parents would restrict us from going and playing outside to avoid getting scrapes and wounds due to the belief that wounds heal longer during holy week.
This is also the reason why traveling is also discouraged as accidents are frequent during this time.
Excessive Noise is Discouraged
Good Friday and Black Saturday are considered days of mourning during the holy week, so making excessive noise are prohibited to preserve the solemnity of these days. Karaokes, honking of horns and even watching TV and listening to the radio are not allowed. Instead, people are encouraged to pray and reflect.
Evil Spirits are Believed to be Stronger During Holy Week
Many people believe that since Jesus Christ is dead, evil spirits gain more strength and power. However, there's no need to worry as during this time, the healing powers of albularyos (witch doctors) are believed to be more effective and powerful. Anting-anting or amulets are said to work best during Good Fridays as well.
Do Not Take a Bath After 3PM on A Good Friday
Another superstition that believers follow is avoiding taking a bath (or doing laundry) after 3 PM on a Good Friday for it is considered as the hour of Jesus' death. Bad luck will come to the way of anyone who decides to disobey this belief.
Do Not Stare at Mirrors after 3PM
Consequently, staring at mirrors after 3 PM on a Good Friday is also discouraged as it could trigger and invite spirits to wreak havoc into the human world. Mirrors are considered to be portals to the other, unforeseen world and so a piece of cloth is used to cover them and to prevent the temptation of every passerby to take a sneak peek.
Palm Leaves on Doors for Protection
Place palm leaves in front of your doors to ward off any evil spirits that may cause harm to you and your family.
Rain That Falls on Easter Has Healing Properties
On the contrary to the belief of not taking a bath during the most of the hoy week as it will bring bad luck, showering under the rain of Easter Sunday (if it falls). It is believed that the rainwater have turned into 'holy 'water' and has healing powers and so the family members, including the sick are encouraged to bathe.
Do Not Eat Meat During Good Friday
In line with fasting and abstinence, devotees stray away from eating meat during Good Friday as a form of spiritual discipline and respect to the Lenten Season. It is also due to the reason that meat is linked with impurity and bad omen.
We are hoping that the ease in quarantine restrictions will make these traditions possible. Aside from observing these religious rites, holy week is also a time where we get to spend time and relax with our family. Also remember that the holy week isn't the only time where we can commemorate the life and sacrifices of our Lord and Savior Jesus Christ. There can always be a time for self-meditation and reflection. What's important is that we embody the teachings of our worship and apply it in our everyday lives.
---
Looking for an affordable property? Contact us today
A lot of Filipinos dream of owning their first apartment or house and lot. With today's booming real estate opportunities, there are so many options to choose from.
Here at Vistaland International, we have a roster of affordable property listings from several locations across the country. Whether you're looking for a place to live in Manila, Cebu, Davao and etc, we've got you covered. So contact our real estate agents today!
Vistaland International was primarily created to bring OFW closer to their dream of finally acquiring a home in the Philippines. And with the rising cost of living in the country, OFWs and their families are looking for ways to earn extra cash flow to support their daily needs. Luckily, you can also join the global network of Vistaland International as a real estate professional and earn a commission!