Bataan is known for its rich history, natural beauty, and diverse culture. It is slowly becoming one of the booming investment hotspots in Central Luzon because of its growing economy. This province hosts several industrial estate and large-scale companies, providing career and job opportunities for its townspeople.
Aside from that, Bataan is known for its lush greenery and breathtaking views of nature. It is also home to stunning beaches, majestic waterfalls, and spectacular mountains. Lastly, Bataan is also popular for its various historical sites and landmarks.
Today, we will be looking at the various historical landmarks and sites you should not miss on your next Bataan visit!
Related read: Why Bataan is a Good Place to Live?
Historical Landmarks to Visit in Bataan
Bataan World War II Museum
One tourist spot you should never miss when visiting the province of Bataan is the Bataan World War II Museum. Located at Jose Basa St., Balanga City, this museum features various exhibits, artifacts, and interactive displays that showcase the history of the Battle of Bataan, including the events leading up to the battle, the struggles and sacrifices of the soldiers, and the aftermath of the war.
Visitors can learn about the various battles and operations that took place in Bataan, including the iniquitous Bataan Death March, which saw thousands of Filipino and American soldiers forced to march more than 100 kilometers to a prisoner of war camp. There are also informative panels narrating what happened during the time of the country's liberation.
Surrender Site Marker
A few walks away from the museum, you can find the surrender site marker. Here, you can spot a life life-sized statue of Major General Edward P. King Jr. and his troops re-enacting the soldier's finals moments as they make the painful decision of surrendering the battle.
This historical landmark is also known as the Fall of Bataan Marker and is usually frequented by tourists and visitors. Similarly, you can also take a look at the Zero Kilometer Death March Marker located at Bagac.
First Line of Defense Marker
Third into the list of historical places in Bataan is the First Line of Defense Marker. Situated at the center rotonda in Dinalupihan, Bataan, this marker depicts the bravery the combined forces of Filipino troops and USAFFE soldiers as they defend against the Japanese invasion.
Corregidor Island
Corregidor Island is a historic and scenic island located at the entrance of Manila Bay, Philippines. It is known as "The Rock" because of its rocky terrain and was once a strategic military fortress that served as a defense against invading forces.
Today, Corregidor Island is a popular tourist destination because of its rich history and natural beauty. It is a living museum that showcases the events of World War II, particularly the Battle of Corregidor, which lasted from December 1941 to May 1942. Visitors can explore the different military installations and ruins, such as the Malinta Tunnel, Pacific War Memorial, and the Battery Way. The island also features museums and exhibits that highlight the Filipino and American soldiers' bravery and sacrifice during the war.
Aside from its historical significance, Corregidor Island also boasts stunning natural scenery, including picturesque views of Manila Bay and its surrounding islands. Visitors can enjoy a guided tram tour of the island or explore its rugged terrain by hiking or biking. The island is also a great spot for birdwatching, and visitors can spot various bird species, including the endangered Philippine Hawk-Eagle.
Albeit under the jurisdiciton of Cavite City, you can still reach Corregidor Island from the Bataan Peninsula by riding a bus bound to Mariveles.
Mount Samat National Shrine
Mount Samat Shrine is a national shrine located in Pilar, Bataan, Philippines. It is a historical landmark that commemorates the bravery and sacrifices of the Filipino and American soldiers during World War II. The shrine is situated atop Mount Samat, a 555-meter high mountain that served as a strategic defense position against the Japanese invaders.
The shrine's centerpiece is the 92-meter high Memorial Cross, also known as the "Dambana ng Kagitingan." It was built to honor the brave soldiers who fought in the Battle of Bataan, which lasted from January to April 1942. The cross is made of steel and reinforced concrete and serves as a symbol of courage, hope, and freedom.
Aside from the Memorial Cross, Mount Samat Shrine also features a museum that showcases the history of the Battle of Bataan and the heroic acts of the soldiers who fought in it.
Las Casas Filipinas de Acuzar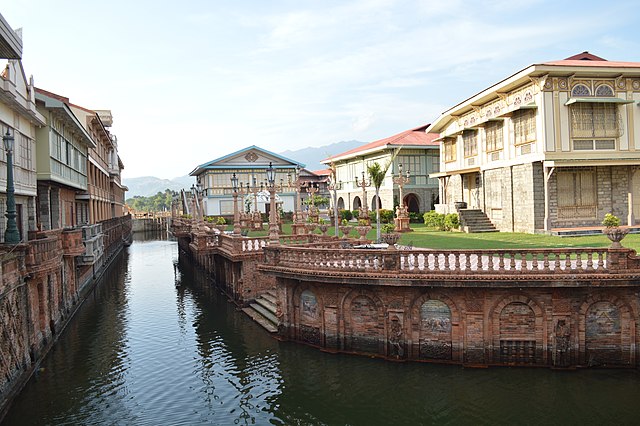 Las Casas Filipinas de Acuzar is a heritage resort located in Bagac, Bataan. The resort is a unique fusion of Philippine history, art, and architecture, offering a glimpse into the country's rich cultural heritage. The resort's centerpiece is a collection of meticulously restored Spanish-Filipino houses, also known as "casas," that date back to the 18th and 19th centuries. These casas were originally from different parts of the Philippines and were carefully transported and reconstructed at the resort, preserving their original beauty and charm.
Apart from its stunning collection of casas, Las Casas Filipinas de Acuzar also features other attractions, such as the heritage walking tour, where guests can learn about the history of each casa and the stories of the families who once lived in them. The resort also offers traditional Filipino activities such as "sabong" or cockfighting, and "carabao" or water buffalo cart rides, giving guests a glimpse into rural Filipino life.
Philippine Japanese Friendship Tower
This 27-meter tall white structure was built by the Japanese Buddhist Religious Movement Rissho Kosei Kasai Group way back in 1975. This tower symbolizes the reconciliation, peace, and friendship between Japan and Philippines after the war was over.
At the foot of the tower is a bell decorated with intricate designs and Japanese writings.
Flaming Sword Monument
Located at Pilar, Bataan, this structure features a large hand holding a 30-foot flaming sword upwards. This is also to commemorate the bravery and sacrifice of Filipino and american soldiers who defended the country during the Battle of Bataan.
It lies in the Kilometer 42 point, where captured USAFFE soldiers defending Bagac and Mariveles were gathered and forced to join the infamous Bataan Death March.
Other Tourist Spots to Visit
Bataan National Park
This 23, 688 hectares of closed-canopy dipterocarp forest is a home to a diverse range of flora and fauna. Different species of giant fruit bats, eagles, civet cats, wild monkeys, wild boars, and pygmy woodpeckers can be found in this sanctuary as well as trees and plants such as coffee, lanzones, jackfruit, and guyabano. If you are lucky enough, you can spot the world's biggest flower in bloom, rafflesia.
Aside from the wonderful gifts of nature, Bataan National Parks also boasts two majestic waterfalls in its care: Pasukulan and Dunsulan Falls. Whether you are an outdoor enthusiast or you just want to reconnect with nature, the Bataan National Park will quench the relaxation that you crave!
Bataan Technology Park
Looking back, the Bataan Technology Park used to be the Philippine Refugee Processing Center which served as a training and transition center of Indochinese refugees during the 1970s.
Today, it stands as a techno-economic zone that promises opportunities for career and business growth for local and foreign investors.
Five Fingers Cove
One of the most visited tourist spots in Bataan, the Five Fingers Cove got its name as the hidden coves resemble five fingers when viewed from the maps.
Here you can explore different coves that offers various activities like hiking and trekking as well as explore the powdery beaches and try cliff diving.
---
Looking for an affordable property? Contact us today
A lot of Filipinos dream of owning their first apartment or house and lot. With today's booming real estate opportunities, there are so many options to choose from.
Here at Vista Land International, we have a roster of affordable property listings from several locations across the country. Whether you're looking for a place to live in Manila, Cebu, Davao and etc, we've got you covered. So contact our real estate agents today!
Vista Land International was primarily created to bring OFW closer to their dream of finally acquiring a home in the Philippines. And with the rising cost of living in the country, OFWs and their families are looking for ways to earn extra cash flow to support their daily needs. Luckily, you can also join the global network of Vista Land International as a real estate professional and earn a commission!
Vista Land International Marketing, Inc. (VIMI) is the international marketing division of Vista Land. Aiming to provide OFWs and migrant Filipinos a home in the Philippines, VIMI has established long-lasting relationships with brokers and clients around the world.
Get started with your property investments! Contact us today and follow our social media accounts: Facebook, YouTube, Twitter, Instagram, and LinkedIn.