Taking a break for some fresh air is quite rare (admittedly) when you're living a fast-paced life in the hustle and bustle of the city, and it's refreshing when we go out for outdoor recreation from time to time. But with air-conditioned offices, heavy workloads, and commuting time, most of us forget what it feels like to be free and under the sun. If someone asks you about a green space that you know, you'd probably mention the ones in the provinces first because green spaces in Metro Manila are rare (and we're guilty of that too).
If you want to relax and breathe deeply, dying to see some refreshing sights, or you want to go on an adventure, here are some of the existing green spaces that you can explore in and out of the Metro so that you can get that pocketful of sunshine in a place that you can be taken away.
What are Green Spaces?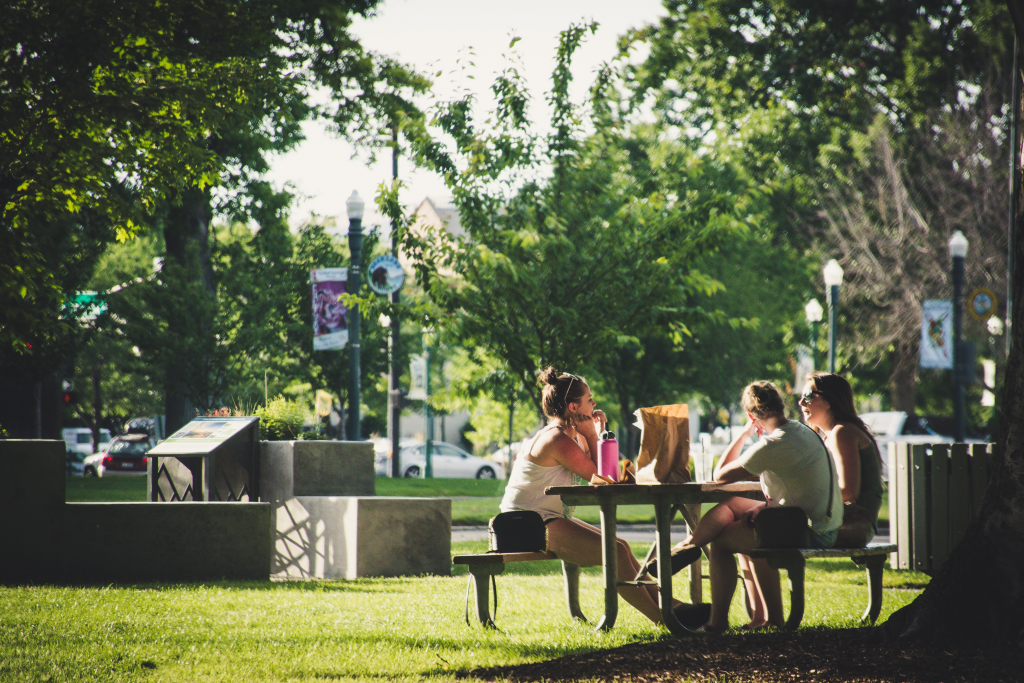 A green space is a piece of land with vegetation and greens that are located within city limits. Green spaces are often referred to as parks and gardens, but they could also be forests and jungles. These can be divided into two categories, which are natural or man-made, but in general, urban or suburban areas have green spaces with trees, plants, shrubs, or bushes that offer outdoor recreational and decoration activities, although they are sometimes considered to be environmentally protected by the government, so people can't just destroy its beauty because they also need to do something to protect them as well.
Arroceros Forest Park
You'll get plus points for the Pasig River and Quezon Bridge views when an esplanade is in the works because it's considered as "Manila's Last Lung" as it has 60 lush tree varieties, centuries-old trees, and 8,000 ornamental plants which serve as habitats for 10 birds. In short, it's a secondary growth forest that is in the middle of the busiest capital where you can go to appreciate the natural scenery and breathe in as much fresh air as you like!
Rizal Park
Also known as Luneta park, this historical gem is famous for its Rizal Monument where Dr. Jose Rizal's shrine is placed. This 52 – hectare square park is Southeast Asia's largest public park with an open-air amphitheater, manicured greens, theme gardens, a lagoon and fountain, a relief map, a children's playground, a bunch of heroes' monuments.
There's also a bunch of picnic areas that are accessible to three buildings of National Museum, the Manila Ocean Park, the Quirino Grandstand, and a planetarium, making the ultimate urban green space for you and your family or friends to enjoy with so many places to explore!
Las Piñas-Parañaque Critical Habitat and Ecotourism Area
If you're from the South and want to unwind while watching some birds, then this spot is for you! Barely a few kilometers from the busiest streets of Pasay City, it consists of two islands that make up 175 hectares of protected wetlands namely Long Island and Freedom Island. It was proclaimed to be a critical habitat and resting place for over 5,000 species of birds from all over the world in 2007, and it's the first one here in the Philippines.
Just a heads up: You need to contact the Conservation and Development Division of the Department of Environment and Natural Resources at 435-2509 if you're up for some bird watching while you take a breather.
Paco Park
What was a circular cemetery for victims of a cholera epidemic in the 1800s is now one of the most beautiful and radiant green urban spaces that are perfect for weddings, concerts, and other special events. It's also a resting place for Mariano Gomez, Jose Burgos, and Jacinto Zamora, who are collectively known as GOMBURZA. Jose Rizal was also here for a while until his family moved him to his final resting place, so it's another historical gem to look out for its lush green spaces and its Spanish era feels.
Intramuros
Okay, hear us out when we say it's one of the most photographic urban areas with a Spanish fusion that will take you right back to the Spanish era. Also known as a Walled City because of the wall being built in the 1600s, this is a heritage site district with reconstructed walls and colonial-era structures. What's more is that it has historical landmarks that include San Augustin Church, Manila Cathedral Basilica, Plaza Luis Complex, Puerta Real and Puerta Isabel, Baluarte De San Diego, and Bahay Tsino.
You would also pass by its core, which is Fort Santiago, Spain's major fortress that is located at the mouth of Pasig River and Manila Bay. Outside its walls is an 18 – hole golf course that you can play all day long. It's perfect when you're on your photography walk as you imagine what Manila looked like with all its ancient beauty glimmering as you take photos.
Bantayog ng mga Bayani
There aren't many urban gardens around the Metro, but when you enter this place, you would see tree lined streets and a bronze sculpture created by Eduardo Castrillo, and a couple of black stones where modern day heroes from the Marcos dictatorship are inscribed. We know that it isn't a green space where you'd want to remember the dead, but the air quality outdoors is great (and you'd learn a lot of history there), so it's one of the public green spaces that you should add to your list.
La Mesa Ecopark
Around Metro Manila's chief water reservoir, the La Mesa Dam, there's a lush haven with lots of green space that's still part of Quezon City for environmental awareness! For only P50, you can get to walk around on its grounds and go birdwatching or maybe have a picnic. You can also check out their shell flower terraces, eco-museum, butterfly trail, and hatchery!
You can also take a dip in their saltwater swimming pool for P80 or rent a fishing rod and catch some fish for P30, and you can even rent a bike for P60 and go for their fitness and mountain bike trail! These are cheap thrills that you can enjoy while soaking up the sun, some water, some grass, great air quality, and releasing positive energy!
Benefits of Urban Green Spaces
Mental Health Benefits
Having access to more green space and more urban green spaces are essential for humans and they have so many mental health benefits. They help you reduce stress, improve your concentration and happiness, especially for old people and children. There is an interesting case where less green space results in violent behaviors, so going out to a green space can make you feel relaxed and energized at the same time!
Physical Health Benefits
Having physical activity in an urban green space is valuable in improving your health and physical condition. Studies have confirmed that long-term contact with nature has something to do with longer lives. It also promotes a healthy lifestyle of physical exercise such as enjoying sports activities in urban forests or doing actual exercise such as jogging, cycling, and many others are even more beneficial as they make you feel stronger and refreshed!
Social Health Benefits
Urban dwellers are missing out on some well-being benefits because of traffic jams, pollution, and crowds that green spaces have to offer, and — you may not know it — but you can improve your social relationships and a sense of community through community gardens and many other green spaces that you may find in many cities with pleasant surroundings for community living. It also promotes awareness of the environment for the younger population so that they'd know how to take care of these green spaces.
Urban Greening For Global Health and Urban Planning
It's rare to find a bunch of green spaces, green cities, and sustainable cities in typical urban environments, especially when you're living in a central business district. But the benefits of green spaces are endless as the World Health Organization says that being exposed to nature has overall well-being benefits such as leaning towards a healthier lifestyle and replenishing your mental and social health.
The government has been coming up with nature based solutions to have more accessible green areas to poorer neighbourhoods as they have in capital cities and to promote environmental consciousness to protect biodiversity and address issues that will result in climate change such as air pollution by establishing more pocket parks and street trees to those who have limited access as to nature and to start building green infrastructure with green roofs, just like in European cities.
So go out from the comforts of your home and bask yourself in the fresh air and sun and be one with nature. It may be a bit hard given that the pandemic gave us a bunch of reasons to stay at home, but a little refresher won't hurt, right?