Moving into a new house marks the beginning of an exciting chapter in one's life, filled with fresh opportunities and a chance to create a personalized space that reflects their style and comfort. One essential aspect of settling into a new home is selecting and buying new furniture.
The process of furnishing a house can be both exhilarating and overwhelming, as it involves making decisions that will shape the ambiance and functionality of each room. From envisioning the desired aesthetic to considering practicality and budget constraints, choosing the right furniture is a crucial step in transforming an entire house into a home that resonates with one's unique taste and meets their specific needs.
Wondering which furniture should you buy first when moving into your new home? Well, we've got you covered! Checkout out this list of essential furniture items for your new house!
Essential Home Furniture List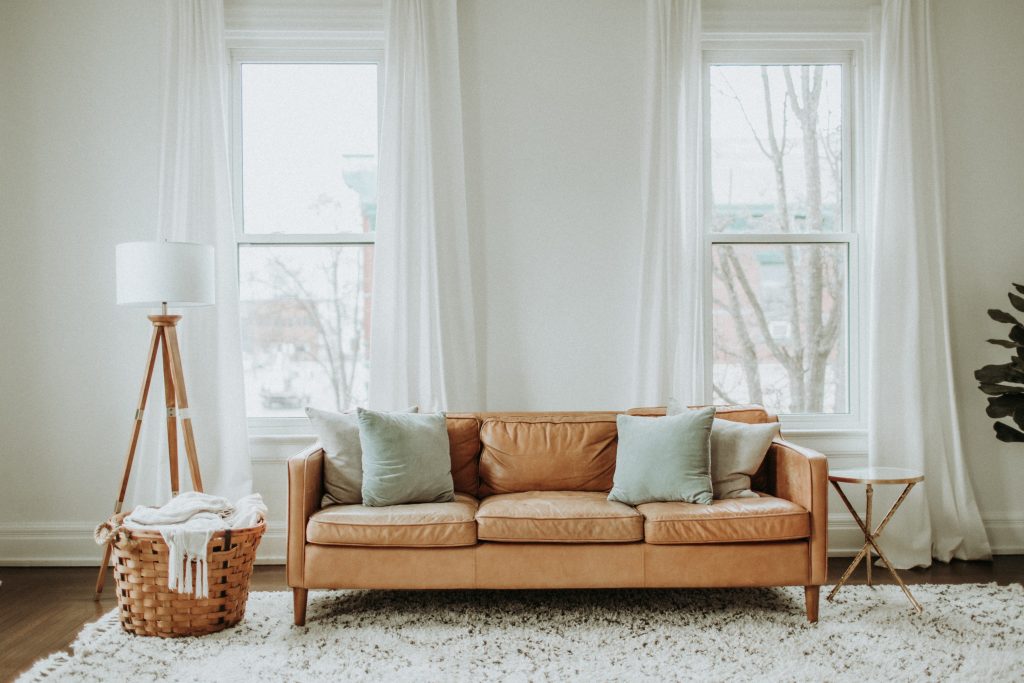 Living Room
Sofa or Couch- The living room is often the heart of a home, and a comfortable sofa or couch is a must-have for relaxation and socializing. Choose a style and size that fits your space and accommodates your family and guests.
Aside from style and aesthetic, prioritize wear and tear when buying a new sofa. You may be able to find great package deals and discounts when you buy furniture in various online furniture shops or in your local store. There are virtually endless designs and material finish to choose from– wooden, fabric, or leather. The decision is yours!
Blinds and/or Curtains- Next to prioritizing comfort is ensuring privacy, that's why you also need to pick blinds or curtains (or both) for your living room. Aside from privacy purposes, window treatments also help regulate the temperature inside of your home. Check out our article guide in choosing the best curtains for your living room!
Coffee Table- Coffee tables also make wonderful accent furniture pieces. Pairing it with your sofa or couch, coffee tables provide enough surface for drinks, snacks, and other items. Choose a style that complements your decor and offers functional features such as storage or a lift-top design.
TV Console- Alright, what's a living room without any television and other sources of entertainment? Check promos and discounts online or your local appliance store to grab amazing deals! In choosing a tv console, pick one that matches the overall style of your living room. If your TV isn't mounted to the wall, you may to chip in a TV stand. Oh, and don't forget the remote controls!
Armchairs- Depending on your lifestyle and the size of your household, you may need additional seating options such as armchairs, ottomans, or stools for extra comfort and flexibility.
Bookcase or a display unit- If you are an avid book reader or love to collect stuff, you may want to include a small bookcase or a display unit to show off your collection. Pick a style that streamlines the entire look of your living space!
Similarly, if you have gaming consoles, or other multimedia devices, an entertainment center or media unit can help organize and display your equipment while keeping wires and cables out of sight.
Lighting Fixtures- Adequate lighting enhances the atmosphere and functionality, not only in your living room but all the rooms in your house for that matter. Invest in a mix of ceiling lights, floor lamps, and table lamps to provide ambient, task, and accent lighting as needed.
Bedroom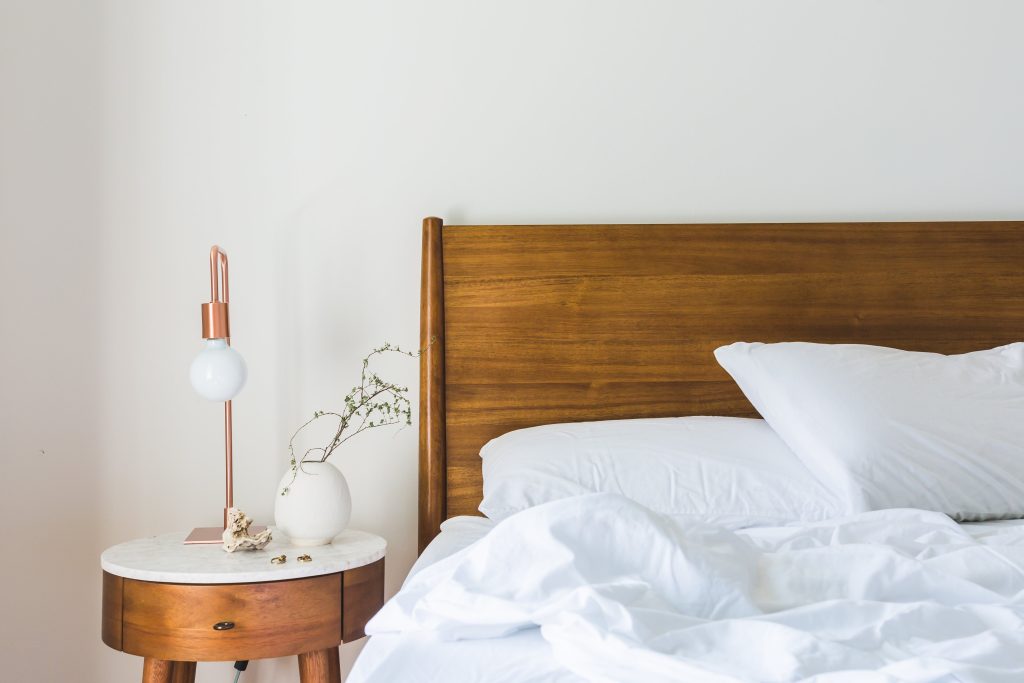 Bedframe and mattress- A good night's sleep is essential for overall well-being. Invest in a comfortable bed frame that suits your preferences and provides proper support. Wood, metal, and fabric upholstery are the most common materials for bed frames.
When it comes to choosing a mattress, Bettersleep highlights six factors that you need to consider when buying a mattress: mattress type, firmness, size, material, accessories, and whether you're going to purchase it online or from a mattress store.
Bedside tables- One of the basic essentials, bedside tables serve as a surface to put your phone, books, or drinks on and sometimes come with drawers to store some of your stuff like underwear or jewelry. Adding a dressing table is optional if you have extra rooms or have a spacious bedroom.
Bedroom storage- Adequate storage is essential for keeping your bedroom organized and clutter-free. If you have a smaller bedroom, maximize vertical space through tall chest drawers.
Lamps- Lamps help create a relaxing atmosphere inside your bedroom, invoking a calm and collected feel as you retire from your busy day.
Dining Room
Dining room table and chairs- Whether you enjoy casual meals or formal gatherings, a dining set is essential for creating a designated area where you can eat and socialize. Opt for a sturdy dining table and comfortable chairs that can accommodate your household's needs.
Kitchen cabinets and drawers- Kitchen cabinets and drawers provide ample storage for your kitchen essentials such as your plates, glasses, silverwares, and other kitchen tools and equipment.
Study or work area
Desks and chairs- If you work or study from home, having a dedicated workspace is important. Invest in a desk and ergonomic chair that provide comfort and support for extended periods of work or study. If you are assembling a flat pack furniture bought online, make sure that you have handy tools such as screwdrivers and a tape measure.
The Beauty of Adding Furniture to Our Home
Furniture play a crucial role in providing functionality and comfort to our living spaces. From a comfortable bed to a cozy sofa, each furniture piece serves a specific purpose, allowing us to rest, relax, work, dine, and entertain with ease inside our dream home.
Aside from that, they contribute to the overall appeal and ambiance of our homes. The style, design, and arrangement of furniture can transform a house into a warm and inviting home that reflects our personal taste and style. Whether we prefer a contemporary, minimalist look or a more traditional and eclectic vibe, furniture choices allow us to create a cohesive and visually pleasing environment. The right furniture pieces can add character, color, and texture to our spaces, making them more visually appealing and creating a sense of comfort and harmony.
Final Takeaway
With a myriad of options available in the market, buying furniture demands thoughtful planning and consideration. Every room serves a distinct purpose, whether it be the cozy haven of a master bedroom, the communal gathering space of a living room, the welcoming aura of the guest room that entertain guests, or the functional hub of a kitchen. Understanding the intended use and flow of each room can guide the selection process, ensuring that the furniture not only fits the available space but also serves its intended function effectively.
Moreover, personal style and design preferences play a significant role in creating a cohesive and harmonious environment. From modern minimalism to vintage charm, the furniture choices should align with the homeowner's aesthetic vision, creating a space that feels inviting and uniquely theirs. By approaching the furniture-buying process with careful thought and consideration, one can embark on a journey of transforming their new house into a personalized sanctuary that perfectly complements their lifestyle.