Halloween is knocking right around the corner, and you know what that means! Yep, it's another year of transforming your beloved house into a spooky abode! And this time, we're going to help you add a sinister feel to your home– less the scary cost!
From chilling spider webs to cutesy faux pumpkins, we've curated a list of easy DIY Halloween decorations for you to try! Rally up together with the fam and start the spooky fun!
Easy DIY Halloween Decorations 2023
Spider webs from cotton balls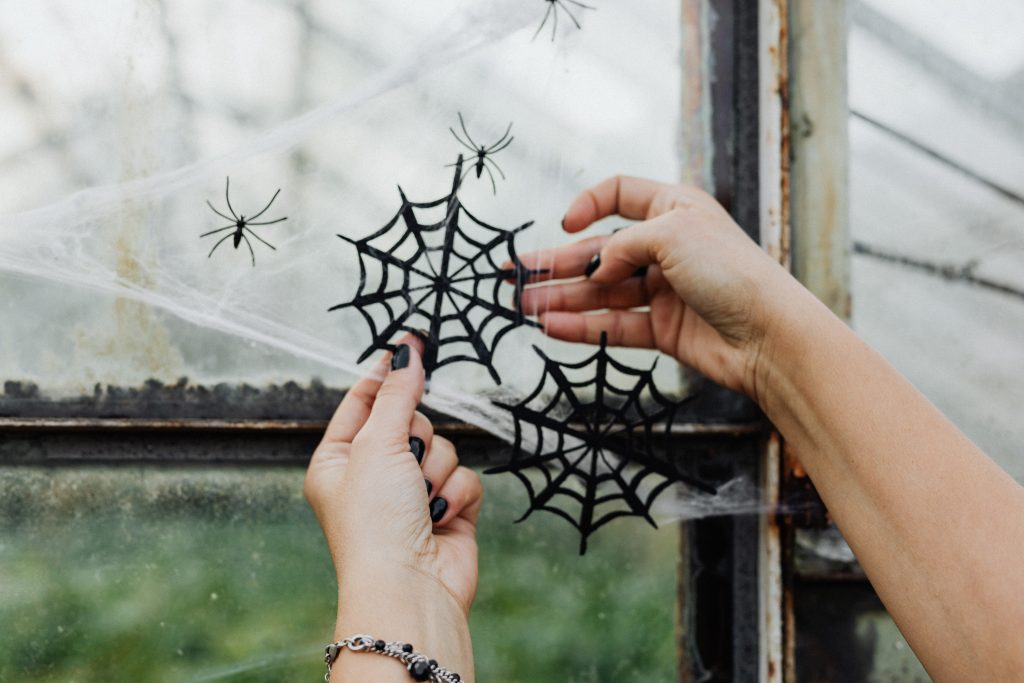 A staple accent during the spooky season, cobwebs give your home that quintessential haunted house feel. And no, we don't want real spiders to do the work for us (unless you want to)! You can easily cover your house with spider web using this material you already have at home: cotton.
All you need to do is take a large chunk of cotton ball and stretch it loosely. After some time, you'll see the web forming into shape. Now, you'll need something to hold your web together, like an aerosol of hair spray. Continue stretching and spraying until you get your desired size and shape. Here's a tip: the larger the cotton ball, the easier the job will be!
To elevate your craft, you can dip it into red paint or add faux spiders using puff paint!
Dripping candles using red hot glue
Next on to our list of homemade halloween decorations is dripping candles! Transform your regular candles into terrifying embers by adding drip using red hot glue on the body! It's that easy!
Haunted House Silhouettes
Create a spooky atmosphere in your windows with haunted house silhouettes. Cut out creepy designs like witches, ghosts, and bats from black construction paper or cardboard. Then, tape or hang them inside your windows. At night, when the lights are on inside, these silhouettes will cast eerie shadows outside, making your home appear truly haunted.
Parking Slot for Witches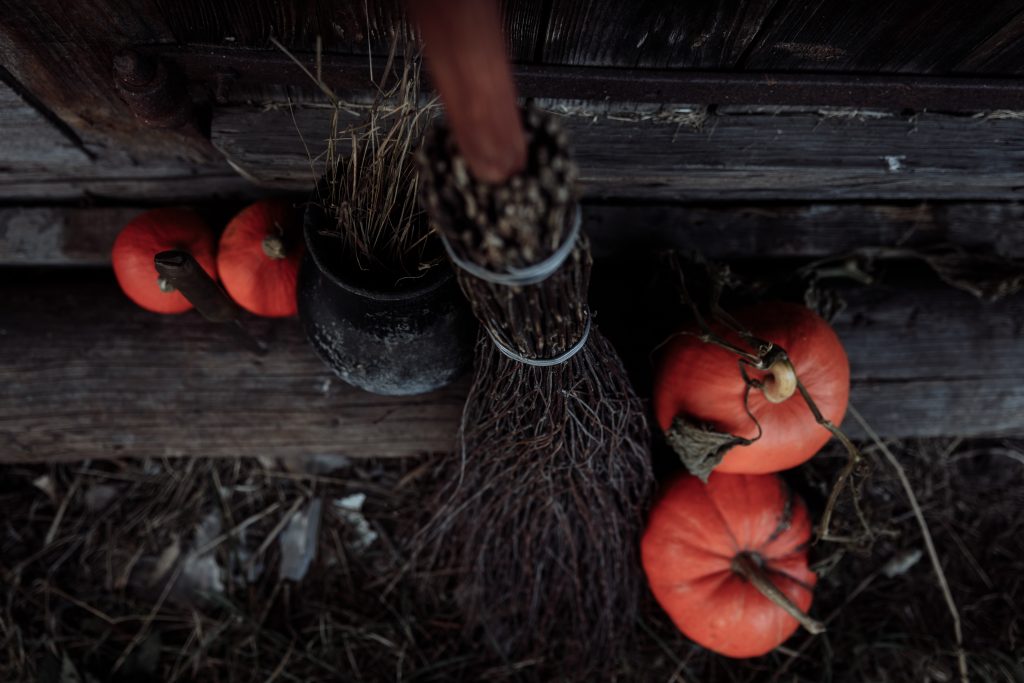 Of course, we've also got your outdoor halloween decorations covered! Aim for that spooky witch vibe with this DIY parking slot for witches ('cause they get tired flying all night, too!). Simply gather a few twigs, branches, or long sticks and hold them together using twine to create a witch broomstick. Complete the look by adding a sign that reads 'Witch's Broomstick Parking Only.'
A simple yet clever decoration, you DIY parking will surely hype up the mood of trick or treaters passing by! Check out this creative work!
Faux Pumpkins Using Mason Jar
Pumpkin-carving isn't really a thing in the Philippines, but this doesn't mean that we're going to skip the classic jack o lanterns! And we're giving it a cute twist!
Instead of carving pumpkins, fish out some used glass bottle or mason jars, some orange and black paint, and a couple of tea lights. Use orange as your base color and then draw faces that resemble grinning pumpkins on the jars. And when everything is done and dry, it's time to put the tea lights inside. Light them up and place them in your front porch or balcony for that warm Halloween glow that will welcome your party guests in your Halloween party!
Mummify Your Front Door
Give your front door a mummy makeover! All you need is a roll of inexpensive white gauze, some googly eyes, and double-sided tape. Wrap the gauze around your door in a haphazard fashion, leaving a few areas to place the googly eyes. This DIY decoration not only welcomes your guests with a playful scare but also sets the tone for the rest of your haunted house.
Eyeball Wreath
If you aren't a fan of wrapping your front door in a white gauze, you can still spookify your front door with an eyeball wreath. Start out by getting out your metal wreath (or hay and straw, whatever you prefer) and start glue a bag of plastic eyeballs (or your can make some out of ping pong balls) until the whole ring is covered.
Let your creativity flow out as you add other elements such as fall foliage (for that camouflage effect) or black feathers.
Cutesy Hanging Decors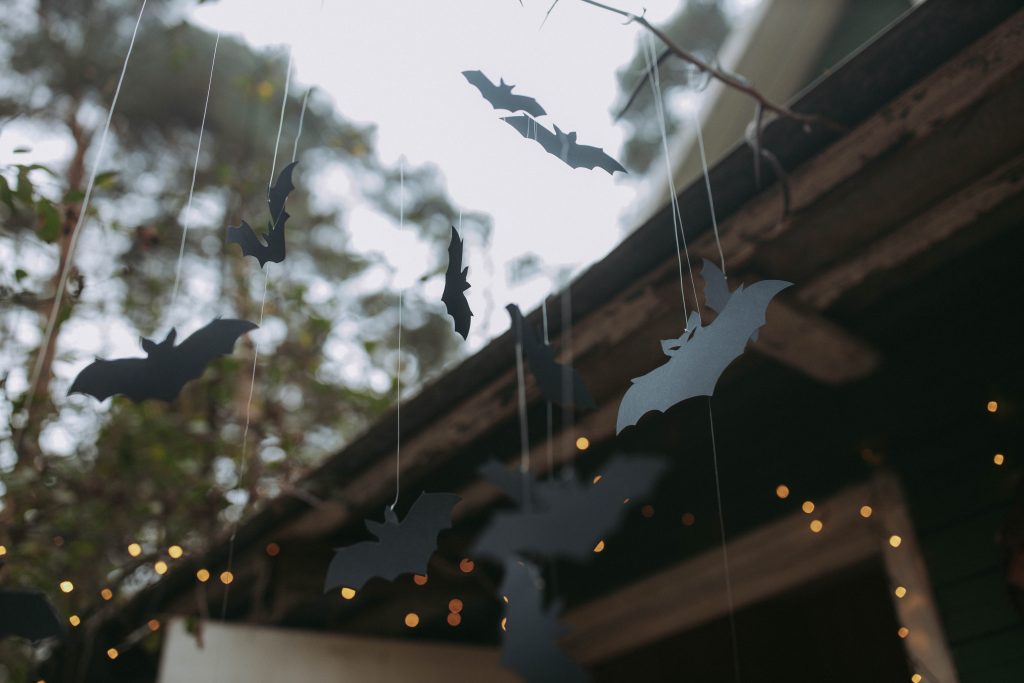 Yep, we're combining cutesy and spooky through these hanging decors. It is one of the easiest halloween decorations around. You can either draw your cutouts or find amazing printables online. Simply cut your chosen designs, attached a thread on one end and you're done!
Step up your decor game by using fallen leaves as your hanging decor. Simply paint them white to resemble ghosts and draw spooky faces using a black permanent marker. You'll have a parade of ghosts floating around your living room in an instant!
Garlic wreath
Alright, we're not done with wreaths yet. The next DIY halloween decorations took inspiration from the Philippine's mythology and folklore. As Filipinos believe in a creature called aswangs or evil shape shifters that targets pregnant women as their victims, it has been a precautionary measure to keep some garlic heads one's pocket for protection.
So, protect your home from such creature, it's just sensible to hang a garlic wreath on your front door, right? Not only that you have a wonderful holiday decor, but you also effectively ward off dark elements that may want to enter your home.
Creepy critters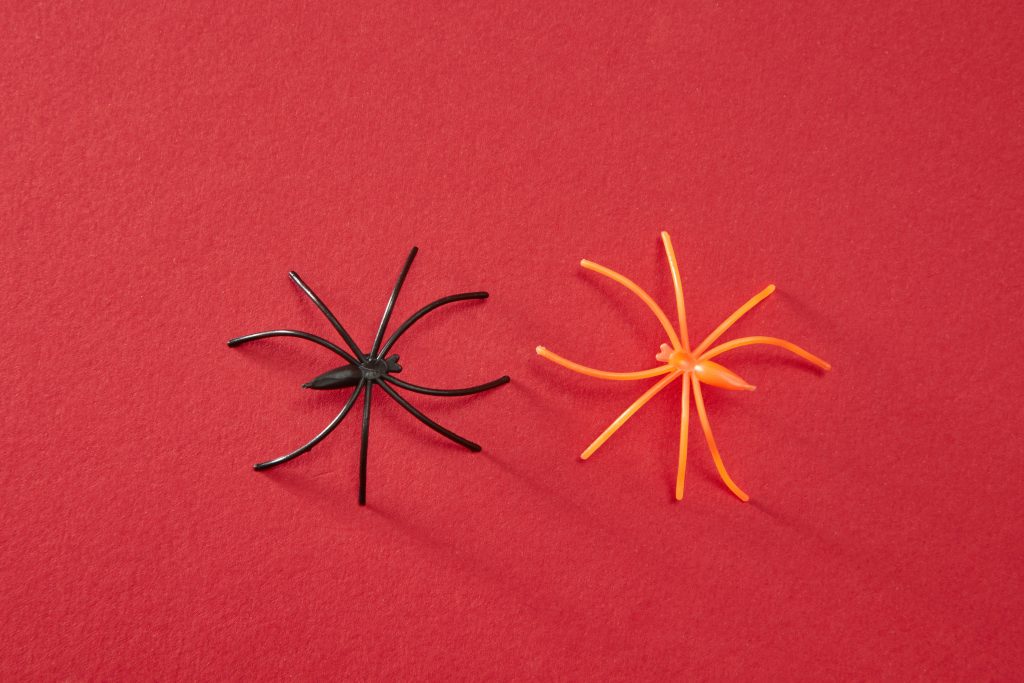 Insects and critters literally gives you the chills (I know it's not just me) so placing rubber or plastic snakes, cockroaches, worms, or spiders in unsuspecting areas in your home will give the fright! Place them under mats, windowsills, or curtains with their heads poking out a little.
Final Takeaway
As the Halloween season approaches, the joy of decorating your home with DIY Halloween creations is not only cost-effective but also incredibly satisfying. From eerie eyeball wreaths to spine-chilling spider webs and everything in between, these homemade decorations add a unique and personal touch to your Halloween festivities. Plus, they are an excellent way to unleash your creativity and involve the whole family in the spooky fun.
The beauty of DIY Halloween decor is that it can be as simple or as elaborate as you desire. Whether you're a seasoned crafting expert or a beginner looking for a creative outlet, there's a project for everyone. The satisfaction of transforming everyday materials into haunted house wonders and bringing a touch of spookiness to your home is a reward in itself.
So, roll up your sleeves, gather your supplies, and let your imagination run wild. Create a haunted haven that not only impresses your guests but also fills your home with the spirit of Halloween. Whether you're carving pumpkins, crafting ghosts, or summoning mummies, your DIY Halloween decorations will set the stage for a memorable and spook-tacular celebration.