Care for a swim in Pangasinan beach?
The Philippines, known for its breathtaking natural wonders, boasts a treasure trove of pristine white sand beaches that captivate the hearts of travelers from around the world. With its idyllic landscapes, powdery white sands, crystal-clear waters, and vibrant marine life, the archipelago offers a paradise for beach enthusiasts and sunseekers alike. Each beach in the Philippines carries its unique charm and allure, providing a diverse range of experiences for visitors. From the world-famous Boracay to the hidden gems of Palawan, the Philippines' coastline is a tapestry of beauty and serenity, offering endless opportunities for relaxation and adventure.
One such hidden gem among the Philippines' splendid beaches can be found in the enchanting province of Pangasinan. Nestled along the western coastline of Luzon, Pangasinan offers its very own slice of paradise, known as Pangasinan Beach. This coastal haven is a well-kept secret, featuring miles of unspoiled shoreline, serene waters, and a tranquil ambiance that beckons those in search of a more peaceful and less crowded beach experience.
Related Read: All the Excellent Reasons to Live in Pangasinan
Whether you're looking to bask in the sun, enjoy water sports, or explore the rich cultural heritage of the region, here are the top Pangasinan beaches that will surely deliver an unforgettable and unique beachfront escape, inviting you to immerse yourself in the charm of these captivating destinations.
Top 8 Pangasinan Beach to Go in Your Next Vacation
Hundred Islands National Park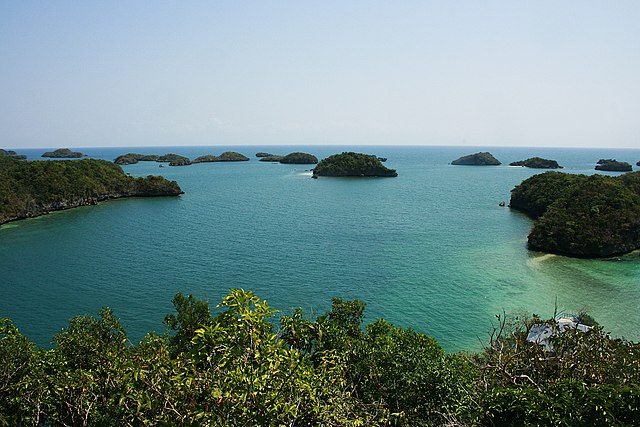 Undeniably the most popular beach destination in Pangasinan, the Hundred Islands National Park is a cluster of 124 islands and islets scattered across Lingayen Gulf. Each island has its own distinct features and character, making each adventure fun and unique.
This Philippines' premier wonder is known for its white sandy beaches and crystal-clear waters. Visitors can enjoy sunbathing, swimming, and snorkeling in these pristine beach areas. Underwater, snorkeling and scuba diving enthusiasts can explore the vibrant coral reefs and encounter colorful fish species with its diverse marine life.
It's no wonder why Hundred Islands is included in the bucket list of many travelers and tourists!
Tambobong Beach
Tambobong Beach, located in the municipality of Dasol, Pangasinan, is a tranquil and unspoiled coastal gem in the Philippines. With its pristine, cream-colored sands and clear turquoise waters, it offers a peaceful escape for travelers seeking seclusion and natural beauty. Unlike more crowded beaches, Tambobong Beach remains relatively uncrowded, creating an ideal setting for relaxation, swimming, and snorkeling. The gentle waves and shallow shores make it perfect for families and individuals of all ages.
Beachfront accommodations provide comfort, while nearby fishing villages add to the beach's charm. Visitors can observe the local way of life and even partake in fishing activities. With stunning sunset views and opportunities for island hopping to nearby attractions like the Hundred Islands, Tambobong Beach offers a serene and unspoiled beach experience, making it a hidden paradise for those who appreciate the beauty of nature and a tranquil ambiance.
Colibra Island
Colibra Island (sometimes called Culebra Island or Snake Island) is a 2-hectare coralline island located in Dansol, Pangasinan. As its name says, this island is known for its abundance of sea snakes, particularly in the southern coast. But don't be scared yet!
Even if this island is small, it is endowed with white sand beach, crystal clear waters, and abundant marine life, making it a popular stop during island hopping tours. The northern coast of Colibra Island is the best place for swimming and snorkeling. The waters are calm and clear, and the seabed is teeming with colorful fish and corals. Aside from that, it is also a popular camping spot with its natural, untouched beauty glimmering under the starry night sky. There are few cottages and tents available for rent for those who want to spend the night.
Colibra island sits just a couple of minutes away from Tambobong beach and can be reached through a boat ride so make sure to take a peek at this wonderful island!
Cabongaoan Beach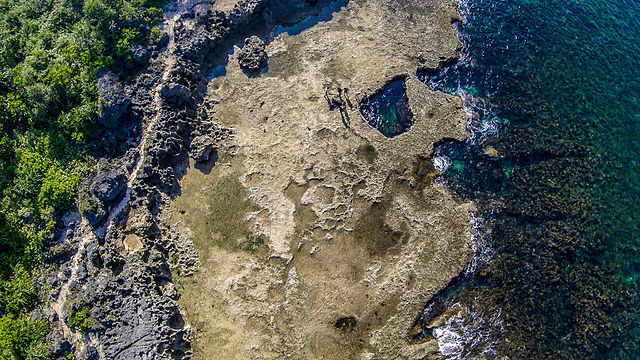 Cabongaoan Beach, situated in the town of Burgos, Pangasinan, is a pristine and less-visited coastal treasure in the Philippines. Known for its breathtaking natural beauty, Cabongaoan Beach features fine creamy white sand beaches and stunning rock formations. The beach stretches along a serene shoreline, providing a tranquil environment for those seeking a peaceful and unspoiled beach escape. Its seclusion and underdeveloped nature make it a hidden gem for travelers who appreciate the beauty of untouched landscapes.
One of the famous spot in Cabongaoan beach is the Death Pool, a natural pool location in the middle of the beach. Surrounded by rock formations, it is a popular diving and snorkeling spot.
Cabongaoan Beach offers a tranquil and unspoiled coastal retreat away from the crowds, perfect for nature lovers and those seeking relaxation by the sea.
Tondol Beach
Tondol beach is a white sand beach located in the muncipality of Anda, just across the Catubig channel. Tondol is a favorite among the tourists because of its proximity to the hundred islands (it is even called the Mother of Hundred Islands) and shallow waters perfect for a leisure walk along the coastline. If you're lucky enough, you may even catch some saltwater fish like maya-maya, goatfish, and bisugo!
When the water is shallow enough, you can reach some islands and islets by foot, such as Tanduyong Island, Panacalan island and sandbar, Cory Island, and Purod Island. Of course, you could also reach them by riding a fun boat ride!
Patar Beach
Patar Beach, nestled in the town of Bolinao, Pangasinan, is renowned for its natural beauty and is often considered one of the most stunning beaches in the Philippines. With its fine, powdery white sand and pristine azure waters, Patar Beach offers a tropical paradise for beachgoers. The wide shoreline is perfect for sunbathing, and the clear, shallow waters provide an excellent opportunity for swimming and water activities. The beach is backed by lush greenery, adding to its scenic charm, and the picturesque rock formations in the area are a favorite spot for exploration and photography.
Here's a fun fact: the waters in Bolinao where Patar beach is located collides with the waters of the West Philippine sea!
Abagatanen Beach
Located in the lovely town of Agno is the Abagatanen beach. The beach is relatively secluded, making it a perfect place to relax and escape the crowds. The waters are calm and clear, making it ideal for swimming, snorkeling, and kayaking. The seabed is also teeming with colorful fish and corals.
Visitors can also enjoy a variety of other activities on Abataganen Beach, such as sunbathing, picnicking, and birdwatching. There are also a few cottages available for rent, as well as a number of restaurants and bars.
Tondaligan beach
Sitting in the lovely city of Dagupan is Tondaligan beach, where you can have a taste of the world's savory milkfish cook and prepared in various ways. This urban beach offers a wonderful blend of natural charm and recreational opportunities. The beach features a long stretch of golden sands along the Lingayen Gulf, making it an accessible and popular spot for locals and tourists alike. Visitors can relax on the sandy shores, enjoy picnics, and engage in various water activities such as swimming and beach volleyball. Tondaligan Beach also boasts a pleasant seaside park, complete with palm trees and shaded areas, providing an inviting setting for gatherings and relaxation.
Live a Few Minutes Away from the Best Beaches in Pangasinan!
Let Vista Land International help you find your dream home near the wonderful beaches and tourist attractions here in Pangasinan! With our wide array of property options and communities from the country's most trusted housing developers, you are sure to find the best house and lot property that fits your budget, style, and lifestyle!
Excited to know more about our offers? Send us a message via live chat or through our contact form! Our agents are more than willing to provide assistance! Talk to an agent today and start investing now!
Final Takeaway
Whether you're seeking solitude on an unspoiled shoreline, thrilling adventures in underwater wonderlands, or simply a place to unwind and enjoy the beauty of the sea, Pangasinan's beaches have it all. The province's reputation as a beach haven continues to grow, attracting visitors from near and far who appreciate the exquisite landscapes, warm hospitality, and the chance to connect with nature in a remarkable setting. Pangasinan's best beaches offer a slice of paradise, inviting travelers to immerse themselves in the captivating coastal wonders of this province in the Philippines.
These coastal gems not only showcase the natural beauty of the Philippines but also emphasize the importance of responsible tourism and environmental conservation to preserve the charm of these stunning locations for generations to come.