By Jedd Marie Dumadaug
Should you go rent or buy a house? This has been an ongoing dilemma for property seekers. While renting may seem cheaper compared to buying a house, you may be in for larger expenses looking at the bigger picture. Yes, monthly rentals cost less than monthly mortagages. But at the end of the day, it is your landlord that is earning from your own hard-earned money. Looking at it in the long run, buying your own house is still the plausible option. Today, we will take a look at the reasons why OFWs should buy a property instead of paying monthly rentals.
House: The Ultimate OFW Goal
In this day and age, being able to buy a house and lot in the Philippines is no easy task because the monthly amortization can be heavy on the pockets. And when word gets around that a certain friend or family relative bought a house in the Philippines, it is considered as a financial success and a life upgrade. Although money plays a big role in buying a home, OFWs and migrant Filipinos should not solely focus on the financial aspect but the several advantages of having a permanent residence.
There are several families supported by an OFW family member that are living in a rental home or apartment. OFWs and migrant Filipinos know how long it takes to find the right place to live in. Their experience in finding a home to live in a foreign country and processing the necessary documents makes them familiar with real estate.
Four Reasons Why You Should Consider Buying a house and lot.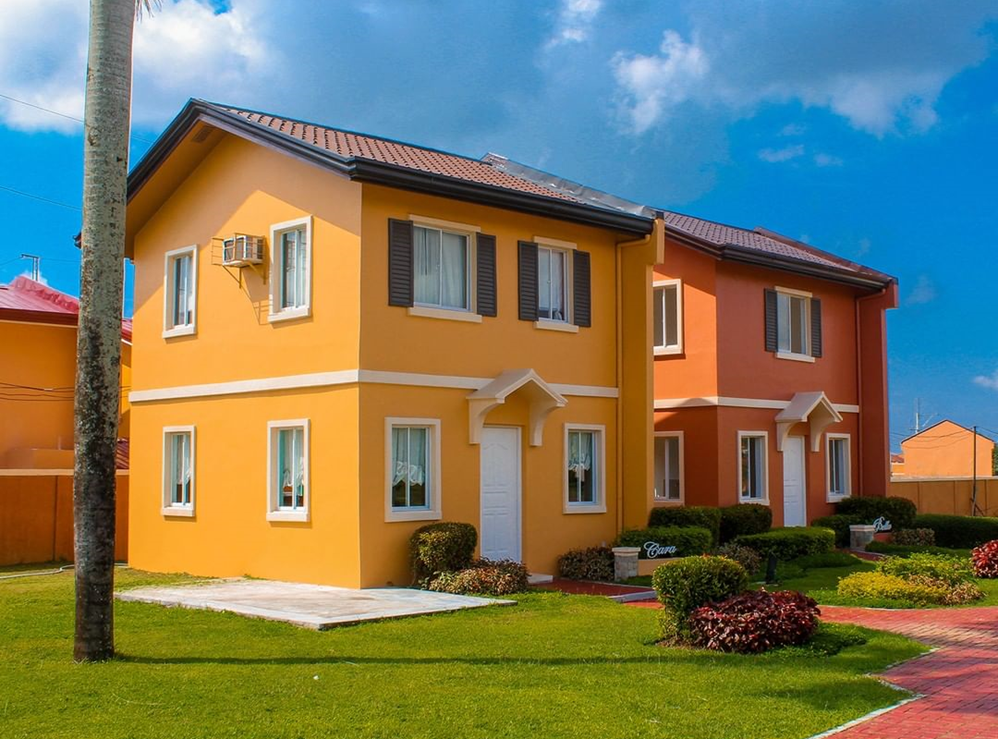 Stable Monthly Payments
When you rent a home or an apartment, the landlord can increase the monthly rent at any time, unless you have a lease contract. A sudden increase in the monthly rate comes as a burden to tenants especially if they were not informed ahead of time. There is also a chance that the landlord might sell off the property or renovate it into a commercial building when they notice the infrastructure developments in their surroundings.
When you own a home, the monthly amortization is fixed. Whatever amount you and the developer have agreed on, that will be the fixed amount to be paid every month. Having a fixed monthly payment is an advantage because you know how much to save, set aside, and prioritize.
Home Policies
In a rental property, you cannot change the interior and exterior of a property without paying for a penalty fee or having to shoulder the cost of the repairs. Though there are some landlords that grant permission to revamp the interior or exterior of their home, there are still certain limitations and rules to follow. Moreover, house rentals and apartments have certain rules such as no pets allowed, curfew hours, and visitor restrictions.
As a homeowner, there are still rules by the developer and the homeowner's association (HOA) that you should follow. However, you still have enough freedom to bring your pets, enhance your garden, and renovate the interior and exterior of your home after securing an approval from the developer.
Value Appreciation
Most people often get intimidated by buying a house because of its high maintenance, long-term commitment, and financial demand. However, these several conditions have bigger rewards in the long-run. Real estate prices are known to go up within a month. This is because there is a growing demand for homes and the importance of securing shelter becomes more prominent. Since the value of real estate constantly increases, you would earn passive income monthly just by living in your own home.
When you rent, on the other hand, you are paying for a temporary shelter. Your rental payment covers only whatever term you have agreed with your landlord. It will be your home for the time being, but it will never become an asset that you can sell on the market. In renting, you are simply paying for shelter. But when you acquire a home, you are paying for an asset that will become yours and can be inherited by future generations in your family.
Privacy & Safety
Privacy and safety mostly go together and these are some of the luxuries that come with buying a house and lot. You get the whole house to yourself. You get to read books, watch TV, or exercise without anyone interrupting or looking at you. Sure, you may get a moment's peace and privacy in an apartment but there is definitely more comfort and ease with living in your own space. Compared to the shared spaces of an apartment, you have the privilege of deciding who gets to go inside your home. Especially with the current prevailing pandemic, you need to have boundaries set to ensure your safety and health.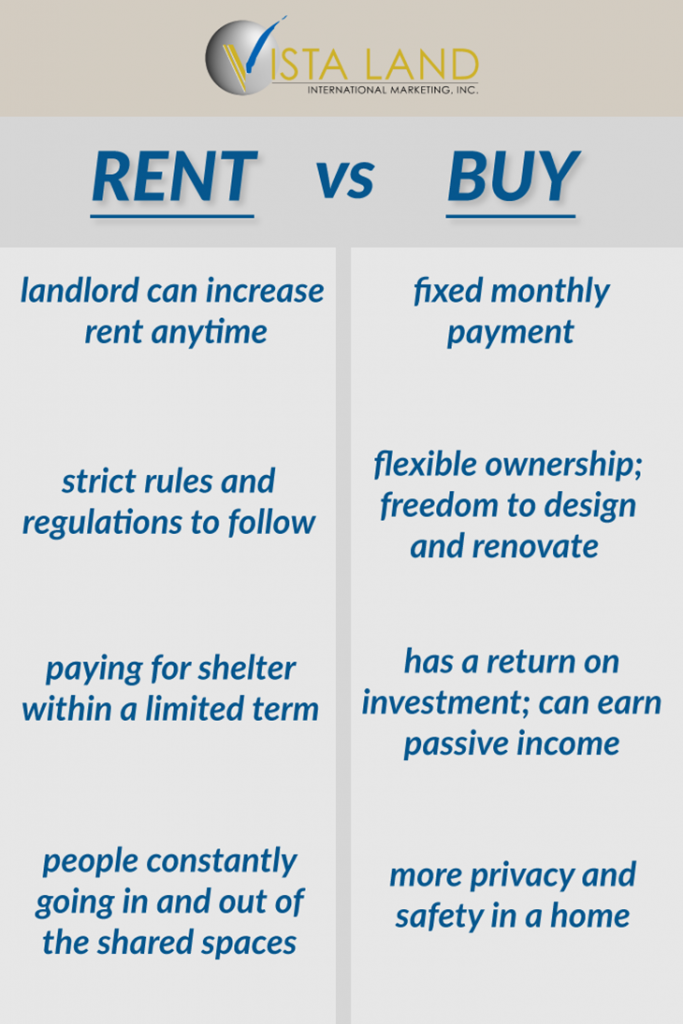 Buying a Home in the Philippines
Considering the long process and documents to secure, acquiring a house while working abroad is no walk in the park. Even when you can afford the monthly amortization, there are still several factors to consider when you plan on buying a house and lot in the Philippines. Your other financial commitments, future plans with your family, and even your own career path all play a vital role in your decision. As OFWs and migrant Filipinos, the distance between where you are working and your family can be quite intimidating.
Before signing the deal, discuss the idea of buying a house and lot with your family. Get them involved with the whole home buying process because in the end, you are going to be living and making memories with them. Make sure you have reached a mutual understanding so that the process of buying a property while abroad will be smooth sailing.
If you think you are ready to commit long-term and settle down, then buying a home is for you.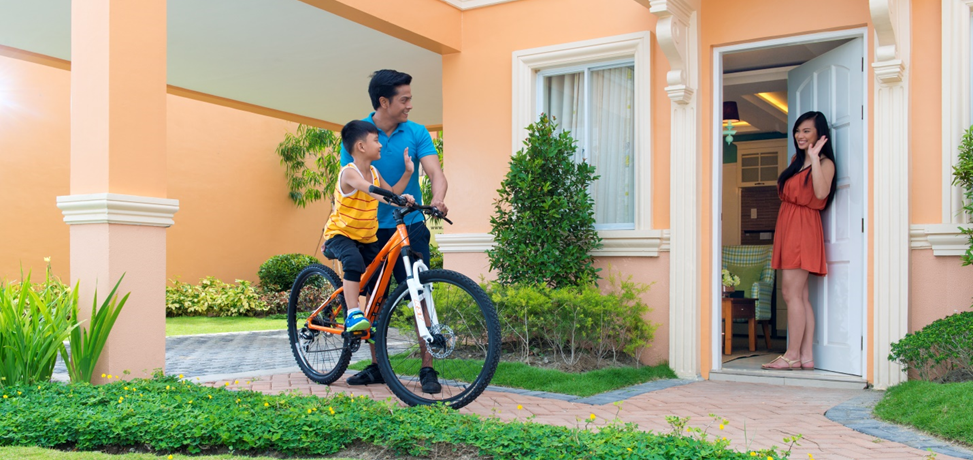 Get the Home You Want With Vista Land International
Are you ready to buy your home? Contact Vista Land International Marketing Inc. (VIMI) today. As the international marketing division of Vista Land and Lifescapes Inc., the largest homebuilder in the Philippines, Vista Land International aims to provide Filipinos a home to live and make worthwhile memories with family. Our professional real estate sellers abroad can help OFWs and migrant Filipinos acquire a home in the Philippines that is best suited to your financial needs.
Want more information? Get in touch with us or follow us on www.facebook.com/vistalandinternationalofficial.com