Is buying a luxury home a good investment?
Luxury housing is a massive financial asset. These investment developments have traditionally been dominated by wealthy foreigners, but many Filipinos have become millionaires in recent decades. It's a real estate investment in the Philippines that most Overseas Filipino Workers (OFWs) and migrant Filipino families aspire to have.
Today, they are also open to a new generation of savvy Filipino investors. Possession of luxury homes in Manila and Cebu has become the ultimate status symbol for rich, middle-class, and even some lower-class Filipinos who want to show off their newfound wealth.
This hot trend has had a major impact on both property sectors and local economies. Healthcare, education services, hotels, airline services—all these sectors are positively impacted by the influx of immigrant Filipino workers buying up expensive properties.
The Market for Luxury Philippine Properties
However, the market for luxury real estate in the Philippines is definitely not for everybody. These premium real estate investments are for the supervisory, executive, and administrative workers. As these properties' prices are no joke, investing in expensive assets should always be carefully researched.
Top house and lot developers in the Philippines such as Brittany Corporation and Crown Asia are the luxury brands of Vista Land and Lifescapes that offer extraordinary properties that are worth its shiny, glittering price tag.
In this article we'll discuss why investing in prestigious estates has historically been a good idea, how the Philippine real estate market is getting stronger in Manila and Cebu, what you should know about expensive properties, and how you can profit from this trend as a Filipino looking to make millions of pesos.
Let's begin!
Luxury Investment Properties in the Philippines: A Rich History
Luxury real estate is a unique asset class that's rarely associated with low-cost, high-growth sectors in the Philippines. It's often found in uptown district locations where wealthy buyers want to show off their success by living close to other well-off neighbors.
When investing in real estate, remember this: the rarer the location, the higher the price.
So if you happen to pass by an expensive-looking condo or housing development in a famous tourist destination, chances are, the prices of these properties are ten times the price of an average sized house in the city.
Also Read: Things You Should Know About Condo Living in a Tourist Destination
How do you get into luxury real estate?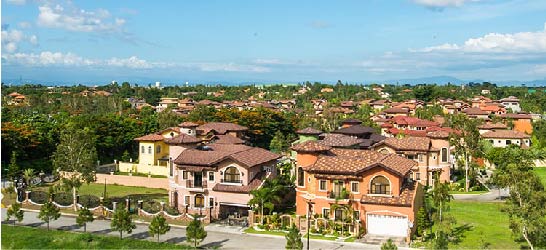 Location is the key to live a lush life that you've always dreamed of. Think of big townships with vast shopping malls and expensive entertainment hubs. This is where you will most likely see high-end properties for sale.
This isn't an accident. Historically, people with money have preferred to buy up high-end properties in exclusive neighborhoods, carefully designed to protect their investments.
Here's list of a few reasons why:
1. Historic appreciation.
Luxury real estate has historically appreciated faster than average real estate investments because it attracts wealthy buyers who can afford more expensive homes. The Manila Luxury Property Index (LPI), for instance, grew by 34% from 2003 to 2006, compared to the average house price growth of 16%.
2. Less risk.
It's less risky when you buy a premium real estate asset versus other types of homes or stock market investments because you're more insulated against negative economic trends and unpredictable currency exchange rates (like the Philippine strong peso).
3. Safety and security.
The exclusiveness and security that comes from living in a neighborhood of other wealthy buyers comes at a price. Part of the glittering price tag of luxury projects is the top-level security system around the neighborhood.
4. Leveraging sales with personal services to support the property's value.
When you choose to make your fortune in real estate, you'll often have the opportunity to leverage its value with a complementary business or service as well. Allowing you to turn your luxury property into wealth through more than just its investment value.
5. VIP treatment.
Access to additional investment opportunities through VIP services to wealthy clientele seeking to invest in luxury estates. For example, if you want to use your real estate projects as a way of meeting other companies or launching a related service, it's possible to offer VIP services to wealthy buyers who also want exclusive deals on luxury homes.
Are luxury homes worth it? Here's what you should know.
Before you jump in with both feet, there are a few things you should know about expensive properties. Especially if you are an investor looking to break into the affluent market. Here's a list of things that you should know about before paying for the property:
1. Demand for luxury real estate is on the rise.
Real estate prices have been rising because of population growth and that's expected to continue.
2. More than an extravagant selling price.
Expensive properties are more than just a big house in a Los Angeles-inspired community with an expensive price tag. It takes a concept so unique and superior to regular developments in order to belong in the luxury tier of property developers.
3. Impressive home address.
These expensive house and lots for sale in the Philippines are nestled in metropolitan areas with rich economies such as Makati City, Quezon City, Pasig, Cebu City, Mandaue City, Taguig City, Caloocan, Pasay, Davao, and Cagayan de Oro.
Return on real estate investments in these highly-urbanized cities are significantly high mainly because of the progressive growth of industrial, commercial, residential, and transportation sectors.
4. Security and privacy are top priority.
Naturally, when you acquire real estate as luxury homes, you can expect tight security in the area. Aside from the exquisite design of the houses, the lush greenery, maybe even an olympic-sized pool within the clubhouse, privacy and security are one of the most essential facilities in the themed community.
Brittany Corporation and Crown Asia, for example, two luxury real estate developers in the Philippines that ultimately checks out all the boxes of everything you'd expect and more from an exclusive community.
How you can profit from luxury properties for sale in the Philippines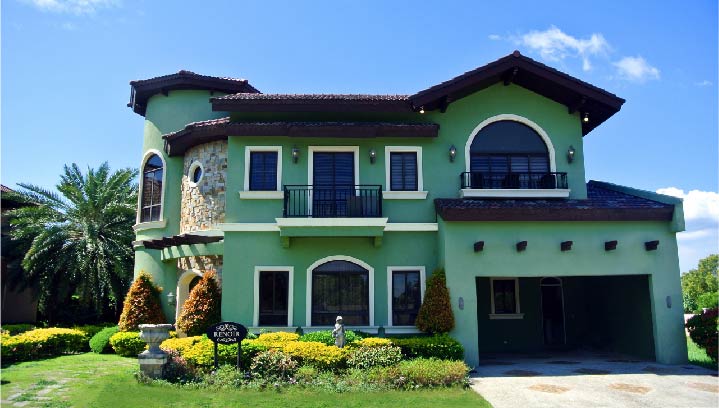 If you buy a real estate property and plan to sell it within a few years, there's no guarantee that you'll get back your initial investment. The property could lose value if the area declines or if money flees the real estate market in general.
Long-term investments are much more fruitful since cities with growing populations are typically great markets for premium properties. It's much more likely that over time, your property will increase in value and you'll better be able to leverage its returns with complementary services or businesses to boost its profitability.
Here are some tips for making the most of luxury properties:
Flipping
Flipping, in real estate, is to buy a property, renovate the interior and exterior of the house, and sell it at a higher price in the future. You want to buy low, preferably during the pre-selling stage. And sell high, when the house or condominium building is constructed and amenities are fully functioning.
You might think it's impossible to flip luxury homes, but there are certain strategies to play in the market to close the sale.
Look for houses and condos with open floor plans, this gives you more space to customize the interior of the house. For outdoor flipping, you can plant flowers to give color and emphasis. There's also the option to put up a gazebo, make tree sculptures, build perimeter fences, and outdoor grilling areas. Country homes are also hot commodities since they offer even more space to flip.
Well-off OFWs and real estate-savvy individuals are drawn to luxury real estate that have been revamped because of the modernized furniture and fixtures.
Also Related: Ways to Maximize Property Investment Returns for OFWs
Renting out your premium house or condo property
High-end vacation rentals near tourist attractions are hot commodities in the Philippine real estate business and tourism industry. Luxury homes or condos often have a positive appeal to foreign tourists who want the best place to stay in. Consider condos located in tourist destinations such as Tagaytay, Baguio, and Palawan.
You can even acquire condos for sale in the bustling cities of Metro Manila where all the social and entertainment happens. This way, you can yield high returns since tourists want to be near places where the adventure takes place.
OFWs and Filipino travel buffs have the upper hand since they can rent out their property to their foreign work colleagues or friends when they visit the Philippines.
Also Related: How To Rent Out Your House While Working Abroad
Buy a residential lot for sale in luxury neighborhood
There are several advantages in buying residential land for sale and building a custom house. A handful of OFWs prefer to acquire a lot for sale because it's low-maintenance and an opportunity to build a house according to your preference, style, and budget. Building a house from the ground up in a community deemed fit for the affluent market also has its privileges.
Affluent families lean into residential lots for sale mainly because of the greater customization it offers. These families envision big things. We're talking about 3-storey mansions, a backyard swimming pool, spacious parking space for their cars, and a basketball court within their land area.
Also Related: Are Lot Only Properties a Good Investment for OFWs?
What is the best real estate company in the Philippines?
Now that you know what you're getting into, there are several real estate companies in the Philippines that offer premium homes and condos located in top cities in Metro Manila. OFWs and real estate investors in the market
Brittany Corporation and Crown Asia, two real estate companies in the Philippines, are Vista Land's high-end real estate luxury home-builder known for its themed communities and exquisitely designed houses.
Also Read: 3 Golden Rules for OFWs Acquiring A Property
If you are searching for premium houses for sale, Brittany offers quality selection of houses and condos in prime locations such as: Alpine Villas, The Grand Quartier, and Lausanne that make up The Crosswinds in Tagaytay, La Posada in Lakefront Sucat, Portofino Heights, Portofino South, and Amore at Portofino in Vista Alabang, Promenade, Agusta, Belle Reve, and Georgia Club in Sta. Rosa, Laguna.
Brittany is one of the top real estate companies in the Philippines that's been around for years. It's the first to conceptualize elegant living in massive sprawling estates. Taking inspiration from the world's greatest tourist destinations, Brittany brings you scenic views right at your door.
Crown Asia is also one of Vista Land's high-end real estate developers in the Philippines. The premier property developer has several luxury developments in highly-urbanized areas like Laguna, Cavite, Makati, Mandaluyong, Las Pinas, Ortigas, and Cebu.
With 25 years of redefining residential communities, Crown Asia is committed to build house-and-lots and condominiums within world-class themed developments. You get to experience what it's like living in Italy, Spain, California, and even the Caribbean Islands as Crown Asia's housing developments are inspired by these places.
Should you invest in luxury properties?
With all the given information, a question still lingers: should OFWs invest in high-end properties? If the financial capacity allows, then go ahead and diversify your investment portfolio. At the end of the day, it's your choice to invest. Since these properties are not your ordinary house and lot for sale, some Philippine luxury real estate developers are strict when it comes to financial standing and document requirements.
Talk to the right people. Vistaland International is here for you!
Like in any other investment endeavors, carefully research your options before putting a hefty amount of downpayment. Partnering with a real estate broker who has experience in dealing with luxury homes is also beneficial.
When investing in luxury real estate homes, you need a reliable real estate broker with a good reputation. Vistaland International, the international marketing division of Vista Land and Lifescapes, provides quality service to investors.
The group's sole mission is simple: to provide a home for every Filipino around the world.
No matter where you are working, trust that Vistaland International can help you find a timelessly elegant property fitted to your lifestyle. You have a diverse selection of affordable to luxury real estate properties to choose from.
And as for OFWs looking for high-end properties either for your family or investment purposes, Vistaland International has official offices in Italy, United Kingdom, Qatar, Saudi Arabia, United Arab Emirates, Kuwait, and the United States of America and real estate brokers and agents in various countries as well.
---
Vistaland International Marketing, Inc. (VIMI) is the international marketing division of Vista Land. Aiming to provide OFWs and migrant Filipinos a home in the Philippines, VIMI has established long-lasting relationships with brokers and clients around the world.
Get started with your property investments! Contact us today and follow our social media accounts: Facebook, YouTube, Twitter, Instagram, and LinkedIn.