As a person who loves cooking, you are most likely to spend most of your time in your kitchen–cooking sumptuous meals or baking hearty goodies and desserts.
But this fun hobby of yours comes with a price– the food splatters, liquid spills, and the grease and grime–truly a kitchen nightmare. While regular dusting and wiping will do the trick for you, over time, these greases and splatter will soon clump up into glue-looking blobs in the hard-to-reach corners of your cabinet, which will require more than just your typical dusting and wiping.
Aside from being an unpleasant sight to see inside your affordable house and lot or condominium unit, greasy cabinets can also become harbingers of disease and germs that may harm you and your family. So, before you suffer the effects of having crusty and slimy kitchen cabinets and cupboards, it's better to eliminate the problem as early as possible.
With that, we've listed ways on how to keep kitchen cupboards clean, using products and materials that can be found, well, in your cupboard!
How Often Should You Clean Your Kitchen Cabinets?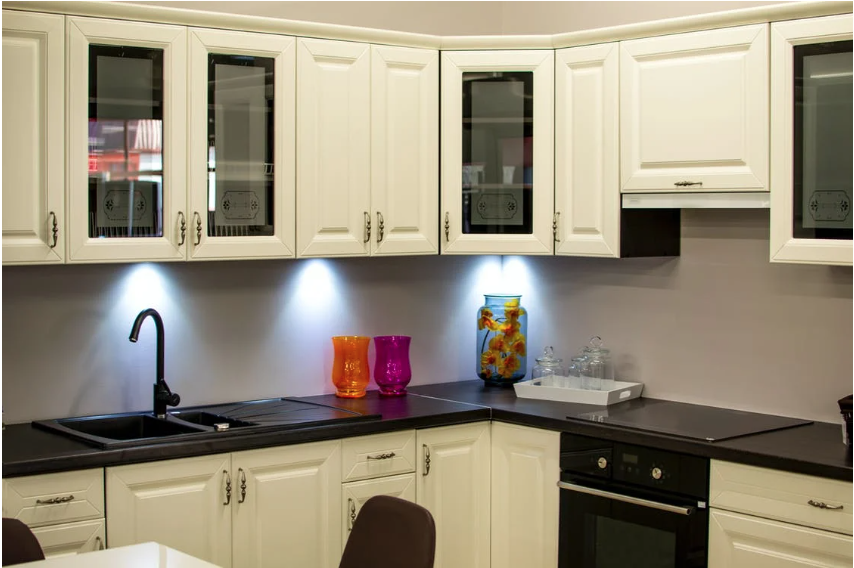 To keep your kitchen cabinets and drawers sparkly clean, you should at least wipe the exterior every week, or every other week at the very least. However, you should empty the contents of your cupboard once in a few months for a thorough deep clean.
It may sound like a tedious task, but once you keep a list of your food items, plates, glasses, and silverware before you empty your cupboard out, it will be easier for you to return them when you're done with the cleaning. Also, you can take the opportunity to wipe and scrub that grimy cabinet when your silverwares are all in the dishwasher.
How to Clean Kitchen Cabinets?
Wood cabinets
Cleaning your wood kitchen cabinets doesn't require much labor nor it will require a special kind of cleaning product or wood cleaner. Just a piece of sponge dipped in a solution of warm water and mild detergent will do the trick. For tougher stains and grease, prepare a mixture of 1 cup white vinegar and 2 cups warm water to soften the grime. Wipe dry using a soft cloth.
For layers of grime that accumulated over time, you can use a natural citrus cleaner, preferably lemon or orange oil. Avoid using harsh detergents or abrasive cleaners as they can strip off or scratch the wood's natural finish, losing its beautiful and warm appeal.
There are instances where the stains are very hard to lift off, and this is usually because the finish is damaged enough for the water, oil, or stain to seep through the wood. The main culprits include light, moisture, and oxidation. Your typical washing won't save cases like these and you may need to resort to refinishing.
While you cannot reverse the process of oxidation, you can control and minimize the amount of moisture in your kitchen. For starters, place steam-bellowing appliances like electric kettles and coffee makers in areas where the water droplets don't directly hit the wooden surface. Wipe immediately if some steam gets caught up in your wooden cabinet doors.
Painted cabinets
Cabinets covered in oil-based paints are considerably easier to clean than those that are painted with latex. With oil-based paints, you can easily scrub the dirt away using a nylon brush but the same cannot be said for latex-painted wood cabinets as the bristles may cause paint lifting or peeling.
To clean your painted cupboards or cabinets, just follow these simple steps:
Prepare a solution of one tablespoon of mild dish soap and one gallon of water. Dip your sponge into the soapy water and scrub the interior of your kitchen cabinets and cupboards. Finish it with a clean wipe using a dry microfiber cloth. Aside from the water-soap combo, you can also use the vinegar and water tandem, or make a paste using vinegar and baking soda.
For hard-to-reach areas such as corners and hinges, you can use a soft toothbrush and gently scrub these places. Make sure not to use abrasive cleaners to avoid damaging the cabinet's finish.
Remember to wipe your oil-painted kitchen cabinets dry using a clean cloth. Leaving them for air dry may cause water stains.
When you are certain that every nook and cranny is rid of dust and stains, apply a thin layer of paste wax for that added protection against oil spills, food, and liquid splatters, as well as marks and scratches. Check the label of your paste wax to make sure that it's toluene-free.
Avoid using liquid waxes as they contain oils that may react to the paint, eventually destroying the cabinet surface finish.
Laminated cabinets
Laminated cabinets have tough surfaces that can withstand high-pressure cooking and beatings from your kids and pets. With that, they are also very easy to clean using mild liquid dishwashing detergent and water (you can also use baking soda and water) and a damp cloth.
For tougher stains and grease, the combination of water and vinegar will loosen up the grime build-up. Pour the solution into a spray bottle and spray it on the surface, leaving the solution to soak up for five minutes before wiping it with rag or paper towels.
Don't just focus on the cabinet surfaces–use a soft bristled brush to reach and lift grime that lurks in hard-to-reach areas. Lift juice and coffee stains using a baking soda paste or the powerful duo of lemon juice and water. Let it soak for a few minutes and gently scrub the surface with a damp cloth or sponge.
Just like painted cabinets, it is not advisable to use scouring pads or abrasive cleaners as they can strip off the beautiful finish of your kitchen cabinets.
Metal cabinets
Cleaning metal cabinets is somewhat similar to cleaning painted ones. Using the same solution–a few drops of mild detergent soap and hot water– is enough to lift off soft stains and water spots.
If the cleaning power isn't enough, you can try using rubbing alcohol instead. Pour an adequate amount of alcohol onto a soft cloth and rub it in a circular motion until the stain and grime are gone.
To avoid rusting, make sure that your metal cabinet is dried completely.
Glass cabinets
Glass cabinets should be cleaned like other glass surfaces inside your household. You can use soap and warm water to erase food spills, splatters, and grime, and then combine 50% distilled white vinegar and 50% water or commercial glass cleaner for a streak-free finish.
If your glass cabinet door happens to have mullions, avoid spraying directly as the cleaner may seep into the crevices, which can eventually lead to discoloration. For this, you can use a lint free cloth or paper towel to wipe clean the glass before drying it with a dry cloth or paper towel.
Other Useful Cleaning Tips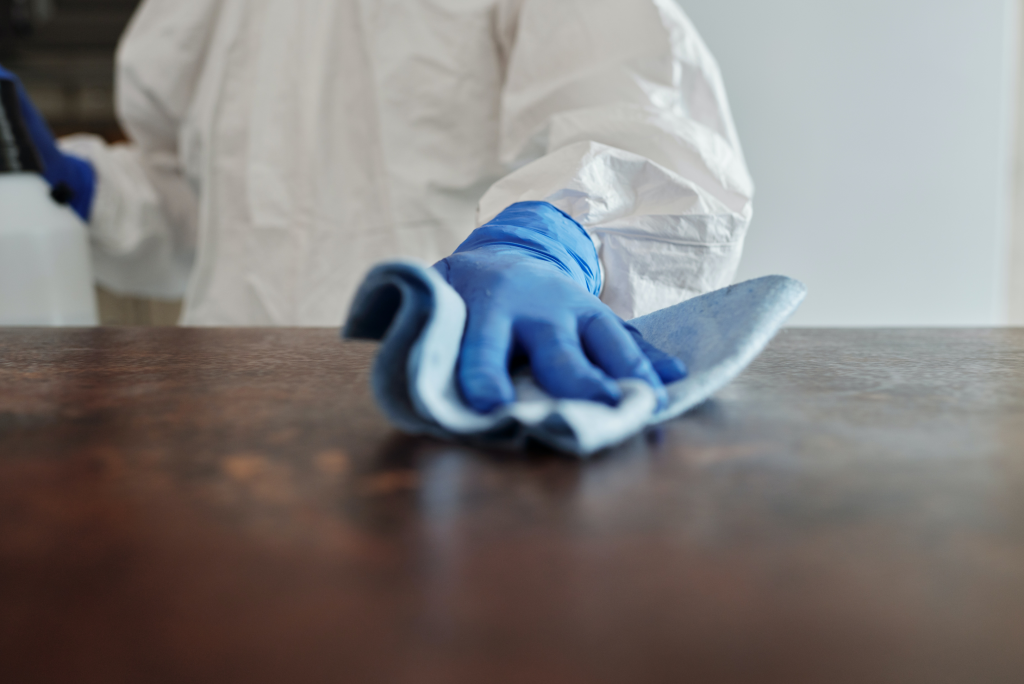 Test cleaners first- All-purpose cleaners are created to perform one job, but they aren't all created the same. Before using a cleaning product, do a patch test first. Place a few drops in the hidden areas of your cabinet or cupboard. If the product damages the finish or causes discoloration then you might want to switch to another one.
Start from the top all the way down- Well, we guess this is one of the unwritten rules when it comes to cleaning. Start from the topmost part of your cabinet to sweep all of the dust along the way as you go down. Don't forget the edges, sides, and corners!
Wipe the surface bone dry- It is not ideal to leave water or cleaner to air dry as they may cause discoloration and the production of mold and mildew.
Don't forget the handles, knobs, and pulls- We might be focusing on the bigger picture that we tend to forget the smaller details. Make sure to go over the knobs, handles, and pulls. Use a soft bristled toothbrush for a more thorough cleaning.
Clean the cabinet contents- Of course, you need to clean the cabinet contents, too! Wipe cans and containers with a damp cloth. Sift through your pantry and throw away stuff that are already past due. Leave the cabinet doors open for a full two hours before putting the contents back in their respective places, using the mini-inventory you created before you started cleaning as your guide.
Final Takeaway
Our kitchen is one of the busiest areas in our house. This is the place where we cook the delicious meals our family can enjoy at the table or bake cakes and desserts that our friends and peers can munch on over a good afternoon gossip.
Cleaning kitchen cabinets might not be one of your favorite tasks but the utmost feeling of satisfaction is unmatched once you see the sparkling product of your hard work! So, start opening doors to a cleaner kitchen cabinets and cupboards with these easy cleaning tips and tricks!
---
Looking for an affordable property? Contact us today
A lot of Filipinos dream of owning their first apartment or house and lot. With today's booming real estate opportunities, there are so many options to choose from.
Here at Vistaland International, we have a roster of affordable property listings from several locations across the country. Whether you're looking for a place to live in Manila, Cebu, Davao and etc, we've got you covered. So contact our real estate agents today!
Vistaland International was primarily created to bring OFW closer to their dream of finally acquiring a home in the Philippines. And with the rising cost of living in the country, OFWs and their families are looking for ways to earn extra cash flow to support their daily needs. Luckily, you can also join the global network of Vistaland International as a real estate professional and earn a commission!