The Visayas islands make up the central part of the Philippine archipelago. With six major islands namely Panay, Negros, Cebu, Bohol, Leyte, and Samar, the Visayas region is home to the best tourist spots in the Philippines that welcomes hundreds of local and foreign tourists every year. Foreign investors and locals alike enjoy Visayas' natural charm fresh air, and white sandy beaches. Making Visayas tourist spots a haven to go on island-hopping to visit unique rock formations or go scuba diving over the weekend with family and friends.
What Is Visayas Famous For?
The Visayas is famous for a lot of things. From religious festivals like Sinulog, Ati-Atihan, Dinagyang, Pintados, and MassKara to famous local delicacies like Cebu's Lechon, Iloilo's LaPaz Batchoy,and Bacolod's Chicharon visiting the many regions of Visayas is worth the trip. But for the most part, Visayas is famous for their historical landmarks and beautiful islands.
Historical Landmarks
The Visayas is beautiful not only because of their natural wonders but also for their historical landmarks. Remarkably, the whole Philippines itself is a historical landmark. For many years, the Philippines has been colonized by different foreign powers such as the Spanish, Americans, and Japanese.
This is why you will find the beautiful architecture of each historical landmark in the Visayas that tells a story of how the Philippines was colonized by these different foreign powers. The Visayas holds historical landmarks like the Magellan's Cross in Cebu City where Ferdinand Magellan was killed during his expedition to colonize the Philippines.
Natural Wonders
Visayas has beautiful natural wonders which makes them an ideal destination not only for the locals but also for foreign visitors and investors. A few examples of beautiful Visayas tourist spots are Chocolate Hills, Apo Island, and Boracay Island which will be discussed further in the blog.
Beautiful Places In Visayas
The Visayas region offers lots of tourist destinations for a quick vacation and an ideal place to live in. Here's a list of tourist spots in the Visayas region that's rich in history and culture.
Boracay Island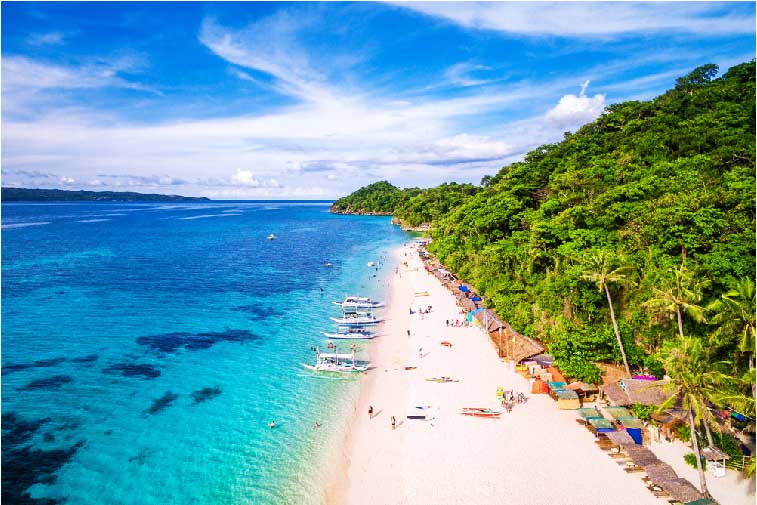 This tropical paradise is one of the best Visayas tourist spots located in Malay, Aklan. This beautiful place features powdery white sand and clear blue waters that will make you feel relaxed and rejuvenated after long months of work or school. It also offers activities such as snorkeling, windsurfing, jet-skiing, and kiteboarding.
Historically, Boracay was known as "Buracay" to Iberian conquerors. It was inhabited by the Ati people prior to the Spanish colonization. Before Boracay was a tourism hub and the favorite destination for the local Filipinos, the small island was mostly an agricultural community where copra and fishing were the major businesses. Boracay soon had a rise to fame in the 1980s-1990s where it was hailed as the best island in the world.
Chocolate Hills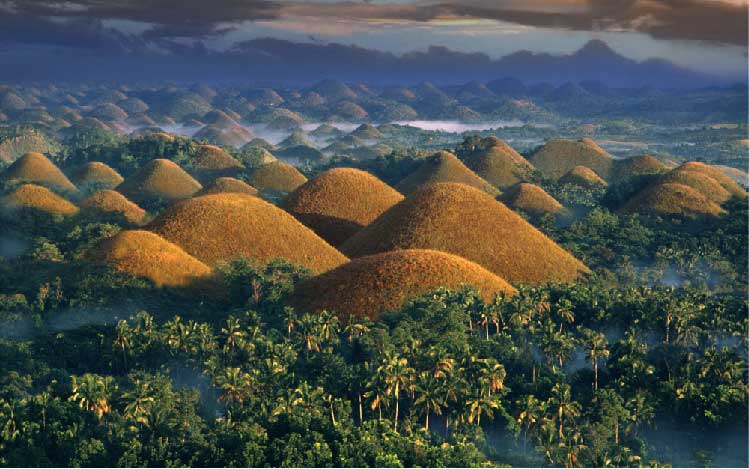 Located on the island of Bohol, Philippines, are beautiful hills that look like chocolate. Because of its natural beauty, it's one of the Philippines' top tourist destinations. Moreover, the Chocolate Hills has been declared as the country's third National Geological Monument, and for good reason. As a geological formation, there are at least 1,200 small hills covered in green grass that turns brown during the dry season. If you ever visit the beautiful country of the Philippines, this is one spot not to miss.
Chocolate Hills are eroded marine limestone formations on top of hardened clay. Various historical legends surround the tourist attraction. According to one legend, it is said that a giant fell in love but got heartbroken, and thus, the hills were created as tears hit the ground.
Sirao Flower Garden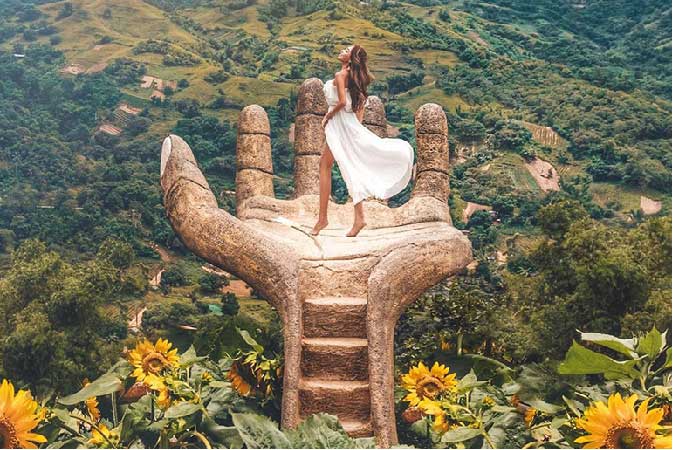 Another beautiful place in the Visayas, Philippines is the Cebu Sirao Flower Garden. Fit for the vibrant city of Cebu, this garden has been named after the beautiful flowers planted all over it including its wide variety of orchids and roses. A modern-day tourist attraction, the flower farm in Cebu Island is dubbed as "Little Amsterdam" because of the colorful flowers similar to Amsterdam of Netherlands. Just beside the famous flower garden is the Sirao Pictorial Garden and Camping Site. The garden also features an infinity pool.
Islas de Gigantes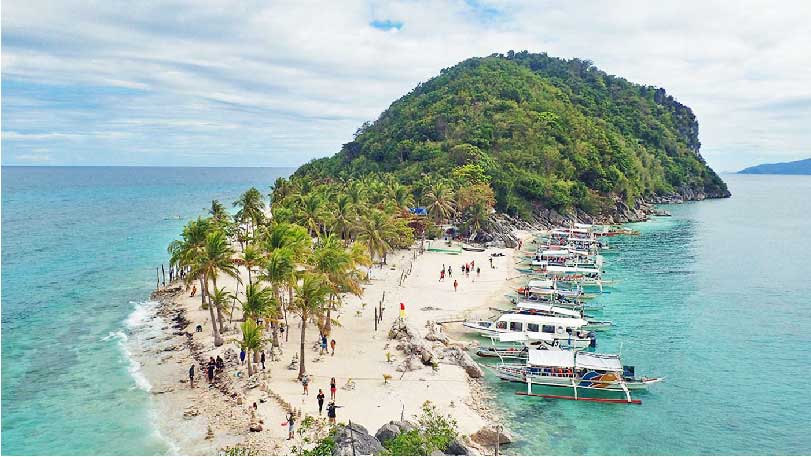 One of the Visayas tourist spots that continue to attract visitors is the stunning Islas de Gigantes located in Carles, Iloilo that offers a great view of the Panay Gulf. Gigantes Island consists of ten islands and several points of interest such as natural pools, blue lagoons, several major rock formations, and pristine white sand beaches. The island is also blessed with fresh seafood and friendly locals.
Islas de Gigantes used to be called Salauag or Sabuluag; a tree species found on the island. The island attraction was renamed with the current name after a legend about giant human bones were found in an island's cave entrance.
Apo Island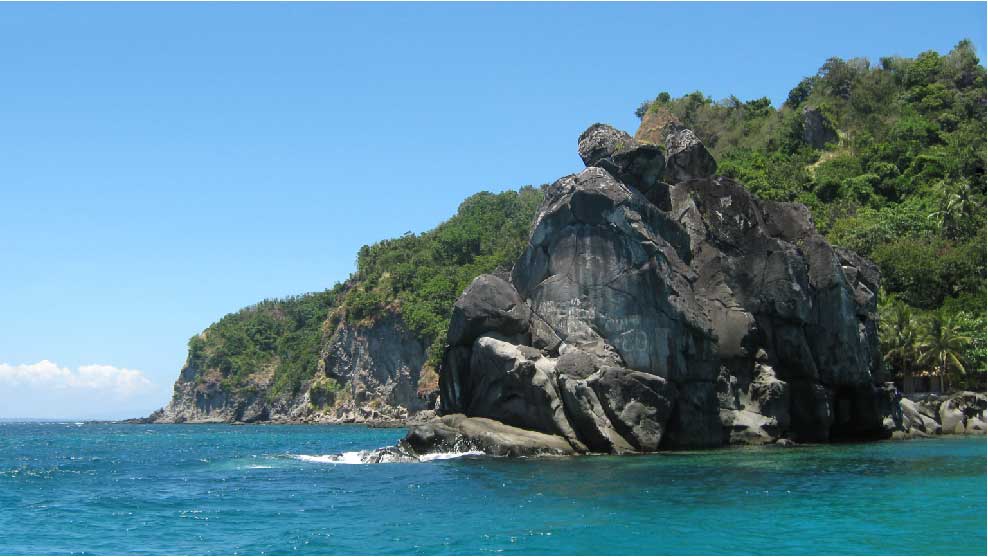 Apo Island is a beautiful volcanic island located off the tip of Negros Island, specifically beyond the southern coast of Negros Oriental. The island has also been declared as a marine sanctuary and diving site for its beautiful coral reefs, teeming with different species of fish and turtles. It's perfect for snorkeling and scuba diving adventures! It's one of the Visayas tourist spots protected by the National Integrated Protected Area Act (NIPA).
Believed to be part of a bigger landmass, Negros Island is the second-largest island in the Visayas. The island was named "Negros" because early Spanish explorers reported several sightings of dark-skinned locals on the island.
Biri Island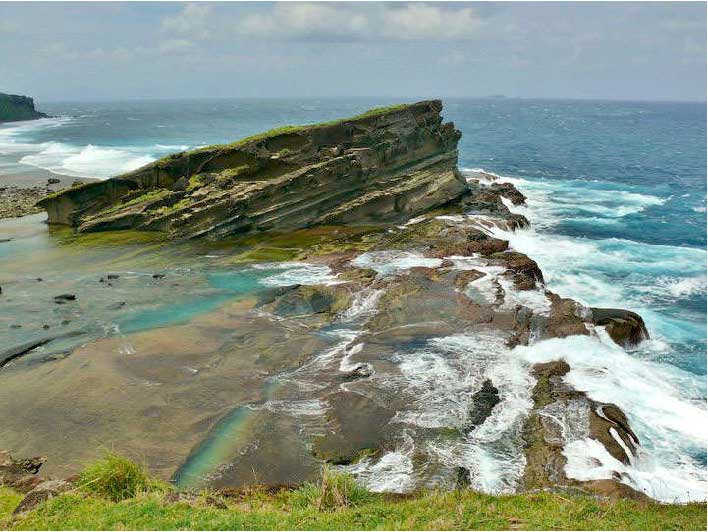 Biri Island is a beautiful, serene island located in Northern Samar. Characterized by staggering rock formations, the Biri Island in Samar is truly inviting to nature lovers wanting to spend their time at the beach. The whole island is well-preserved and serene, yet the waves are often at war because the San Bernadino Strait and the Pacific Ocean often clash.
Because it faces the great Pacific, it used to be the entry point to Luzon and the rest of Visayas. Named after the Spanish word "barrer" which means "to sweep", Biri has been used as a navigational mark.
Come home to the Visayas! Ask Vistaland International today.
Vistaland International offers different kinds of real estate assets and affordable house and lot units to ordinary Filipinos as well. Having one of the largest real estate companies in the Philippines as part of their selection of real estate investments, Vistaland International aims to provide quality homes that are built to last for future generations.
Vistaland International was primarily created to bring overseas Filipino workers closer to their dream of finally acquiring a home in the Philippines. And with the rising cost of living in the country, OFWs and their families are looking for ways to earn extra cash flow to support their daily needs. Luckily, you can also join the global network of Vistaland International as a real estate professional and earn a commission!
---
Vistaland International Marketing, Inc. (VIMI) is the international marketing division of Vista Land. Aiming to provide OFWs and migrant Filipinos a home in the Philippines, VIMI has established long-lasting relationships with brokers and clients around the world.
Get started with your property investments! Contact us today and follow our social media accounts: Facebook, YouTube, Twitter, Instagram, and LinkedIn.