Moving into your new house is the most exciting part of the home buying process. After that long, tedious process, you can now embrace the new space that you will eventually call home. But before you chip in all of your furniture and belongings into the new house, you might want to consider deep cleaning it.
If you're lucky enough, the previous owners of the home might have given it a deep clean before they moved out, but certainly, there are areas and spots that they missed. So, this is the perfect time to do a quick rundown and give your new home a few sweeps, dust, and wipes since your house is still quite bare– no furniture and appliances yet.
And even if your home is a ready-for-occupancy unit, you cannot be too complacent with the cleanliness of the place. A little cleaning won't hurt, right?
With that, we've curated a move in cleaning checklist to help guide you through the whole process! Not only that it will clear the space from hidden and leftover dirt, but will also prepare the house for new energy and experiences to come through!
Should I get my house cleaning before moving in?
If you're still having doubts about going through such an ordeal, then here's the definitive answer: yes!
The construction done prior to moving still left a few dust and debris, even if the construction company assured you that they've combed through the place. If you are moving into a new home with a previous owner, there may be hidden areas littered with dirt that went unseen and hidden during the home staging process.
Before the big day, allot some time for a deep cleaning schedule so you won't have to clean around boxes and furniture during the day of the move.
Move in Cleaning Checklist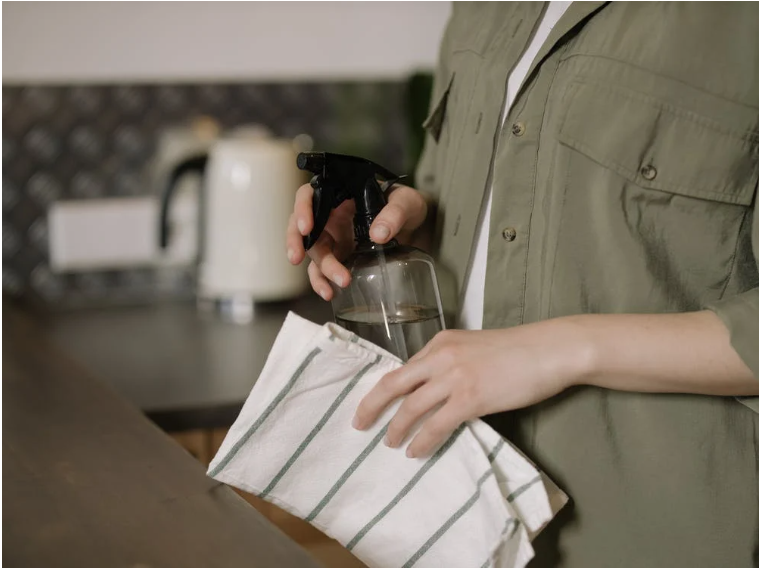 Ceiling
We'll break down every area of your home and we'll start right from the top going down. You'll do these in every room– combing the ceiling and light fixtures from any leftover dust and cobwebs, allowing all the dirt to fall on the floor to be swept out later.
This is the reason why you should jump on to the opportunity of cleaning while the furniture and appliances aren't placed yet– it'll be another cleaning task the moment dust clings onto them!
Kitchen
Next, we'll head on to one of the busiest places in the house– the kitchen. It's crucial for you to deep clean this area to release any trapped odors and give way for fresh air to circulate. Here are some ways to clean certain areas of your kitchen:
Cabinets- You won't need complicated cleaning supplies for this one. All you need is a damp microfiber cloth and warm, soapy water. You can find out more about how to clean your kitchen cabinets and cupboards here.
Sink- Clean the sink using a scrub brush or steel wool dipped in a paste made of baking soda and vinegar to remove any stubborn stains. This trick works well on a stainless steel sink. For a shiny finish, rinse it with a water-lemon juice solution.
Countertops- Before you dance around the countertops, make sure to wipe the surface first with a 1-part water and 1-part vinegar using a microfiber cloth. Reminder: don't use this solution on marble tops as it will leave blemishes and etches, ruining the finish.
Garbage disposal- Garbage disposals must be kept clean all time to prevent unwanted litter and odors. Remove gunk build-up by pouring vinegar-baking soda solution. You can also drop citrus peels or ice cubes and salt for the same cleaning effect.
Bathroom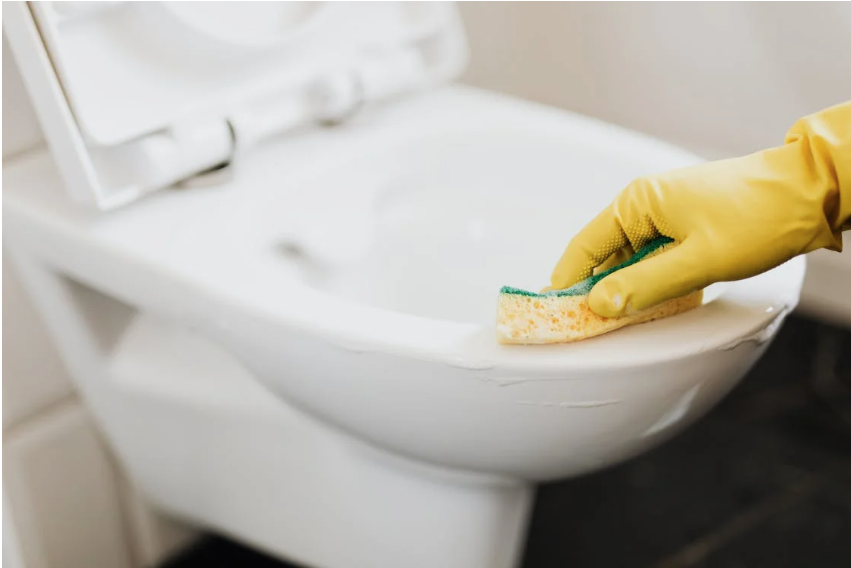 The next area you may want to deep clean is the bathroom. Use the same vinegar-baking soda solution to remove sink and shower stains, and in dissolving soap scum. For glass doors, use the 1-part water and 1-part vinegar and wipe the surface with a clean cloth. Here are other ways to clean specific areas of your bathroom.
Toilet and toilet seat- You can use commercial cleaners or your homemade solution to make your throne sparkly clean. For thorough cleaning, let the solution sit for one hour before scrubbing the toilet with a scrub brush. You also have the freedom to replace the toilet seat if you want!
Shower head- Shower heads don't require much cleaning– once every few months is enough, unless you get a poor water flow due to mineral buildup.
Shower drain- Pour boiling water onto the drain then follow it up with a baking soda-vinegar solution. Even if your shower drain isn't totally clogged, it won't hurt to deep clean it as well!
Walls
Even if you are planning to repaint your walls, it's still important to give them a quick wipe. You can either use a water-vinegar solution or warm water with a few drops of mild detergent to clean either painted or wallpapered walls.
Pay close attention to the corners, this is where the dirt and dust usually accumulate. Check also the areas around the waist level if there are any streaks and marks left by the previous owners' kids.
Floors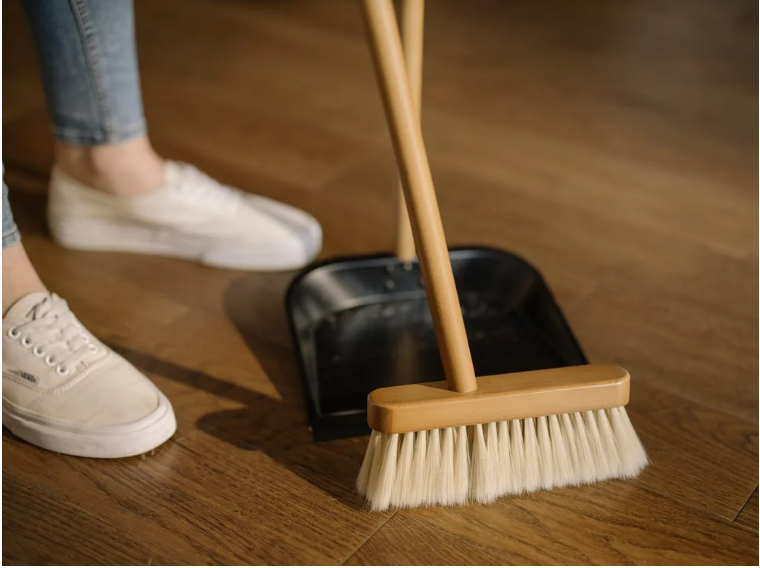 You can either rent or purchase a steam cleaner or hire a professional to do the steam clean job for you. Steam cleaning will remove all dust, allergen, and bacteria build up, as well as accumulated pet hair and pet odor on the floor carpet.
Steam cleaning is also applicable to sealed hardwood floors. Remember to check your floors if they are sealed or unsealed. Steam cleaning unsealed hardwood floors may lead to damaging the floor.
Other Areas
Don't forget to comb through other areas like the following:
Windows- Start off by vacuuming the window sill to remove dust and other clutter seated deep in the crevices. Next, wipe the windows using vinegar placed in a spray bottle. Finish it by wiping the surface dry with a clean microfiber cloth.
Doors- Clean doors and door handles with the appropriate cleaner based on your door type.
Light switches and electric outlets- Go through your light switches using a damp microfiber cloth, but be careful not to go too deep to prevent any shocks!
Shelves and closets- Baking soda is known to absorb unpleasant odors, so if you're dealing with a musty or clogged smell in your shelves and closets, just put a bowl of the cleaning agent inside!
Ceiling fans and Ceiling fan blades- Remove dirt and dust build up by using a duster and an all-purpose cleaner.
Final Takeaway
When you move into a new house, you want a fresh start, literally. Therefore, cleaning a house before moving in is the first step to acquiring that. When you clean before you move, you are erasing all previous living traces, making way for new moments and memories to make in the same space. After all, you want to feel at home inside your new home!
So, before your big move, make sure you've scrolled down through this moving in checklist for a cleaner and fresher start!
---
Looking for an affordable property? Contact us today
A lot of Filipinos dream of owning their first apartment or house and lot. With today's booming real estate opportunities, there are so many options to choose from.
Here at Vistaland International, we have a roster of affordable property listings from several locations across the country. Whether you're looking for a place to live in Manila, Cebu, Davao and etc, we've got you covered. So contact our real estate agents today!
Vistaland International was primarily created to bring OFW closer to their dream of finally acquiring a home in the Philippines. And with the rising cost of living in the country, OFWs and their families are looking for ways to earn extra cash flow to support their daily needs. Luckily, you can also join the global network of Vistaland International as a real estate professional and earn a commission!