Step-by-step Guide on Home Loan Approval
Here are the steps on the processing of Home Loan approval
Account officer will notify the client once the account is due for Bank Loan Application.
Gathering the necessary documents based on requirement of Bank/developer.
Submitting the Loan application form and paying the processing fee.
Document Verification.
Loan approval.
Technical check, site estimation and legal verification.
Signing the final loan agreement.
Once the loan has been released, Bank officer will notify the buyer.
Developer will notify the buyer. The time frame of 30 to 45 days will be scheduled for unit turn-over.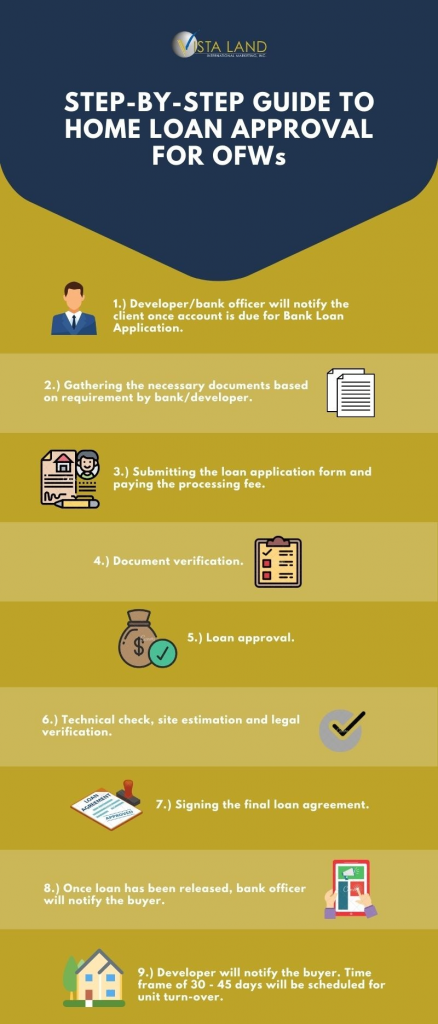 Vistaland International Marketing Inc. (VIMI) is the international marketing division of Vista Land & Lifescapes, Inc. Our team was created to capture the bigger slice of the real estate market by veering away from the traditional concept of real estate marketing. We offer a full spectrum of quality condo properties and house and lots for sale by cutting through different market segments and spanning the entire Philippines archipelago.
We believe that home is truly where the heart is so we make sure to offer homes built on well-planned, strategic, and secured locations for a memorable home living. We offer a diverse selection of house and lots for sale in the Philippines under award-winning developers such as Brittany Corporation, Crown Asia, Camella Homes, Lumina Homes, and Bria Homes.