Living in a condo, especially with a child changes the way you view your haven. Your doors, windows, furniture, appliances and even those decorative picture frames suddenly look like a potential threat to your little angel.
It's never too soon to baby proof your home. In fact, you should be baby proofing your condo even before your child learns how to roll from his back. Time flies so quickly, and before you know it, your little human burrito is already crawling and exploring every nook and cranny of your unit!
We've listed down room by room tips on how to make your haven a heaven for your toddler!
Babyproofing Your Condo 101
Baby proofing your home may seem a bit daunting considering all the places you need to run over. But breaking down your tasks on a room-by-room basis will make them more manageable. Walk through this article and see how you can make the perfect (and safe) haven for your baby!
Living room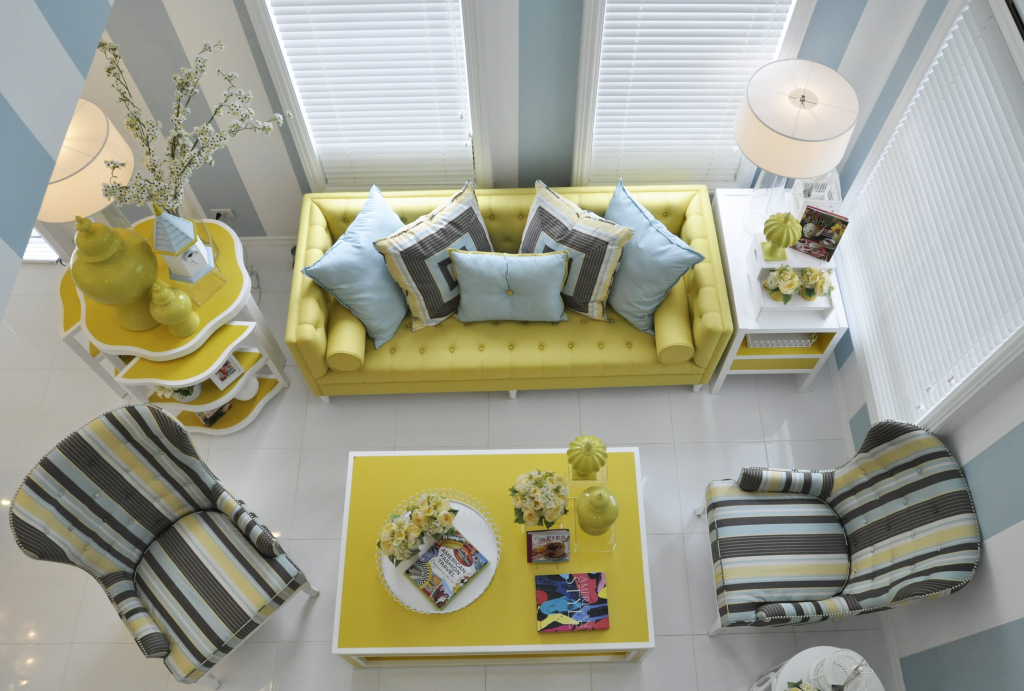 Your living room is one of the busiest areas of your house as this is where you lounge and bond with your family. Here are some tips on how you can baby proof your living room.
Go for carpets- Carpets will serve as a cushion for accidental falls, slips, and rolls, especially when your baby is starting to learn how to stand and walk. Don't fret yet if your living room has hardwood floors installed– you can buy a sizeable rug to keep your baby safe as he learns his skill!
Cover the edges- Coffee tables are great additions to our living room because of their style and functionality. However, such furniture has sharp corners that can hurt your baby. In choosing your coffee table, it's better to opt for one with rounded edges. Don't forget to purchase some corner guards for a heightened baby proofing measure. Another suggestion is to buy soft ottoman with storage– that's safety and functionality in one!
Windows- Looking out your windows is one great way to appreciate the great view of the city's skyline from your condo. However, these transparent glasses are dangerous to your curious baby, especially if you are residing on higher floors.
For your child's safety, install metal window guards that screw on the sides of the window frame. Avoid adding window blinds as your baby might end up strangled in the dangling cords.
Get into your baby's point of view- To ensure that you didn't miss an essential part of your living room, crutch down and crawl on all fours to see your baby's perspective. Take note of points and areas that will tick the interest of your curious babies, as well as detect any choking hazard for your crawling babies.
Bathroom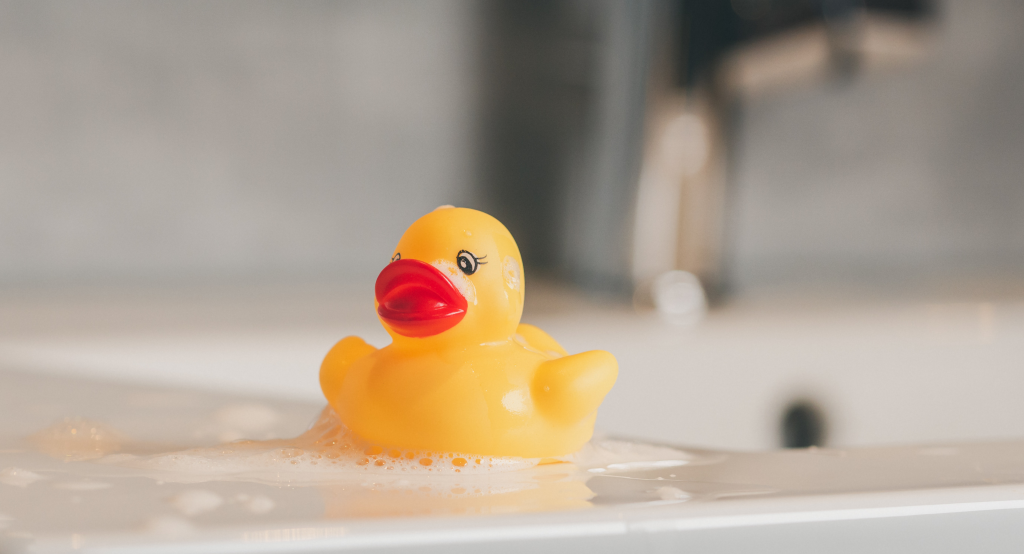 Children love to play in the water during bath time. However, such fun moments can lead to disaster if the kids are left unsupervised. Just an inch or two of water can drown your baby in just a few minutes. Install an exterior door lock in your bathroom door as soon as possible.
Install a toilet seat lock- Keep toilet lids safe from curious kids who like to peep (and they sometimes drink the toilet water) by adding lid locks.
Add non-slip mats- Adding non-slip mats inside the bathroom can prevent slipping accidents and falls, especially when the floor is full of soap and shampoo suds. Add one non-slip mat inside the bath tub and one on the floor just outside the tub.
Keep razors and curling irons out of baby's reach- Prevent cases of serious burns by keeping curling irons or hair straighteners out of your kid's reach. The same thing goes for dad's razors. These small, shiny objects may look like toys and your kids may want to play with them.
Keep harmful chemicals away from baby's sight- As much as we want to keep our toilets and baths clean, we should keep cleaning supplies away from our kid's reach as well. We all know how dangerous they could be if ingested.
Get the right bath temperature- Water during baths shouldn't be scalding enough to burn your kid's skin. Adjust your water heater to 120 degrees Fahrenheit or below to make it baby friendly. Also, make sure that hot tubs have their lid on until use.
Medications- Just like cleaning supplies, pills and other medications are harmful if ingested. Your kid might think these are little candies and might chomp on a handful behind your back. If you prefer to store medicines inside the bathroom, make sure your medicine cabinet has child proof locks.
Do not take your sights off the bathing baby- Do not ever, avert your attention away from your baby in the tub. Those crucial moments could be life-changing.
Bath toys- Bath toys tend to accumulate mold and mildew over time due to them being submerged in water most of the time. Replace toys immediately as soon as you see molds forming.
Nursery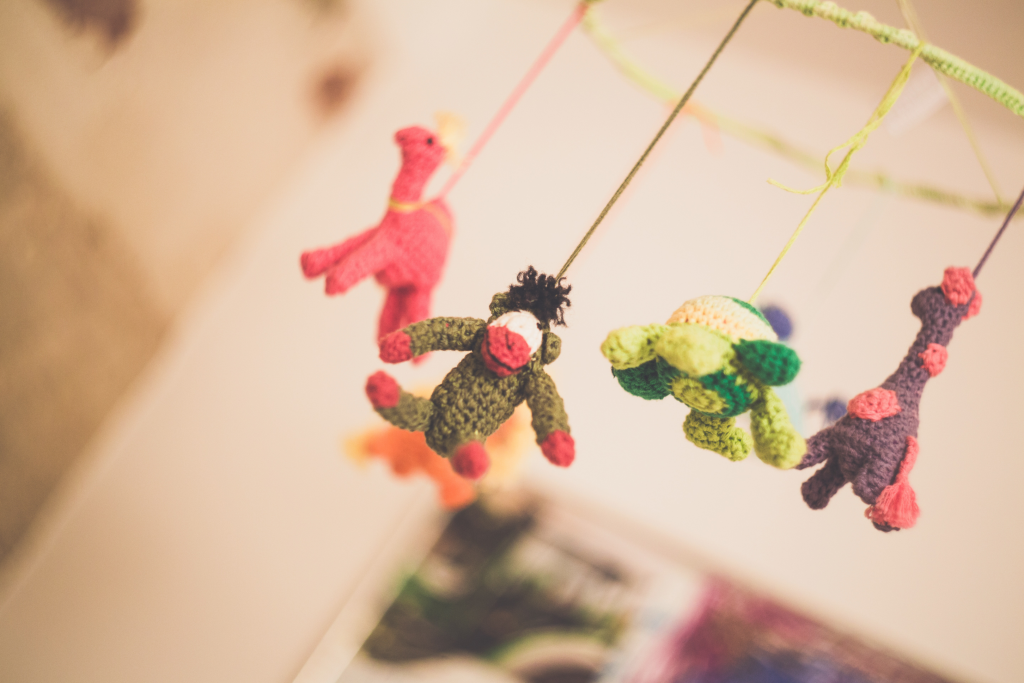 Aside from the living room, the nursery is where your baby will spend most of his time in his early years. So it's very important to baby proof this space as well from any sharp objects, choking hazards, and other potential harm.
Baby proofing your crib- When buying cribs for your newborn, it's advisable to opt for brand new ones instead of bargains. You don't know if these hand-me-downs contain lead paint that could be dangerous for your baby. Also, look for cribs with fixed sides. There's a reason why drop-side cribs are banned– due to their reputation of hurting or killing babies.
Check crib slats by inserting soda cans in between. If the can passes through, the slats are wide enough for your baby's head to get stuck. And be careful in adding pillows and stuffed animals inside your baby's crib as they are suffocation hazards.
Install a baby monitor- Consider adding a baby monitor so you can supervise what your child is doing even when you're not inside the nursery. Make sure that the monitor is far away from the crib to prevent your baby's from fiddling with the electrical cords with his little fingers.
Install window guards- Don't forget the windows in your nursery as well. If you like to keep them close at all times, then there's no need for you to install them. However, if you want to let fresh air come inside your nursery then you should opt to add one for your baby's safety.
Take off the lid- It is worth having a toy box or chest inside the nursery to keep toys away when it isn't playtime yet or when your kid is napping. It's best to buy large baskets or take the lid off completely to prevent it from slamming on your toddler's little fingers.
Keep the lid on- We are pertaining to your nursery's garbage cans. You don't want to come inside the room and see your toddler munching on poo-filled diapers.
Kitchen
Families love to gather in the kitchen for conversations and laughs while preparing and eating food. However, this is also a place littered with danger for your kids at a young age.
Limit your baby's time in the kitchen- You might be able to watch over your kid well when you're doing business in the kitchen. So, for a preventive measure, put your child in a contained area away from the kitchen while you cook or clean.
Watch out for plastic bags and foil wrappers- We love to store plastic bags inside another plastic bag for a second or third use. However, they are suffocation hazards for your little one so stay them out of his reach. Foil wrappers, on the other hand, have sharp edges which could hurt your baby as well.
Keep breakables up high- The last thing you want to hear is the sound of plates and glasses breaking and your child crying (or laughing, 'cause he thinks it's fun to yank away and break your precious china). Keep fragile objects inside your kitchen away from baby's reach to prevent any accidents and injuries. Might as well keep them in a chair with safety straps to keep them from moving around too much.
As well as the knives- Knives are kitchen essentials, but they are very deadly when aren't stored properly. Never leave a knife on top of tables or counters. Keep them in blocks or inside drawers with locks.
Keep cabinets locked- Just like in your bathroom, store your food and cleaning products in a locked cabinet to refrain access from your prying kids.
Laundry room
Keep those colorful laundry pods out of your baby's sight and reach as they look like little treats and chances are, your little adventurer will put them in his mouth for a little taste. During the previous years, thousands of calls are made to various poison control centers due to incidents of curious kids ingesting laundry pods and powder detergents.
To further baby proofing your laundry room, you can also install child locks for your washing machine and dryer.
Home Office
With the ongoing pandemic, a lot of us shifted to a work-from-home setup. And that means your work and home environment are merging into one space. Imagine yourself in the middle of an important Zoom meeting and your laptop or computer shuts down all of a sudden!
Baby proof your workspace by keeping your dangling laptop or computer cords away from your toddler's reach. You may invest in cord holders so you can fasten them high up on the wall and away from your baby. It is also best for you if can allot a specific room to be your temporary office space you can have your privacy during work.
Safe Kids in a Safe Condo
Starting and raising a family is a huge milestone in life. First, there's only you and your partner, and the next thing you know, there's a little angel inside your abode bringing all the sunshine and happiness in your life.
Aside from the measures and practices mentioned above, installing smoke detectors or smoke alarms are other essentials you need for your family's safety. Make sure there's one installed for every room. Avoid triggering false alarms by installing them away from the kitchen or bathroom. You can also protect your baby from the sharp edges of tables, chairs, and other furniture using edge bumpers. Baby proof plugs by covering them with outlet covers. And to prevent falls from the stairs (if your home has one), it's best to put baby gates.
Babyproofing your house means you are safeguarding your space as your little one starts his quest at the same time letting him know which areas are off limits. Play and exploration are vital for his cognitive and brain function as he grows up. With these babyproofing tips, rest assured your baby is safe as he learns the ABCs of the world!
---
Looking for an affordable property? Contact us today
A lot of Filipinos dream of owning their first apartment or house and lot. With today's booming real estate opportunities, there are so many options to choose from.
Here at Vistaland International, we have a roster of affordable property listings from several locations across the country. Whether you're looking for a place to live in Manila, Cebu, Davao and etc, we've got you covered. So contact our real estate agents today!
Vistaland International was primarily created to bring OFW closer to their dream of finally acquiring a home in the Philippines. And with the rising cost of living in the country, OFWs and their families are looking for ways to earn extra cash flow to support their daily needs. Luckily, you can also join the global network of Vistaland International as a real estate professional and earn a commission!
Vistaland International Marketing, Inc. (VIMI) is the international marketing division of Vista Land. Aiming to provide OFWs and migrant Filipinos a home in the Philippines, VIMI has established long-lasting relationships with brokers and clients around the world.
Get started with your property investments! Contact us today and follow our social media accounts: Facebook, YouTube, Twitter, Instagram, and LinkedIn.