Contrary to popular belief, buying a memorial lot can also be an investment. Sure, it's an oddly different asset to invest in but it does yield returns financially and personally. It's also a great option for Overseas Filipino Workers (OFWs) to own for themselves and their family.
In this article, we are going to define memorial lots, why it's a good idea to buy one for personal purposes and investment purposes, and a renowned deathcare company in the Philippines.
What is a memorial lot?
Before diving into the investment aspect, let's first tackle the definition of memorial lots.
A memorial lot is a small area within a cemetery plot where you can have your loved one's remains buried. These lots are usually quite small, with enough space to fit your dearly beloved. Memorial lots come in different types, such as your typical memorial lot, a family patio, and a mausoleum.
One notable feature of this type of property is that memorial lots have no land title but instead they have lot titles. The reason for this is because you're only buying a portion of the developer's total land area. Lot titles specify the owner's name, lot size, location, and other corresponding information.
Private memorial parks' property manager in-charge and local government units for public cemeteries usually keep a record of their lot owners along with their memorial lot location info.
So now that we have that out of the way, let's talk about the advantages of investing in a memorial lot as early as possible.
Is it good to invest in a memorial lot?
Investing in a memorial lot as early as possible takes away the future financial burden once the inevitable comes. As OFWs, the goal of preparing and saving your future stays until the very end. Buying a lot early on fulfills two purposes: personal use and investment purposes.
Purchasing a memorial lot for yourself saves your future family the time, effort, and money in looking for a perfect lot for you to rest in. You are basically securing your future.
Aside from its primary use as a final resting place for our loved ones, memorial lots can also be bought as a means of real estate investment. For this purpose, make sure that you invest in a reputable memorial park developer. There's a lot of factors to consider before buying a memorial lot. Consider the location, amenities, and maintenance of the memorial park. And also, you should at least have a memorial lot for yourself already so that you have a safety net of your own in case the time comes before buying a lot only to sell it off in the future.
Reasons why you should invest in memorial lots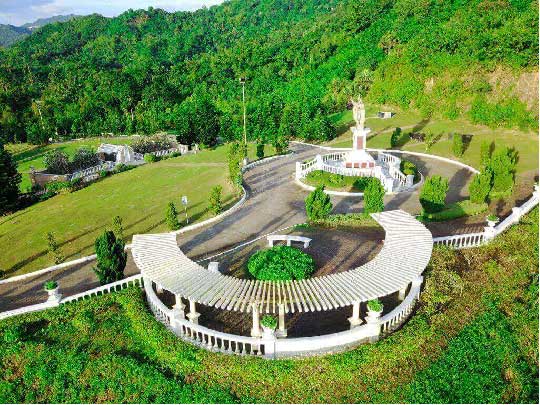 Why is memorial lot a good investment idea? Let's face the reality. Death is part of life and there will always be someone looking for a memorial lot for their loved ones or family members that have passed. As it is inevitable, there is always a memorial lot market. Here are a few advantages of buying a memorial lot.
Perpetual ownership makes memorial lots easy to resell
Just like other real estate properties, your memorial lot will become yours once it's fully paid. Unless you plan on selling it off once it has doubled in value, you have the freedom to transfer the lot title under your client's name.
In reselling, consult the current market selling price with the memorial park owner first. So that you can determine the sale price of your property. You can also set the financing options such as paying in installment terms or spot cash terms.
Memorial lots gain in value over time
Investing in memorial lots guarantees high appreciation value rates. With the right location and a reliable memorial park developer, your investments will surely grow just like any other real estate property.
Memorial lots are an investment in your future
We've already said this many times before in this article but we only want the best for you. Buying a memorial lot early on in life can ease the burden of your future loved one of having to find the perfect burial spot for you.
Golden Haven – Memorial Lots for Sale In The Philippines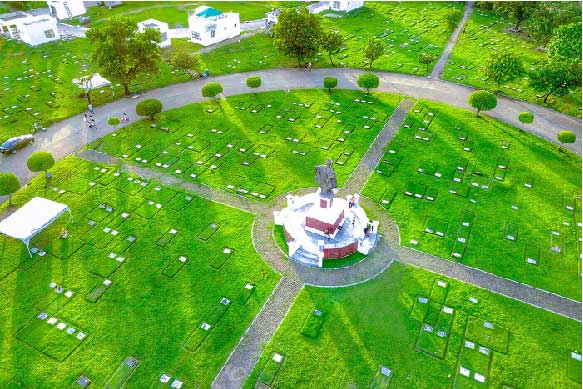 Golden Haven Memorial Parks is a deathcare company under the Golden MV Holdings Inc. In terms of market capitalization, it's worth noting that Golden MV Holdings is one of the largest real estate companies in the Philippines. Golden Haven is mainly engaged with developing memorial parks and selling memorial lots in the Philippines. The deathcare company currently has 35 memorial park developments in 32 park locations in the Philippines.
4 Types Of Memorial Lots for Sale
Golden Haven Memorial Parks offers different sizes of memorial lots along with other products such as columbariums and crematoriums. Here are the four basic memorial packages offered by Golden Haven.
Lawn Lot
Price: PHP 93,000 – PHP110,000
The most basic and traditional package in any memorial park is the lawn lot. This 1 meter by 2.5 meter single lot is a double-tiered underground area for the burial of the departed and marked by a tombstone.
Garden Niche
Price: PHP 370,000 – PHP 440,000
A garden niche is a 2 meter by 5 meter cluster of lawn lots that can fit up to 9 body interments that come with a bone vault.
Family Patio
Price: PHP 740,000 – PHP 780,000
The family patio property is approximately 18sqm or the equivalent of seven lots that can fit 10 body interments. In this type of memorial property, you have the option to build an open structure within your area. However, the construction of the niche is not included in the price.
Family Estate or Mausoleum
Price: PHP 1,320,000 – PHP 1,370,000
The mausoleum is an open or closed structure that can cater both underground and above-ground burial. This kind of memorial lot is worth its price because you can maximize the big space and can fit several to an unlimited number of interments as long as it fits the memorial site.
Other Memorial Products Offered
As the largest and most beautiful chain of memorial parks in the Philippines, Golden Haven goes above and beyond to cater to your memorial needs. Golden Haven has columbariums, chapels, and crematoriums in their memorial parks across the country.
Columbarium Vaults
A columbarium vault is space saving because it's primarily built to store urns. These urns contain cremated remains of the deceased. Golden Haven's columbarium vaults can fit 4 urns in a single storage vault.
Chapels and Crematoriums
Each chapel in Golden Haven's memorial parks in the country have their own place of tranquility to pray for the departed souls. Additionally, Golden Haven offers crematorium services at their Las Pinas memorial park branch.
One ideal thing about Golden Haven is that it also offers other memorial needs such as funeral services, hearse rental, storage rental, urns, caskets, engraving, flower arrangements, and restoration and make-up are also offered by Golden Haven.
The Bottom Line
Death, for most people, is a very delicate subject to talk about. But whether we like it or not, death is a part of life. Preparing for your future death isn't as weird or morbid as some people think. It's simply thinking ahead so that your family can peacefully grieve without having to stress about the finances.
For more information and questions, follow Vistaland International!
Looking for property investments? Contact Vistaland International's agents today! We offer house and lots for sale, condos for sale, residential lots for sale, and memorial lots for sale in the country. To further guide you, use our property navigation and read our FAQs to learn more us. As the international marketing division of Vista Land, we provide several financial growth opportunities for OFWs around the world. Become an OFW investor today and grow your real estate asset with us!
Vistaland International Marketing, Inc. (VIMI) is the international marketing division of Vista Land. Aiming to provide OFWs and migrant Filipinos a home in the Philippines, VIMI has established long-lasting relationships with brokers and clients around the world.
Get started with your property investments! Contact us today and follow our social media accounts: Facebook, YouTube, Twitter, Instagram, and LinkedIn.