by: Zaldy Cabrera
A serene home for Overseas Filipino Workers
Filipinos abroad especially OFWs are very affected by FOMO- the feeling of missing out. Aside from the activities and memories of their loved ones that they are missing on, it is hard for them to stop thinking about their family's security and safety while inside their home.
Aside from home sanitations and buying disinfectants to keep your family safe, here are some tips for Overseas Filipino Worker (OFW) parents to lessen their worries especially they are in a long distance living arrangement from their kids.
Toddlers' Nook
Photo by cottonbro from Pexels
A good area in your house where you can always hear and see the young ones is near the living room. It is necessary to make a toddler's play area clean and free from dirt. Foam mats on the floors and a silicon edge cover for sharp-edged furniture are a great added protection to keep your little ones safe from slipping on the floor and bumping on tables. Plastic plug covers are an additional safety hack to avoid hazards from electric shocks. Locomotor development toys such as big cars for boys and kitchen counter toys for little girls will make them busy in a couple of hours and develop their motor skills and body coordination. These types of toys are also easy to disinfect so buying these toys is a good decision. Just make sure to keep the small pieces away from them and check the age compliances of other handy toys. OFWs and migrant Filipinos abroad can also place a camera directed at the toddler's nook to watch their children while they are playing.
A display shelf or cubbyhole where they can put away their favorite toys after playing maintains the tidiness and neatness around the room. It will also teach them to be responsible for placing their unused toys in proper places. It is also another way of teaching them how to segregate toys according to their preferences. By placing a display shelf or cubbyhole, an accident from stepping on cluttered toys and slipping on the floor can be avoided.
Ate's Corner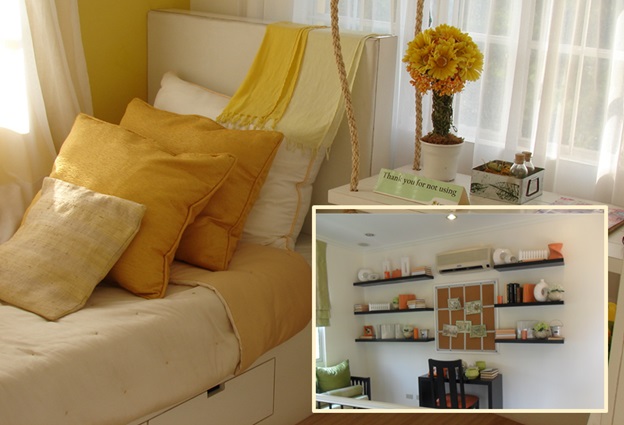 Young teens need an activity during their vacant time after their online classes. Surprisingly, they tend to be more creative and resourceful after spending hours studying and doing home works. With the available DIYs and demo tutorials online, they can be productive with their time by making a few artworks. A separate crafting table for their creative DIY projects will encourage them to spend more time being productive. In their room, put up shelves or cubbyholes for paints, brushes, sketch pads, stickers, yarns, and crafting materials. Just make sure that they use non-toxic paints. As an OFW or Filipino abroad, it is hard to let them use dangerous tools without your physical guidance so remind them that needles and scissors should be kept in a separate place and stored away if they are not in use. If there are available options, avoid using pointed materials on their creations.
During online classes, a study area in a home of OFWs and Filipinos abroad is also necessary to help their children focus on their class and spend more time studying. Bookshelves, drawers for pens, highlighters, and markers are also recommended to keep their study area clean and organized. Their desktop or laptop must be free from tangled wires and electrical plugs must be kept secured to avoid internet connection problems during their classes. An allotted table for their snacks and drinks must be situated away from gadgets, wires, and electrical sockets to avoid accidents such as drinks being spilled on electrical devices.
Kuya's Room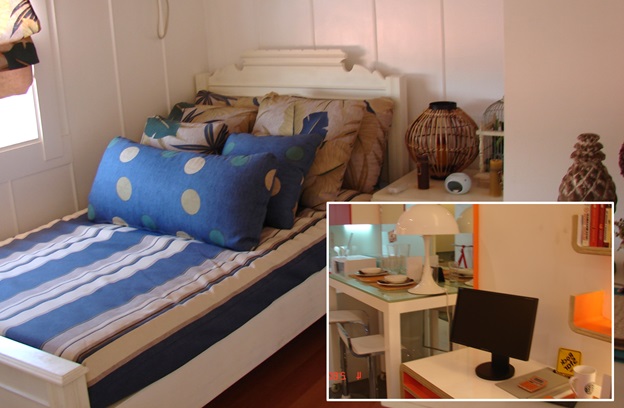 Boys are very fond of computers and playing video games. Due to restricted outdoor activities implemented by the government, they are now limited to meet their friends virtually using their desktops or laptops. They spend their rest time clicking through their tablets or game consoles and eventually become a part of their daily routine. They need more guidance since they may feel more liberated because their parents or one of their parents is an OFW or a migrant Filipino.
The messy room of your son must be kept organized and safe from any accidents and hazards. To keep their room safe and organized, computer cables must be clipped together and have a specific storage cabinet for computer accessories such as headsets, mouse, and speakers. It is also good to have a separate drawer for gadgets like tablets, mobile phones, or console controllers to keep their rooms tidy. There are available desk organizers in stores that you can buy for their makeshift study-play area. Enlarged mousepads, cord organizers, radiation-screen protectors, and the likes are also available in discount stores or their favourite gadget stores.
Aside from these ad-ons, OFWs and Filipinos abroad are more concerned about the physical well-being of their big boys. You can consider buying a sturdy and heavy-duty computer table and chairs since they mostly spend their time on their computer. Boys, especially in high school, will be sitting and using it for longer hours during online class, research, and leisure time. The same with other rooms, cables and plugs must be securely kept to avoid disconnections during online activities. A dedicated power supply for desktop or laptop is also recommended to avoid power overloads. Shelves for their books, pad papers, and school supplies are also advisable and have a separate space for their favorite toys or anime display figures.
Mom's Kitchen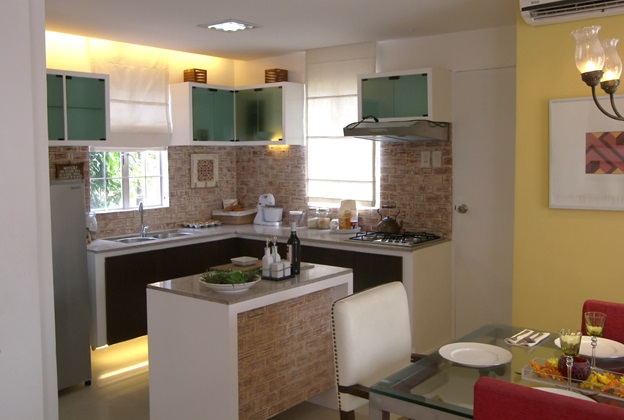 It is the wife who will mostly stay the whole time in your home. Even if they work during the day, they are the house's most trusted manager, dad's worry reliever, and their life partner.
Mothers are also the best cook, pastry baker, and needs provider of our house. They must feel comfortable and stress-free during their stay in their favorite place of the house – the kitchen. It is often preferred by moms to have an overhead cabinet with space for grocery items especially their ingredients, oils, and spices. Shelves for kitchen wares and organizers for pans and casseroles are also among their preference. Among their preference are knife organizers, plate drawers, cutlery tubs. Power outlets should also be available in the kitchen area since they are part of the cooking and baking essentials. Make sure that all the previously mentioned items are comfortably within an arm's reach to have an easier time cooking in the kitchen. Since most dangerous items such as knives are located in the kitchen, it is best to keep these tools away in their proper storage area when not in use. The kitchen must be well lit and well ventilated to make sure that all food and drinks being served are perfectly done with love and care. Since the kitchen is highly prone to start fires, a fire extinguisher must be placed in conspicuous places for an emergency.
First Ladies of the house love neat, clean, and fresh smelling clothes for their kids and partners. An OFW's and migrant Filipino's house-and-lot unit should also have a proper laundry area with organized surroundings. Having an organized laundry area brings convenience for their partners back home. It is suggested to place your washer near the water source and preferably near the power outlets to avoid using extension wires. This simple precaution prevents electrical accidents such as water leaking from hanging water hoses to cables. Shelves or cabinets for clips, hangers, laundry soap, and conditioners must be near the washer. Drying areas or clothesline should be a few steps away from the laundry area for easier hanging and collecting of clothes.
For emergencies and first aid kits, medicine cabinets must be near the kitchen. This is where the vitamins and maintenance medicines will be kept. And as they are important to our health, make sure to separate medicines by their category and keep the medicine cabinet out of children's reach.
Daddy's Workplace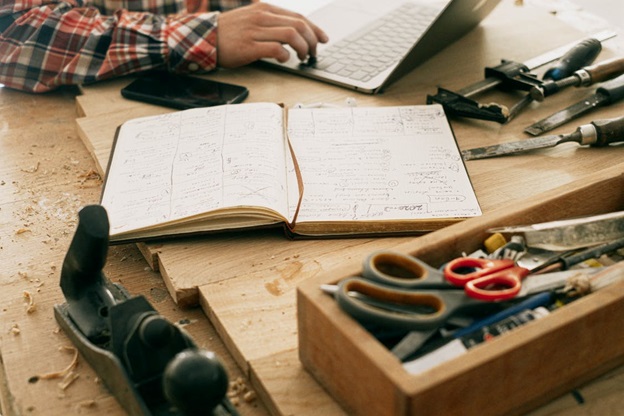 Photo by Ivan Samkov from Pexels
Whether you are an Overseas Filipino Worker living abroad or staying in your home in the Philippines, it is the garage or basement that turns into Daddy's work or mess room. For a smaller house, a father's work area could be the front lawn or the service area. A makeshift table for woodworks and small craft painting is useful to have an organized work space. Working anywhere in the house will not be a problem if you have a well-organized toolbox and kits. All screws and tools should be carefully sorted out according to their purpose. Bear in mind that in your absence, your wife or your eldest son would most likely use your toolbox. Keep all screws, nails, glues for woodworks separated from those for metals, electrical, and concrete fixings. Tools like screwdrivers, pliers, rulers, and scales must also be on a separate drawer.
As an OFW or migrant Filipino, it is really hard to think that you are missing a lot with your loved ones especially when they need you the most. But providing them with safe surroundings with a parent-present-feel will make them sense that you are always around. Make them realize and say that their parent knows best and do their best to provide for their daily necessities around the house. A worry-free home for OFWs or migrant Filipinos can also be achieved through a safe and secured community where there are features of assuring these benefits. Vista Land develops real estate communities throughout the country with options from socialized housing to big single-family homes in a well-established worry-free community. Visit our official social media accounts and contact us for options and special offerings for OFWs and migrant Filipinos.
Invest in Vista Land today! Vistaland International can help you find your worry-free home.
As the international marketing division of Vista Land, we provide several financial growth opportunities for every OFWs' real estate investment in the Philippines.
Become an OFW investor and grow your real estate asset with VIMI! Connect to us via our live messenger button or contact us here.
---
Vistaland International Marketing, Inc. (VIMI) is the international marketing division of Vista Land. Aiming to provide OFWs and migrant Filipinos a home in the Philippines, VIMI has established long-lasting relationships with brokers and clients around the world.
Get started with your property investments! Contact us today and follow our social media accounts: Facebook, YouTube, Twitter, Instagram, and LinkedIn.