Real estate due diligence is one of the most important parts of any real estate transaction. It doesn't matter if you are buying a new house, an old house, or even a commercial real estate property, having a due diligence checklist can help determine whether it's worth investing in. Experienced investors pay extra attention during the due diligence period. They know that due diligence is not just about investigating the property, but also the people involved in the process.

What is the due diligence process in real estate?
Due diligence is like doing your homework before buying real estate, you inspect the property's physical condition and financial standing. This is an important step that potential buyers of rental properties should take to double-check on the property's return on investment and cash flow opportunity. For first-time home buyers, the due diligence period is an essential step to get a fair deal without losing money in your investment property in the future.
What Happens During Due Diligence Real Estate?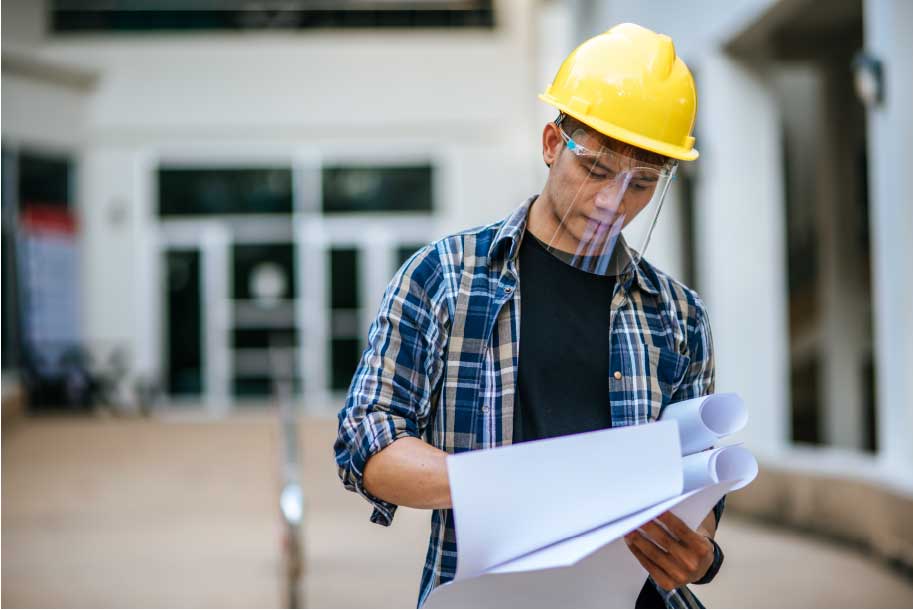 Familiarizing yourself with due diligence for real estate investment is tedious and can be overwhelming at times. However, buying a residential property with a clean title and good financial standing can save you from unexpected problems during the due diligence process.
During due diligence, you will need to inspect and analyze several factors regarding both physical and legal issues associated with a potential investment purchase. Once your due diligence checklist is complete, make sure it's protected with due diligence insurance. You can read more about due diligence in real estate transactions here at this blog.
Physical Inspection
One of the first things you should do during this process is to physically visit the property you are going to buy. Inspecting the property will help you to discover any problems that may arise due to poor maintenance. A home inspection is one way for an investor to look into all aspects of a house, from its electrical system and water heater down to flooring materials or even appliances.
It's important for potential buyers who are looking at a commercial property or house from outside their home city because they won't be able to do an in-person inspection when they move in. So they should know exactly what the residential or commercial property looks like before closing the deal. You can also ask previous owners or the current homeowners association about their experience in living in the neighborhood.
Ask assistance from a real estate agent or broker with a proven track record when reviewing the seller's financial records, property taxes, property values, tax certificates, and property codes.
It is common practice to hire a professional inspector, who will evaluate the property's condition and let you know if any problems need further attention or repair before buying it.
Additionally, a licensed contractor or a certified home inspector can help you conduct a series of physical inspections such as radon gas inspection, defective drywall inspection, and even look out for wood-destroying organisms such as termites that are common pests in a home.
Legal Assistance
During this due diligence period, seeking legal help from an attorney can help you determine what due diligence issues are relevant to your rental property business. An attorney can also help you evaluate the potential risks associated with due diligence in real estate investment, and how these might end up affecting your purchasing process. This is also the chance that you can have the real estate contract or purchase contract reviewed by an attorney.
Title Search
A title search is a part of the due diligence period that involves research to ensure the seller has a clear title over the residential real estate property. Having a real estate broker can also help you during the title search.
This is a very important part of real estate to do, especially if you are purchasing real estate property in another city. You should also ask the seller for copies of all the documents related to the property so that you can properly review them and make sure there aren't any liens against it.
Title Insurance
Title insurance is due diligence that protects the owner or lender from claims against ownership of real property. This due diligence period in real estate investing is very important to do, especially if you're buying an old house and will be making improvements on it because if there are any liens or judgments against it then the previous owner might come after your home since you own it now.
Financial Due Diligence
Financial due diligence is another due diligence in real estate investing that entails making sure all of the financial information provided is accurate and up to date, like how much money they make and what their expenses are.
This due diligence is especially important if you are buying a house that needs a major renovation because it will allow you to research potential costs and see what kind of return on your investment (ROI) can be expected.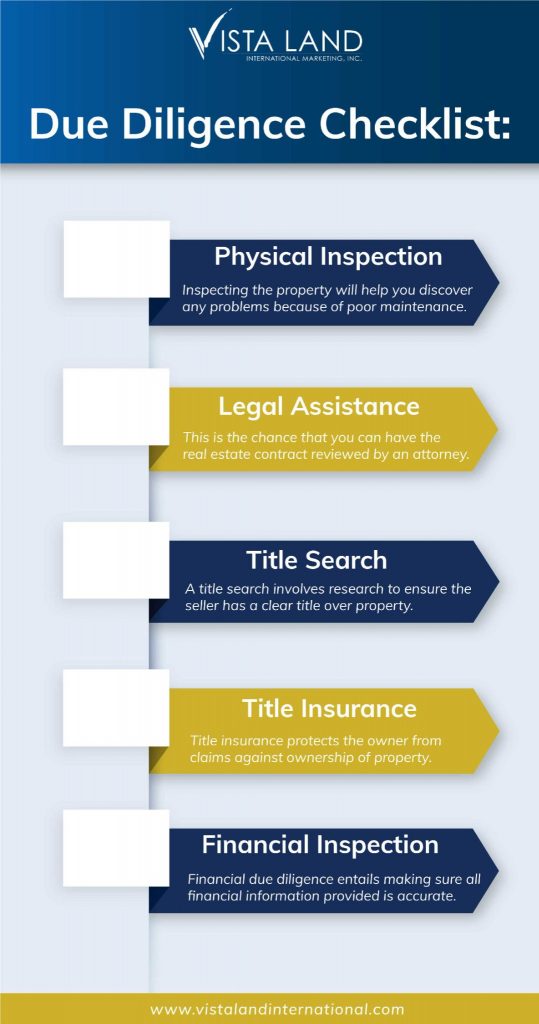 Conclusion
Overall, due diligence in real estate investing is very impertinent because it allows you to better understand what you are buying and ensures that there aren't any surprises after the sale. Make sure that you take your time in reviewing seller disclosures or the purchase agreement in the closing process.
Invest in Vista Land International!
Vista Land International offers different kinds of real estate assets and affordable house and lot units to ordinary Filipinos as well. Having one of the largest real estate companies in the Philippines as part of their selection of real estate investments, VIMI aims to provide quality homes that are built to last for future generations.
Vistaland International was primarily created to bring overseas Filipino workers closer to their dream of finally acquiring a home in the Philippines. And with the rising cost of living in the country, OFWs and their families are looking for ways to earn extra cash flow to support their daily needs. Luckily, you can also join the global network of Vistaland International as a real estate professional and earn a commission!
---
Vistaland International Marketing, Inc. (VIMI) is the international marketing division of Vista Land. Aiming to provide OFWs and migrant Filipinos a home in the Philippines, VIMI has established long-lasting relationships with brokers and clients around the world.
Get started with your property investments! Contact us today and follow our social media accounts: Facebook, YouTube, Twitter, Instagram, and LinkedIn.