If you are looking for ways on how to add the versatile color green into your living space, then you're in the right place!
From walls, murals, and even doors and furniture, and whether you are using it as the main block color or a subtle accent hue, there are endless ways to style your interior with the color green!
So read on, and start painting your living space with this invigorating color!
The Psychology of the Green Color
The color green is usually associated with health, fertility, and rejuvenation. This timeless color is believed to induce a sense of calmness–that kind of calm when you immerse yourself with nature. And since green is oftentimes associated with nature, this hue is commonly used in environmental campaigns and initiatives.
While the color green is usually linked with positive emotions, this color can also depict jealousy.
How to add the color green inside your home?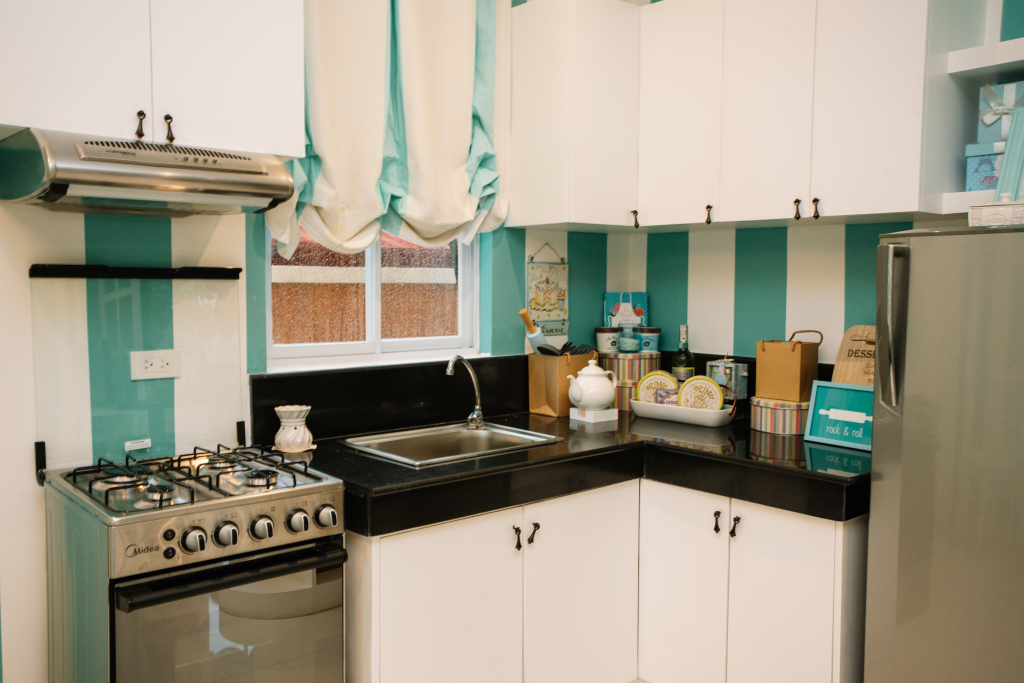 You will never run out of options and ideas to incorporate this vibrant color inside your home! From green walls to deep green furniture, the possibilities are almost limitless!
"Green is incredibly versatile, but it's important to consider the colors that already exist within the space, be that furniture, flooring, art work or textiles, these are all elements that should be included as colors within your palette," says Ruth Mottershead of Little Greene, as mentioned in an article by Homs and Gardens.
If you're trying to create a green accent wall for your small living room for the first time, make sure to consider the existing colors as they are also part of the color scheme you are aiming for. The colors, hues, and tones should complement and not overpower each other.
Mottershead also advised considering a very important factor before choosing a color scheme for your interior: the atmosphere.
We all know that different colors and shades invoke different moods.
For instance, lively greens work well in spaces that are made for entertaining such as the living room or the kitchen. Or if you want to induce a feeling of relaxation in your bedroom, then pairing a warm, pale green with a blush pink hue will immediately create a romantic atmosphere!
Decorating with Green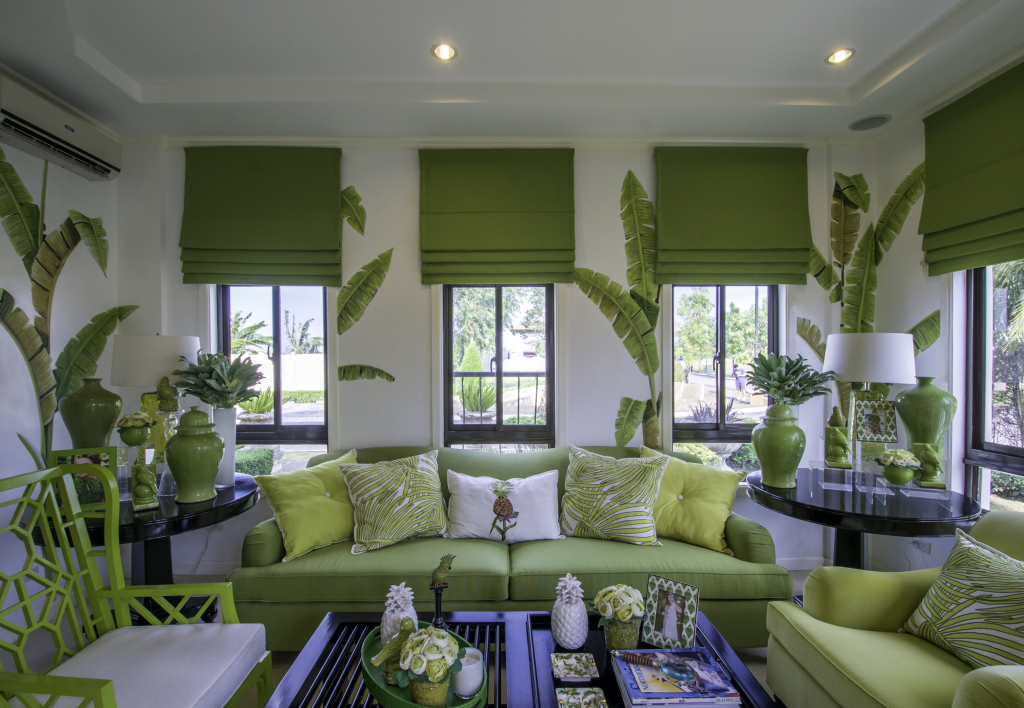 Play with the shades
Being an extremely versatile color, combining green with other colors, shades, and hues shouldn't break a sweat. It can instantly turn a dull and small space into a lively, spacious interior!
What colors are best paired off with green?
Bounded by nature, the color green works best with earthy tones and soft hues like creams and stones. For a more vigorous and dynamic effect, pair it with darker and richer colors like cherry reds, ochre, browns, or blacks!
Take a lot at this list of green shades for inspiration and ideas for the interior design of your green room!
Emerald green- For a more heritage feel and approach, use mid-green tones such as emerald green. You can also use this hue as the color of your ceramic tiles in your bathroom, adding to that luxurious and elegant appeal when paired with brass fixtures.
Pale green- Known for its restful and soothing effects, a lot of paint experts agree that green is the best bedroom color. Don't forget you fetch your color wheel so that you can easily find accent colors that match well with your greens. But, for a quick reference, green and pink usually is the most common pair.
Sage green- Going for that relaxing living room vibe? Adding hints of sage green into the space will do the trick! Mix in botanical elements for that instant indoor nature vibe!
Apple green- Feeling a bit bold? Why not paint your living room or dining room walls with a bright apple green color? This bright color easily invites vibrant energy and rejuvenation.
Use Wallpapers!
Simple and straightforward– that's what decorating with green wallpaper is.
Plastering green wallpaper is a fast and easy way to incorporate the energetic green color inside your living space! There are lots of wallpapers available online with varying designs with subdued or bright colors to suit your personal needs and aesthetics.
And the best thing about wallpapers? You can just easily tear them off your walls whenever you want to! Simply no commitments with less mess!
Or decorate walls with murals!
Create an ethereal atmosphere in your dining area by adding botanical murals or prints to your feature wall! Pair it with a ruffled table cloth with hints of mint green and light grey stripes, dining chairs painted with a kelly green color, and a bouquet of flowers as a centerpiece on top for a streamlined look, effectively bringing the outdoor vibe inside!
Aside from adding murals, you can also place botanical prints in key areas of your home. You can easily find free botanical printables online. Plaster them up individually or create a wonderful botanical collage!
Bring the Nature Inside!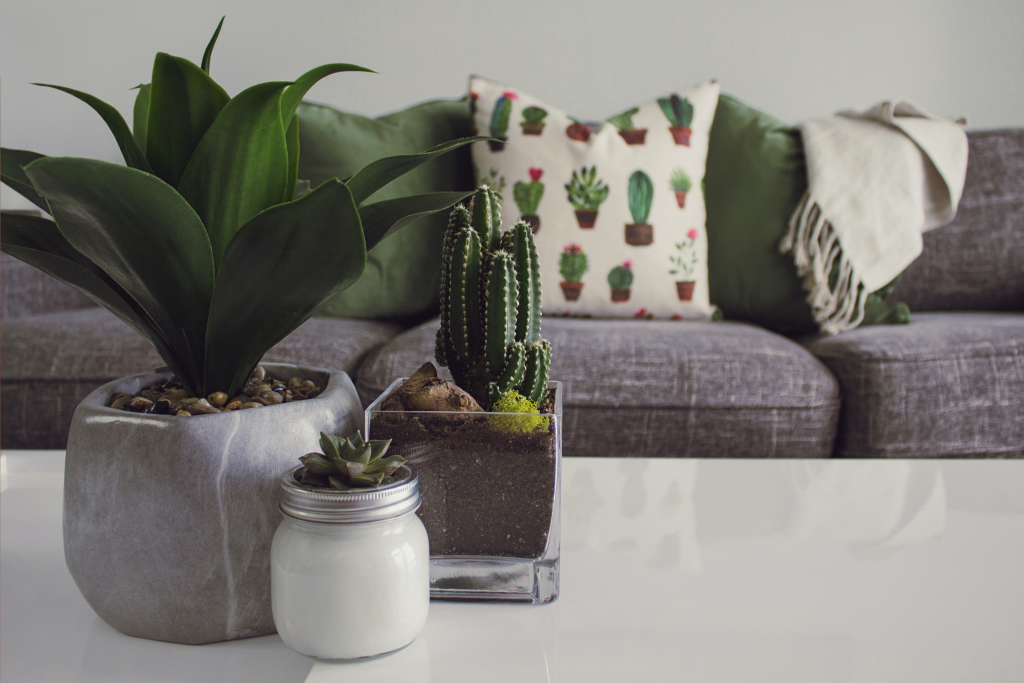 Whether you have a green thumb or are just a huge gardening enthusiast, you do not want to miss out on the chance of growing plants inside your affordable house and lot or cozy condominium unit!
Growing plants is one of the simplest yet very effective way of incorporating the green hue inside your humble abode. From ornamental plants, flowering shrubs, and spiky but cute succulents, you will never run out of options to turn your living space into a nature wonderland!
You can place your potted plants near doorways and entrances, on top of shelves and tables, or hand them near the windows of your kitchen!
Of course, what comes with adding household plants is the responsibility of taking good care of them. If you want to skip on the task of looking after your greens, then you can buy artificial plants instead!
Paint the Furniture Green
If you're a bit hesitant to commit to green walls, why not brush up your furniture with the same green color? You can start revamping the cabinets in your mudroom or give your kitchen drawers a fresh new look!
However, if you want to avoid the mess of accidental spills and splatters (let's face it, no DIY project is safe from this), you can just head to your local furniture shop and buy a focal piece– in green color, of course!
Start off by replacing your old couch with a new, velvety, green sofa or armchair. When paired with neutral shades, it will create a softening contrast!
Or Your Front Door!
Make your front door pop out in the neighborhood by painting it with a soothing sage green! Sage green also works well inside your walls, creating that smart, formal design scheme! So, whether you want to go bold upfront or feel classy and elegant inside, you can never go wrong with the color green!
Bring Out that Collection of Vintage Bottles
That vintage bottle collection shouldn't stay bottled up inside your cabinets! Show off your interior decorating skills by using old, dark green, vintage bottles as your table centerpiece!
Actually, it doesn't have to be strictly vintage bottles. You could rummage through your recyclables for a variety of bottles and mason jars. Just do a little bit of washing, scrubbing, and rinsing and they're ready to take their spot in your green living room!
Not only that you've created a nice accent piece for your living room, but Mother Nature will thank you for being environmentally friendly!
Mix stripes and florals!
Dealing with high ceilings? Why not add window treatments with floral or leafy fabric and pair it with green upholstery? Complementary prints add depth and scale to a living space while staying coherent with the design scheme, pulling off the look altogether!
Going Green
So, are you up for the challenge of transforming your living space into a nature wonderland? If so, then gear up with your tools and creative mind and start repurposing that space. Whether it's your busy kitchen, your cozy bedroom, or your toilet and bath, you are sure that the color green will spice up and invigorate your living space!
Are you ready to go green?
---
Looking for an affordable property? Contact us today
A lot of Filipinos dream of owning their first apartment or house and lot. With today's booming real estate opportunities, there are so many options to choose from.
Here at Vistaland International, we have a roster of affordable property listings from several locations across the country. Whether you're looking for a place to live in Manila, Cebu, Davao and etc, we've got you covered. So contact our real estate agents today!
Vistaland International was primarily created to bring OFW closer to their dream of finally acquiring a home in the Philippines. And with the rising cost of living in the country, OFWs and their families are looking for ways to earn extra cash flow to support their daily needs. Luckily, you can also join the global network of Vistaland International as a real estate professional and earn a commission!