When it comes to decorating or improving a small condo, there are two things to keep in mind: style and space. Studio units and one-bedroom condos for sale in the Philippines usually have less than 100sqm of living space. Just enough room for a working professional to live independently and just the right room space for a returning Overseas Filipino Worker (OFW) on vacation.
Decorating your one-bedroom condo can be hard especially for those who live in a small studio unit. There needs to be room for everything without feeling crowded or cluttered. A small bedroom should always feel cozy and has a lot of light since it's where you spend most of your time. You may have a small floor plan but you shouldn't be cramped in bed while sleeping. Well, if you are looking for some bedroom design ideas, you're in the right place!
Even with a small room design, you shouldn't have to sacrifice style or functionality. In this article we'll talk about the different ways on styling and maximizing space in small bedroom, interior design theme ideas you can incorporate in your condo, and one of the Philippine's finest condo developer.
How do you style a small bedroom?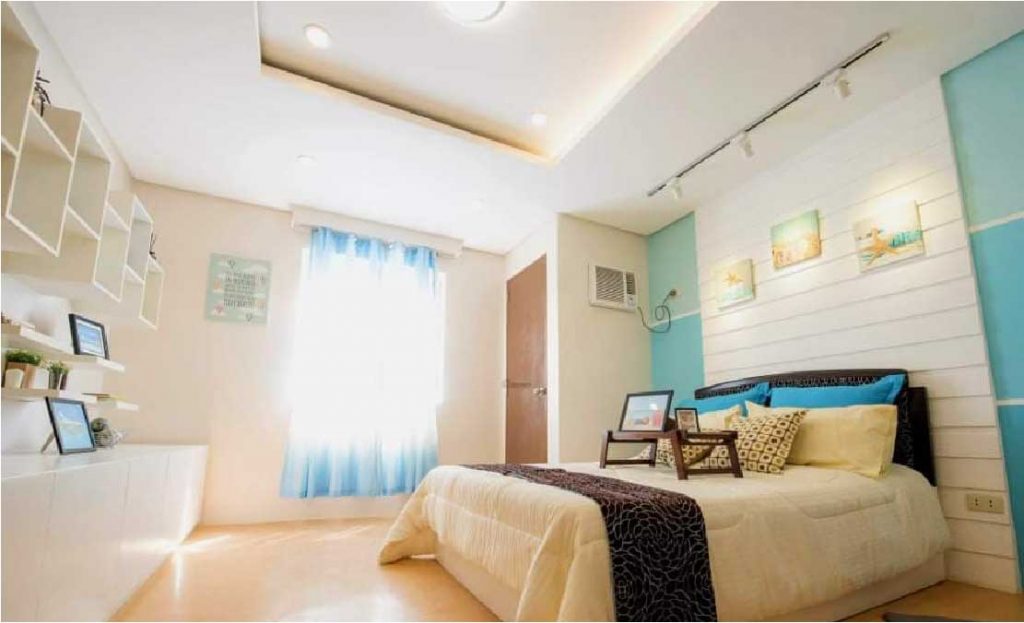 A lot of people think it's impossible to design a small bedroom with less than 100 square meters, but those same people usually don't even have any furnishing ideas.
The first thing you have to do is think of everything you need as far as bedroom furniture goes. You don't necessarily need an extravagant bed in this case, so do plan for your space saving storage rooms. Here are five small bedroom ideas to decorate your bed or the whole condo unit:
Choose a Color Scheme
A common misconception is that small bedrooms can't have color. A lot of people think that it's a bad thing to do, but in reality the colors you choose will be the one thing that separates your bedroom design from other similar designs. The best way to approach this is by choosing an interior design theme or a color palette that fits your bedroom vibe. Because of the size of your bedroom or condo, make sure you buy furniture that doesn't take up too much space and lines up with your overall design for everything else in the room.
Build a Statement Bed Frame
Building the bed frame is a difficult part of designing a small bedroom. The bed will always be the thing that takes up the most space in your room, so you have to get it right. In this case, it also has to be comfortable and fit in with everything else in your room interior.
Before you do anything, think about how the designer piece will mesh with the rest of your design in your bedroom space. Also, make sure you build a multi-purpose bed frame that can double as a shelve or cabinet to store extra pillows and mattresses. This way, you have design and plenty of storage right in your bed.
If you can't build a statement bed in your room, why not buy a few statement furniture pieces for the bedroom? Will it be an accent piece on top of your bed headboard? Or will it just be the focal point in a group of designer pieces?
When you think about how these statement pieces will fit the interior design of your whole bedroom or condo unit, also think about what you will need to access when you climb into bed.
Put Up a Gallery Wall
A creative wall is a large, open space that's used to display art, photos, or posters. It can also serve as a way for you to express your personality through your decor and art. These art walls are great if you want a personal touch in your room. Gallery walls are often put up beside the bed or near the entryway of your condo.
In order for the wall to work, you need dense colors that will form a coherent scheme. You can also add pictures of important people to fill up the space if you wish to.
Create a Feature Wall
Different to a photo wall, a feature wall is usually a statement wall just at the headboard area of your bed. This makes your bed area pop and the sole focus in the bedroom. Additionally, a feature wall makes your bedroom look more inviting and impressive. Feature walls are used to highlight the main focal point of a room. So if you don't want a feature wall by your bed, you can opt to build where your TV is located or if you have a blank wall in your condo that needs revamping.
Buy a Good Area Rug for Your Bed
Waking up in bed and having to walk on a cold hard floor in the morning can be a mood killer. The best types of flooring for a condo are those that provide comfort, warmth, and style. Having a soft cozy rug by your bed can instantly lift your mood in the morning. Having a soft cozy rug by your bed can instantly lift your mood in the morning.
A center rug in color tones with your room decor is a great way to create warmth wherever you want it to be. The best way to do this is by using more than one color in your area rug. You'll also want a rug with a slight pattern that works well when the sofa is covered with throw pillows.
Also read: Indoor Activities You Can Do in Your Condo
How do you maximize space in a small bedroom?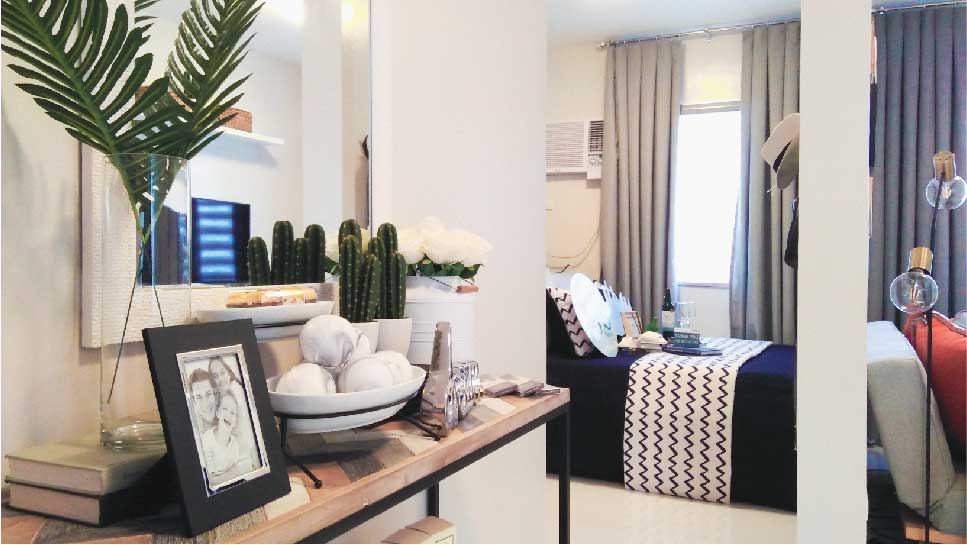 Thinking about best one bedroom house design when it comes to your bedroom, you have two things on your mind – comfort and beauty. And while you can never take away a room's size, there are a few ways to maximize your space in your small bedroom and make it feel like home and look more cozy. A smaller bedroom doesn't necessarily equate to having smaller furniture. You can also go big in buying furniture but make sure all the furniture and fixtures are well-balanced and visually appealing.
This article is all about how to create a chic designer a small bedroom design so that you can enjoy your small room design space without sacrificing the desired coziness.
Here are four small bedroom decorating ideas when room space is limited:
No bulky bedroom furniture
Instead of a bulky bedside table and a huge nightstand, use smaller pieces or drawers for storage near the bed or in an alcove near the door; bump up bed size from single sized to double sized – helps with getting dressed in morning. As a substitute to a big table that takes up more floor space, try a simple wooden coffee table that will only take a small space in your living room.
Buy multi-purpose furniture
Always opt for a multi-purpose furniture that has space for your clothes, shoes, and bags. For example, a nightstand can double as a desk and your bed can also serve as a day couch or day bed.
Utilize vertical areas for storage space
When you have limited space in your bedroom, the only way to go is up. You can add more shelves mounting the bedroom walls or a shelf inside the closet, or even wall mount in the living room that has drawers. There are several stackable boxes available in online stores, these are great for utilizing your storage space in your tiny room. Maximizing vertical areas creates the illusion of a high ceiling and more living space in the bedroom.
Under bed storage
One of the most popular small bedroom ideas among interior designers is to make room for storage space underneath your bed to store your extra beddings sets, clothes, shoes, and other day-to-day essentials. In addition to function, most of these ideas are stylish, so you don't have to sacrifice your room's decor for better organization. A win-win situation.
Bunk Beds
You might think that having a bunk bed is for children only. But they actually work very well if you have frequent guests coming over your condo and you want them to feel comfortable as possible. If your condo comes as semi-furnished upon turnover, this means you have the necessary household items such as a bunk bed, a side table, a floor lamp or a table lamp, and maybe even a nightstand. If you live alone, the bunk bed can take up so much room in a small space. So in this situation, you can transform the bunk bed with a desk underneath or use it as an extra storage space in your room.
Also read: Advantages of Buying a Pre-selling Condo in the Philippines
Interior Design Themes for a Small Bedroom
There are so many great small bedroom design ideas out there. But how many of those bedroom ideas can fit a small space? When have a small room, you really can't go overboard with the bedroom ideas because it'll take too much space and end up being cramped in your condo home. We've listed a few simple yet designer ideas that would go perfectly for a small space.
Minimalism
Minimalist interior designs involves only the basic essentials and focuses on keeping the whole room simple and organized. It uses a monochromatic color palette, and features functional furniture, lots of light, and spaces within the room. These elements go well even in a tiny bedroom set-up because without the bulky designer pieces, it gives the illusion of a bigger area in your room or even the whole condo.
Nordic or Scandinavian
If you've been wanting a white bedroom, then going for nordic theme in your room is the way to go. Function, simplicity, and craftsmanship are the cornerstones of a Scandinavian design. Many Nordic designs emphasize natural materials, such as woods linen fabrics, and glass. So if you want a simple theme with a hint of nature in your room, then this idea is right for you.
Japandi
Japandi is a mix of Japanese and Scandinavian elements. It may seem as though they these two different don't have any common ground, but they do have plenty of similarities in terms of interior design. Japandi blends together the Scandinavian functionality with the Japanese minimalism that creates the perfect fusion of simplicity, nature, pops of color, and light. The perfect zen look in your room!
So now that you've learned more about the styling and space saving tips in a small bedroom, you can now apply it to your condo to make it cozy and more of a home. Looking for a condo? We have a respected real estate developer in the Philippines featured in this blog.
Also read: Condo Property Buying 101: An OFWs Guide
Camella Manors
Camella Manors is a real estate developer in the Philippines that offers one to two-bedroom condos and studio condos for sale in vibrant cities and municipalties across the country. Coming from one the leading and most trusted house and lot developer in the Philippines, Camella Homes, Camella Manors is here to provide quality and secure condos for sale situated in prime locations.
The condo development is composed of mid-rise condo condo buildings in Caloocan, Batangas, Palawan, Bacolod, Butuan, Cagayan de Oro, and Davao. With their resort-inspired condominium projects, Camella Manors provides more than a simple condo unit but a condo you can call home.
Truly, a lot goes on when decorating a small condo unit. It's all pretty Pinterest things until you have to prioritize space for design because you bought a bed frame that's too big to fit the doorway. So with ths article, we hope you'll have fun improving your bedroom.
---
Invest in Condos for Sale in the Philippines
To every OFW and migrant Filipino who are looking for a house and lot or condo for sale in the Philippines, Vista Land International has what you're looking for in a condo. From varying price points and different environment spaces, rest assured that you'll find the condo home of your dreams. You can browse thru our property search tab or read our FAQs tab for more information.
Vista Land International Marketing, Inc. (VIMI) is the international marketing division of Vista Land. Aiming to provide OFWs and migrant Filipinos a home in the Philippines, VIMI has established long-lasting relationships with brokers and clients around the world.
Get started with your property investments! Contact us today and follow our social media accounts: Facebook, YouTube, Twitter, Instagram, and LinkedIn.