The term "home improvement" is often associated with high costs. However, it's not always the case. There are plenty of home improvement projects that you can undertake without breaking the bank. The key is to find small changes that can make a big impact. Going the DIY route can also help you cut down on costs.
Below are just a few suggestions on how you can give your home a fresh new look on a budget. Many of these can be accomplished after just a couple of months of saving; you can also take out a small cash loan if you want to hurry things up a little. Again, you don't need a lot of money to make these home improvement ideas a reality:
What are some Affordable Home Improvements?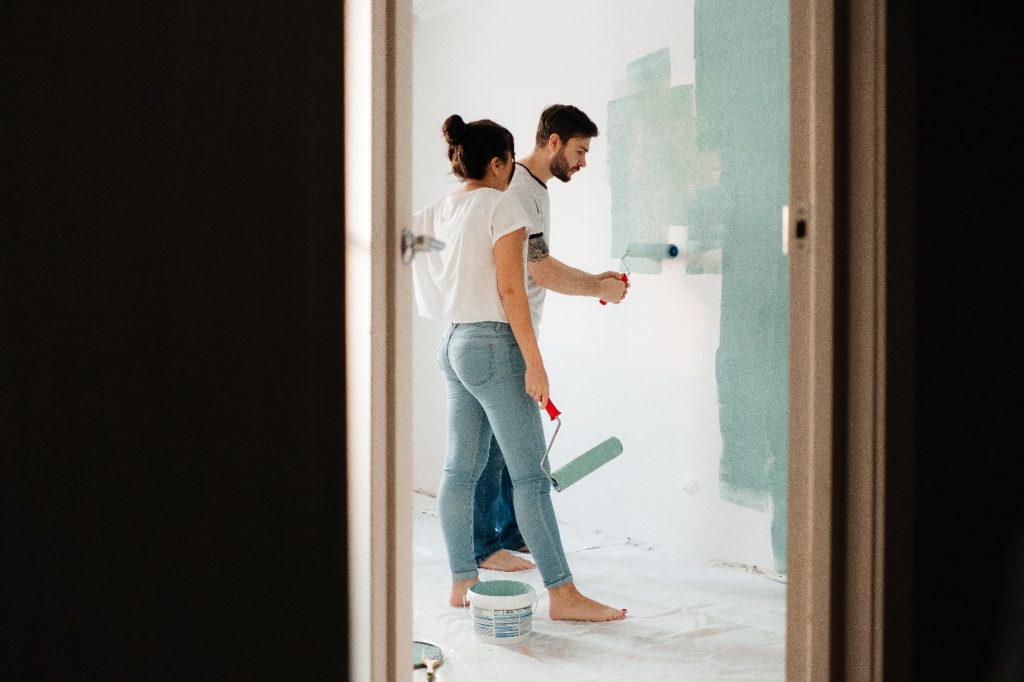 Update the Front Door
Most people think of the indoors when it comes to home improvements. However, there are also plenty of simple outdoor projects that can transform your home. For example, you can update your front door by giving it a fresh coat of paint. Consider other colors beyond the usual cream or brown; instead, go for more striking ones like blue or red. Then, choose light or neutral colors for the walls to make the door stand out.
You can also update the front door's hardware for additional impact. If your house has a classic design, brass or brass-looking knobs, knockers, and handles will look great. For more modern or contemporary styles, chrome accessories will work best.
Paint the Walls a New Color
One of the simplest ways to give your home a new look both inside and out is to paint the walls. What's even better is that depending on the color, you can achieve different design goals. For example, using light or neutral shades will help bounce the light around a room. This creates an illusion of spaciousness. Meanwhile, darker colors make a space look smaller and thus create an intimate and cozy ambiance.
It's also easier to learn how to do DIY painting. There are plenty of tutorial videos you can watch online, and the tools are easy to acquire. It can also be a great bonding experience with the family. Who knows, you might even discover a new hobby!
Refinish Cabinet Doors and Get New Handles
It's expensive to replace your cabinets, drawers, and shelves. Besides, if you take good care of them, they're probably still in good shape. That said, these furnishings are some of the most attention-grabbing ones in your home so it makes sense to revamp their looks.
An easy way to do this is to refinish cabinet and drawer doors using a variety of methods. Some examples include paint, wood stain, or tinted varnish. You can even use wallpaper if you like! You should also update the hardware like handles and drawer pulls, as well as the hinges.
Use Rugs to Define Spaces
If your home has limited space, you can make it seem bigger by using large rugs. This helps delineate different areas while adding points of visual interest.
In case you haven't tried using rugs before, you can't go wrong with simple designs and monochrome colors. These options will prevent the room from being "eaten" by the rug or carpet. Remember the fashion rule: you have to wear the dress and not the other way around. Stick with the classics, like geometric shapes or stripes. Then, when you start feeling more adventurous, you can go for bolder colors and patterns.
Install New Window Treatments
For a bit of dramatic flair, you can install new window treatments in your living room, home theater, or bedroom. Depending on the thickness and color of the fabric, you can make any space feel warmer, airier, or more elegant—whatever your design goals may be.
If you want something different, consider Roman shades with patterned fabric. They're stylish but practical, giving you more space for creativity without sacrificing utility.
Get New Light Fixtures
Moving your gaze up, you can update the look of your home by changing your light fixtures. A good candidate here would be your dining area, using pendant lights instead of chandeliers or traditional light bulbs. What's great about pendant lights is that you can place them a little lower, which helps make a more intimate atmosphere.
For your living room, you can choose a more interesting centerpiece. Try a cluster of drop lights, or perhaps a futuristic-looking LED chandelier.
Wall-Mount Your TV
Last but not least, a quick way to revamp your home's looks is to wall-mount your TV. You'll be surprised by how different your space will look just by doing this simple redecorating task! Another benefit you'll get to enjoy by wall-mounting your TV is that you'll have more space for storage or even for more decorative options.
You can also wall-mount other furnishings, such as shelves, so you'll have even more room to decorate.
As you can see, home improvement isn't as expensive as you might think. With a little bit of patience and hard work, you can transform your home into a more beautiful, comfortable space.
---
Looking for an affordable property? Contact us today
A lot of Filipinos dream of owning their first apartment or house and lot. With today's booming real estate opportunities, there are so many options to choose from.
Here at Vista Land International, we have a roster of affordable property listings from several locations across the country. Whether you're looking for a place to live in Manila, Cebu, Davao and etc, we've got you covered. So contact our real estate agents today!
Vista Land International was primarily created to bring OFW closer to their dream of finally acquiring a home in the Philippines. And with the rising cost of living in the country, OFWs and their families are looking for ways to earn extra cash flow to support their daily needs. Luckily, you can also join the global network of Vista Land International as a real estate professional and earn a commission!